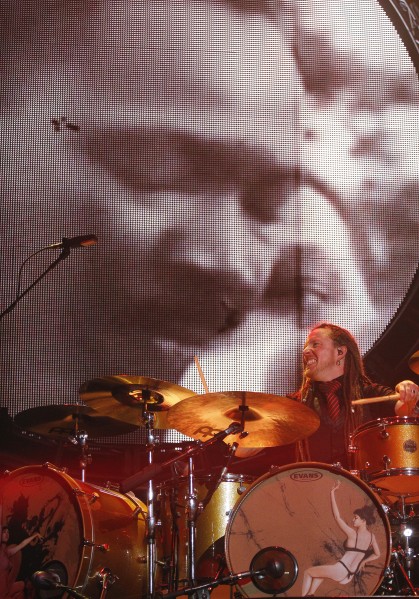 SIOUX CITY | It was on waves of limbs, sound and fire that last night's concert rode hard at the Tyson Events Center. Beginning with P.O.D. moving to Three Days Grace and ending with Shinedown, the well-orchestrated alt-rock show consoled spirits and tried its best to blow out ear drums. The sea of standing fans engulfed the entire bottom of the Center and swallowed up everything the bands were putting down.
P.O.D. (Payable On Death) kicked off the evening with crunchy guitars riffs and inspiring lyrics (which, except for melodic choruses were hard to understand). The pseudo-Christian band laid down the foundation of energy that continued to build throughout the evening. Lead singer Sonny Sandoval moved lithely around the stage pulling the audience in brilliantly. Of course, the two big hits "Youth of a Nation" and "Alive" ended the ravenous set. The group gave it 35 minutes, a short cover of Sublime's "What I Got" and then quickly peaced out.
It must be noted the set was gigantic. Huge backdrop, multiple levels, lights, speakers and yes, bouncers, everywhere. And it was with the entrance of Three Days Grace that pyrotechnics were introduced. As the first round of fire unloaded upward, the heat in the room spiked.
For anyone who's actually listened to Three Day Grace's lyrics, they are pretty emotional. But the live set proved the band was so much more. Matt Walst had the unenviable job of stepping up and taking the regular lead singer, Adam Gontier's, spot. But he was more than up to the challenge. Running around the stage with the energy of a 2-year-old, Walst tore the old standards "Just Like You," "Pain" and the power ballad "I Hate Everything About You," to pieces. When the final notes of "Riot" rang out, no one in the building wanted the five-piece to leave, but the show had to go on.
The explosions were nowhere near from being over. Shinedown saw to that. The four-piece group began as a two-man act with just the drummer and guitarist, soon met with the lead singer and bass player. This led to many interesting combinations in the set. First there was the rockabilly look -- vests and suit jackets paired with tennis shoes and dreadlocks. Then there was the fact the band implemented more screaming than the bands that came before it, but also used more vocal harmonies. There were earth-shattering fireworks but also acoustic guitar and keyboard. On top of that, lead singer Brent Smith could sing extremely well -- all while working the room like a ring leader.
Loading…
Poll: Would you be more likely to watch a Major League Baseball game if a pitch clock was used?
Business Directory