125 Years Ago
Park improvements: The Driving Park Association expects to commence work on a number of improvements to Evans Park. The track is to be almost entirely reconstructed and will be raised above its present level to afford better drainage. The fences and stables will be rebuilt. The work should be completed before the June races take place.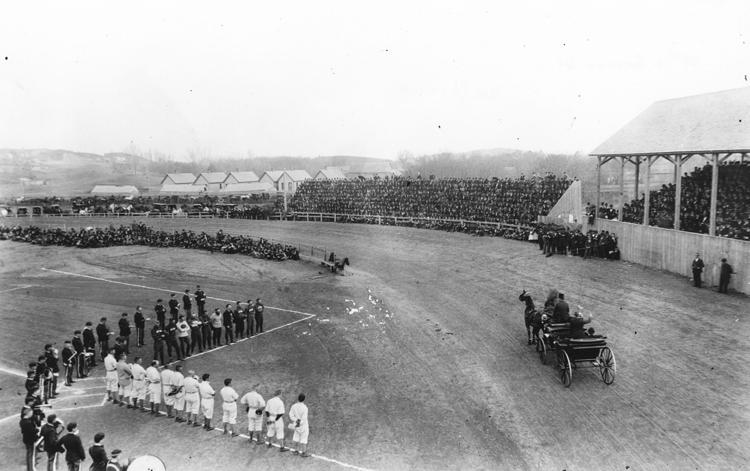 Fancy tea: Something novel even for Sioux City was given Wednesday by Mrs. C. H. Milversted in a "studio tea." About 150 ladies were invited. Her friend, Mrs. Ralph Van Vechten of Cedar Rapids, displayed about 125 pieces of the china painting she and her class did. Light refreshments were served.
Charge dismissed: Maggie Olson, the notorious "Norwegian Mag," was discharged in police court. Judge Neilan said a person cannot be fined or imprisoned under a city ordinance for keeping a house of prostitution.
100 Years Ago
Plotters foiled: An attempt by plotters to destroy the Omaha railroad bridge across the Missouri river was frustrated early Sunday morning after shots were fired by sentries of the Nebraska guard company detailed to protect the structure. One of the men was captured after he had been wounded. The plotter, from Jacksonville, Florida, was being held in Dakota County Jail until he can be taken to Omaha for arraignment.
Bread shortage: Sioux City faces a bread shortage as a result of a strike by union bakers after master bakers refused to grant them a wage increase and their demand to place a union label on every loaf. There are 20 bakeries in the city, who also supply bread to surrounding towns.
Hens hide booze: Four brood hens in a chicken house and a quantity of potatoes in the cellar of Ben Hawkins of South Sioux City served as a screen for the largest liquor haul to be uncovered by Dakota County officials since the new dry law went into effect earlier this week in Nebraska. They uncovered 50 cases of beer under the chicken house and 25 cases of beer and a dozen gallons of whiskey under the potatoes.
50 Years Ago
Lots of steaks: The 13th annual Sioux City Steak Dinner drew more than 140 members of Congress and government dignitaries to the Willard Hotel Wednesday night in Washington. Sen. Jack Miller and Rep. Wiley Mayne, both of Sioux City, co-hosted the event. Officials feasted on USDA prime Iowa corn-fed New York strip sirloins, weighing 16 ounces apiece, supplied by Needham Packing.
Scout time: "Scouting Rounds a Guy Out" is the theme of the 1967 Scout-O-Rama this weekend at the Municipal Auditorium. A grant entry with the nation's flag will launch the scouts into a portrayal of how scouting rounds out the scouts.
Dog show: A total of 206 dogs competed in the Sioux Valley Kennel Club's annual spring dog show and obedience trails Sunday at Atokad Park. Best adult dog was Dandy Dan of Blackmore, a Gordon setter owned by Charles LaMere of Jackson, Neb. Best puppy was a Standard Poodle, Ridge Road Nosh, owned by Dr. R. R. Billiar of South Sioux City.
25 Years Ago
Ammonia released: A cloud of anhydrous ammonia vapor hospitalized one man Wednesday after the toxic gas was released from a tanker truck at Nutra-Flo in Sioux City. Assistant Fire Chief Everett Meier said a broken valve on a tanker holding 40,000 pounds of ammonia caused the leak. The cloud blew two blocks and injured a security guard at the John Morrell meatpacking plant. He complained of felling nauseous.
In the news: Morningside College honored professor John Lawrence with its Teaching Excellence and Campus Leadership Award during commencement exercises. …Terry L. Smith, Sioux City, has been elected president-elect of the Iowa Funeral Directors Association. …The Sioux City Gospel Mission was awarded the Sioux City Rotary Club's Service Above Self Award.
Name change: Inspiration Resources Corp. has changed its name to Terry Industries Inc. Company officials said the firm's name change will underscore a restructuring that emphasizes the Fortune 500 company's interest in agriculture.
These items were published in The Journal April 30-May 6, 1892, 1917, 1967 and 1992.