125 Years Ago
Making news: A number of gambling houses in the packing house district, run with the intent of getting the wages of packing house workers, have been closed by the police. …At St. Joseph's church, Bishop Martin Marty, of Sioux Falls, will unveil and bless the new statue of Our Lady of Sorrows, which was imported from France.
School election: Sioux City voters re-elected Walter R. Webb and elected newcomer H. A. Johns to the board of education with by far the largest votes ever cast. Mr. Webb received 1,103 votes, while Johns earned 1,193. Voters also approved a bond issue that will ensure construction of the new high school.
Dancing til midnight: The Mulleneaux lodge, No. 296, A.O.U.W. (Ancient Order of United Workmen) held its first reception at the K. P. hall, corner of Fourth and Nebraska streets. The 50 couples spent the evening dancing until 12 o'clock and then repaired to Ward's restaurant where a magnificent repast was spread.
100 Years Ago
No men allowed: Nearly 100 men students of Morningside college forced their way into the college gymnasium Thursday night to witness a basketball game between two "all star" teams of coeds. Because the men would not leave, the game was not played. Other institutions in Iowa also prohibit men from witnessing girls' basketball games.
Lots of ducks: There are thousands of ducks on the overflowed land on the bottoms south of Sioux City, making a stop on their annual trip north. Despite the federal migratory law, hundreds of ducks are being shot illegally.
Damaging fires: Fire damaged a barn at the rear of 612 West Seventh street and burned to death five horses. The cause is not known. …Fire destroyed a residence at 3412 Douglas street owned by W. A. Winston, sporting editor of The Journal, which he had rented to his son-in-law. He escaped through a window. Mr. Winston's 900 volumes in the library were lost.
50 Years Ago
Irish mayor: Limerick, Ireland, Mayor Vincent Feeney was named an honorary citizen by Sioux City Mayor Don Mullin during a visit. Mayor Feeney is promoting tourism and industry in the Emerald Isle while touring Iowa. He wore his red ceremonial robe trimmed in ermine and a solid gold chain valued at $9,000.
In the news: Mrs. Russell LaDue, president of the Sioux City board of education, was named "Woman of the Year" by the Agora Club at Morningside College. …Joseph Henry Newkirk, 406 W. Fourth St., will observe his 95th birthday at Mount Olive Baptist Church.
Beavers killed: A 24-year-old Sioux City man was charged will illegal possession of 10 beavers after he was arrested by Dick Basler, state conservation officer for Woodbury County. The trapper faces a fine of $500 plus $40 in court costs. He was arrested near the mouth of the Big Sioux River, where he had spent two days in a canoe trapping and shooting the animals.
25 Years Ago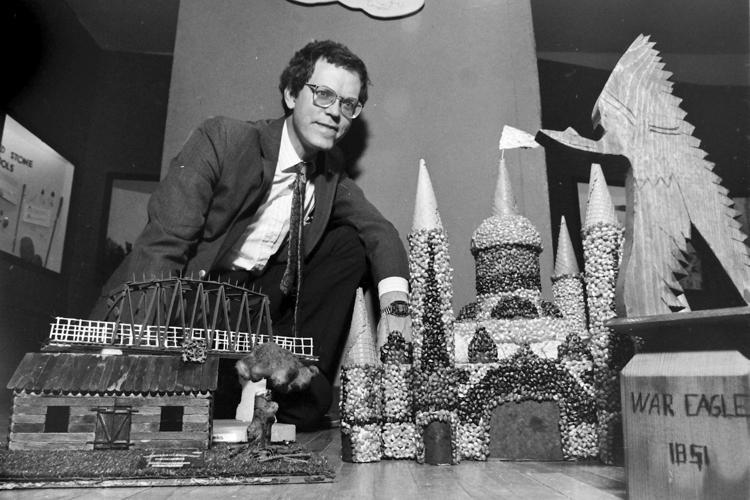 Showcasing history: The Sioux City Public Museum will feature history projects created by 35 fourth-graders from 13 schools starting Sunday through May 24. Among the pieces displayed are a corn palace constructed of corn kernels and hollow ice cream cones, a railroad bridge woven with Popsicle sticks and the Castle on the Hill fashioned out of sugar cubes
Normandy reopens: One of Sioux City's oldest restaurants is back in operation. Now doing business as Normandy's Steakhouse, it was last operated as the Normandy Hunt Club, which closed last fall. The building is located on 38th Street near Hamilton Boulevard.
Drinking party: A bust at an underage drinking party resulted in police issuing citations to 31 young people Friday night for frequenting a disorderly house and possession of alcohol under the legal age. Those cited at the house in the Indian Hills area ranged in age from 18 to 20. The charges are simple misdemeanors carrying a penalty of 30 days in jail or a $100 fine.
These items were published in The Journal March 12-18, 1892, 1917, 1967 and 1992.