125 Years Ago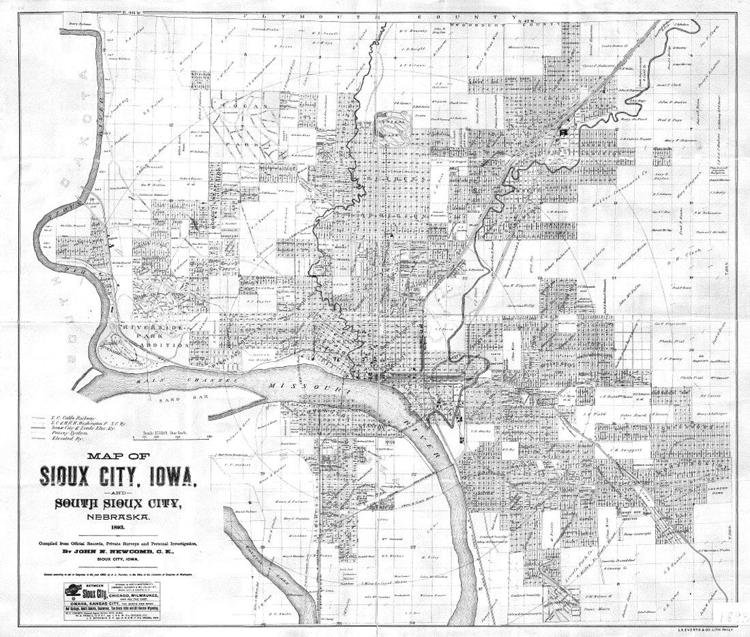 City maps: John Newcomb's new map of Sioux City has been distributed to subscribers and are issued both plain and in colors. This map shows more of Sioux City and the surrounding territory than any previous map and the minutest details are to be found. A. G. Garretson has taken 100 copies.
Nude bathing: Complaints have been made to City Marshal Hallenbeck that naked men bathed in the Sioux River last Sunday. This is within the corporate limits of the city. He says the names of those offenders will be taken so that if they are caught in the act, they will be arrested on warrants afterwards.
Pitchfork Paddy: Police arrested Paddy Farrell, a resident of South Iowa Street, who went on a bender and retreated to a corner of his house. He stood there with a pitchfork and a revolver, threatening to kill the policemen. They overpowered him. Paddy slept in the jail and his pitchfork and revolver were placed with the other trophies at police headquarters.
100 Years Ago
Curtailing elopements: Dr. Alfred E. Craig, president of Morningside College, recommended that a dormitory for women be built as a means of discouraging elopements. He said it was highly necessary that the girls be under the direct supervision of the Dean of Women instead of scattered through the homes in Morningside. He cited two elopements this year and is of the opinion if the girls lived in a dorm, Dan Cupid would be foiled in the future.
Spud famine: Sioux City was practically potato-less Thursday as far as wholesale dealers were concerned. Aside from a small stock in groceries, there were few to be had. The shortage is a result of the lack of shipment of carloads of new potatoes from southern points.
Church bells: Church bells of Sioux City will ring at 9 o'clock Tuesday, Wednesday and Thursday nights as a patriotic recognition of United States Liberty loans, as requested by W. G. McAdoo, secretary of the treasury to all cities. Mayor Andrews said he offers no objections.
50 Years ago
Miss Sioux City: Linda Hines, 19, was crowned Miss Sioux City of 1967 at the Municipal Auditorium Saturday night. The dark-eyed beauty blew kisses to the audience as Robert Berger sang the Miss American song. She is a 1966 graduate of Central High School and just finished her first year at State College of Iowa. She played the organ for her talent portion and will compete in the Miss Iowa Pageant in Davenport.
In business news: A new men's clothing store, Karlton's, has opened at 515 Pierce St. and is operated by Karl Kletschke. ...The Martin Apartment Building. Sioux City landmark at the northeast corner of Fourth and Pierce streets, has been purchased by Jordon Ginsburg and Associates.
Dutch elm disease: The second case of Dutch elm disease in Sioux City has been confirmed by laboratory results and is in the public parking area on the northeast corner of 14th and Omaha streets. City Forester Paul Naland said he expects to find newly-infested trees from elm bark beetles to start showing up.
25 Years Ago
Fire destroys lodge: Fire caused by lightning destroyed the 42-year-old Loess Lodge at Stone State Park Monday night, one of two enclosed shelters. About all that's left of the historic lodge is the stone fireplace and chimney, a charred stove and refrigerator and 12 picnic tables. Park Ranger Kevn Pape said the lodge often is booked for weddings, company picnics and parties.
Vick's Corner: or more than a half century, lakes-area residents have given directions to visitors by telling them to look for Vick's Corner. Located at the junction of Iowa Highways 9 and 86 northwest of West Okoboji Lake, the landmark features a general store, gas station and flea markets and antique shows on holidays. Current owner Layton Vick grew up above the service station with his parents, who started the business in 1930.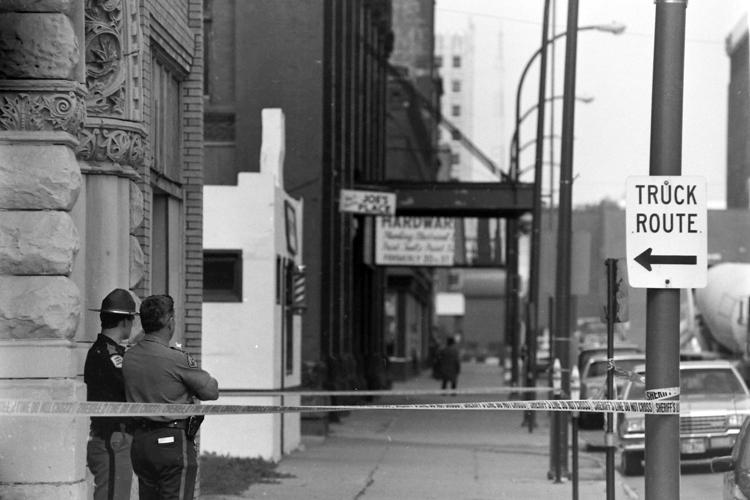 Motorcycle raid: State, county and local law enforcement officials crashed their way through the front door of a building at 1128 Fourth St., owned by the El Forestero Motorcycle Club around 6 a.m. Wednesday. Officials put a tight lid of secrecy on the operation throughout the week. The club has owned the building since 1988.
These items were published in The Journal June 11-17, 1892, 1917, 1967 and 1992.