IDA GROVE, Iowa | The weekend was a stellar one for a pair of Northwest Iowa natives in their respective sports.
First, OABCIG High School product Trever Ryen covered seemingly every inch of the field in the first half of Iowa State's 45-0 dismantling of Kansas on Saturday at Jack Trice Stadium in Ames.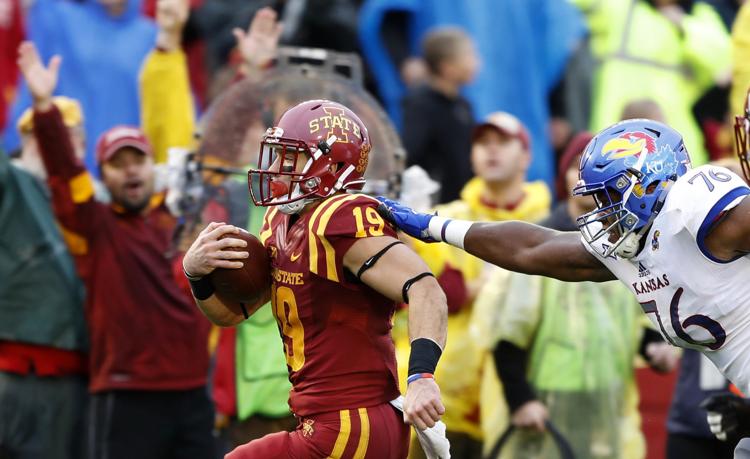 On my way to Simpson College in Indianola, Iowa, to catch a football doubleheader, I listened to the golden tones of John Walters and Eric Heft on the Cyclone Radio Network as they detailed Ryen's production in a first half that saw the senior from Ida Grove, Iowa, return a punt 68 yards for a touchdown, recover a fumbled punt and down a pair of punts inside the Jayhawks' 5-yard-line.
"The special teams have to be a major factor," Coach Matt Campbell said. "Those guys were heroes in the game, guys like Colin Downing (punter) and Trever Ryen."
Ryen, the son of Van and Karen Ryen, of Ida Grove, is a finalist for the Paul Hornung Award, presented each year to the nation's most versatile player. Chances are, he's running a bit behind Cyclones linebacker/quarterback Joel Lanning, a leader I'm sure Ryen celebrates as Lanning, of Ankeny, Iowa, has been vital to Iowa State's surge this season. The Cyclones, tied for second in the Big XII Conference, travel to Texas Tech on Saturday.
Ryen hasn't been far behind Lanning's production efforts for Campbell's crew as it picks up votes in the Associated Press Top 25. Thus far this season, the former Falcon prep been on the receiving end of 21 passes for 577 yards, including a key 57-yard catch-and-sprint to the end zone in the Cyclones' 38-31 victory at Oklahoma on Oct. 7, a game some say represents the biggest win in the history of the program.
Meantime, on the baseball diamond...Los Angeles Dodgers relief pitcher Tony Watson entered the game late Saturday night against the Chicago Cubs in their National League Championship Series. I caught this game on the Chicago Cubs Radio Network while driving home from the Simpson football game.
Watson was credited for a "hold" that evening, getting two outs and yielding nothing else in a 5-2 Dodgers victory. The lefty, a former Nebraska Cornhusker, induced outs from the two hitters he faced on Sunday evening, a 4-1 triumph that staked the Dodgers to a two games to zero lead in the best-of-seven series that resumes play in Wrigley Field this evening.
Watson, the son of former Westmar College quarterback Steve Watson, was born in Sioux City in 1985. His dad enjoyed teaching and coaching stints at Crestland High School in Early, Iowa, and at Ponca High School in Ponca, Nebraska, where, according to a Terry Hersom column, he coached football and girls' basketball at the time Tony was born.
Steve Watson, a Des Moines Hoover High School graduate, left Siouxland for a coaching and teaching opportunity at Dallas Center-Grimes, northwest of Des Moines, in 1988 and has been there ever since. He remains the activities director at DC-G, where Tony's baseball jersey was retired last year.