SIOUX CITY | Our hearts sank on Monday with the news of the death of Claire O'Brien, of Sioux City, who died Sunday night, six days after suffering a stroke. She was 95. A memorial service is scheduled for 10 a.m. Dec. 1 at Blessed Sacrament Catholic Church in Sioux City, with visitation to occur one hour prior to the service.
I recently featured Claire in a story that kicked off the Journal's latest series of stories on veterans, "Serving Her Country: Women in the Military."
I joined photographer Tim Hynds in seeing Claire at her home on Oct. 19, a few days in advance of the story and beautiful portrait Hynds took to accompany the piece.
Claire met me at the door and gave me a hug as we renewed a friendship that began one decade ago when I wrote about her for a series on World War II veterans that went on to become one of the most popular exhibits at The Betty Strong Encounter Center on Sioux City's riverfront.
That exhibit served as the template for future Journal partnerships with The Betty Strong Encounter Center, a relationship that has helped introduce our readers to more than 100 veterans from our region, including those who served in Vietnam, Korea, Iraq, Afghanistan and in other parts of the world and all across the United States.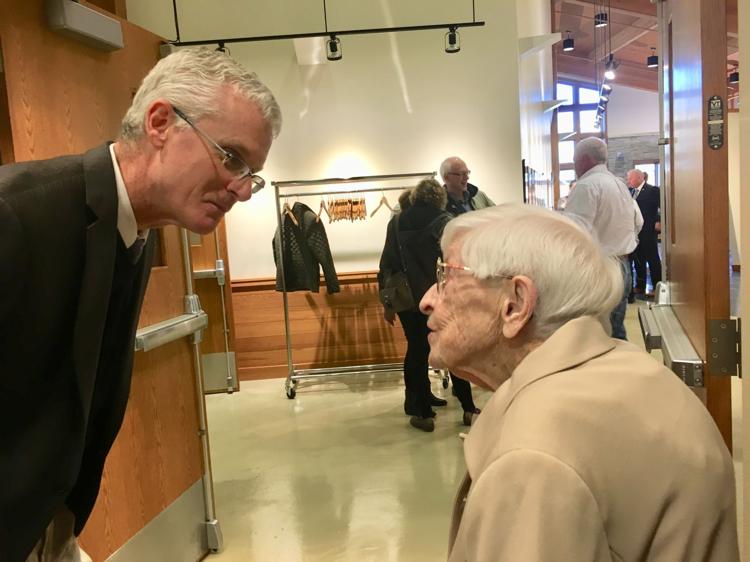 Claire O'Brien is the only veteran to have appeared in two series. She was one of two women I wrote about in the World War II exhibit. She was one of 22 women we featured in the latest exhibit, which is on display at The Betty Strong Encounter Center through May. I figured it was a natural to bring Claire back for this latest exhibit, as she helped serve as a bridge, if you will, connecting exhibits separated by a decade.
She was delighted to participate. Sharing her story, I think, may have been Claire's way of showing women how much of a difference they can make in any line of work.
"I'm a women's advocate, for all of us, not just those in the military," she told me.
Claire's willingness to serve her country was a family trait. Her older sister, U.S. Army Nurse Corps 1st Lt. Dawn O'Brien served in World War II. Their mother, Mary Beryl O'Brien, served the military during World War I as a Yoemanette. (I'll confess: I didn't know what a Yoemanette was until I met Claire O'Brien. And now, there's also a Betty Strong Encounter Center exhibit featuring the work done by the Yoemanettes, the women's branch of the U.S. Naval Reserves, during World War I.)
Claire O'Brien had earned a two-year degree at Briar Cliff University and was working for the state finance company in downtown Sioux City in July 1943 when she turned 21 and joined friend Marilyn Murphy in enlisting for service with the U.S. Naval Reserve W.A.V.E. corps. (W.A.V.E. stands for Women Accepted for Volunteer Emergency Service.)
Claire trained at Hunter College in New York then headed west across the country to work at Oak Knoll Naval Hospital in Oakland before serving the 12th Naval District Headquarters in downtown San Francisco, California.
The World War II veteran logged two years, six months and 29 days of service. She would come home, head back to Briar Cliff and eventually earn degrees in history and education, adding a pair of Master's degrees at Southern Methodist University and the University of Wisconsin-Milwaukee.
"One of the best things the government ever did was the G.I. Bill," she said. "It made our middle class what it became. It paid for my education."
Claire taught for 12 years and then served 18 years as a school counselor, a career spent in Wisconsin, primarily around Milwaukee. She retired 30 years ago and moved back to Sioux City in 2006.
And, on Sunday, Nov. 12, she took a spot in the front row at The Betty Strong Encounter Center and winked and nodded at me as I conducted a 60-minute presentation about the lives of 22 women who have served our country. Claire told me how delighted she was to be there.
"I've made at least four new friends here today," Claire said to me on her way out the door. "I'm honored, Tim. I can't thank you enough for involving me in this program."
I gave her a hug, thanked her for her service and told her how honored and humbled we were to be able to share her story, one of a remarkable life so well-lived.
Rest in peace, Claire O'Brien. Rest in peace.