SIOUX CENTER, Iowa | Doug Broek of KSOU Radio in Sioux Center joined me in attending the welcoming reception on Monday for Brian Van Haaften, new men's basketball coach at Dordt College. I asked Broek if he's normally at the Iowa Boys' High School State Basketball Tournament during the first week of March.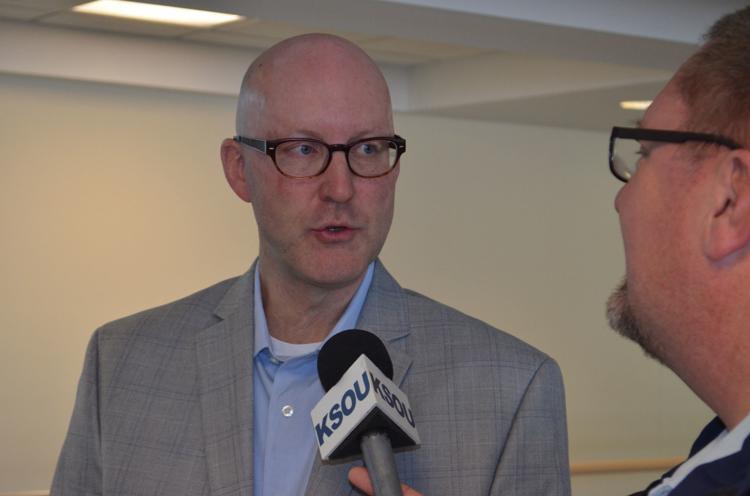 "This is the first time in 34 years our station hasn't had a team to cover in the Boys State Tournament," said Broek, who has been in Des Moines at this time the past 20 years.
KSOU covers Sioux County, a cradle of sorts when it comes to high school boys' basketball in Iowa. And while a tip of the City of Sheldon creeps into Sioux County, the Orabs are generally considered an O'Brien County representative.
The Orabs ousted powerful Sioux Center in District action. Western Christian, the 2017 state champion and arguably the top boys' basketball program in Iowa, fell to Kuemper Catholic of Carroll last week in the Substate round at East High. (Sheldon defeated the Kuemper Knights, 63-50, in the first round at the state tournament on Monday evening.)
Mike Byker, sports information director at Dordt College, visited with me about the Sioux County hoops prowess, noting that Western Christian started the incredible boys' state tournament run in Sioux County with its first championship in 1985. Unity Christian would follow one year later with a title.
Maurice-Orange City would follow with championships in 1988 and 1989, and Western would return to the pinnacle in 1991.
Rock Valley would later add titles, as would Boyden-Hull, MOC-Floyd Valley and Sioux Center.
And, sandwiched around the county are title-winning efforts from schools like George-Little Rock (a qualifier in Class 1A this year), Sheldon, South O'Brien, Paullina and West Lyon.
The girls from Sioux County have held up their end of the equation as well, having seen multiple titles head from Des Moines back to Rock Valley, Western Christian, Unity Christian and MOC-Floyd Valley, to name a few.
The girls from Sioux Center, who claimed second place for the second straight year, and West Sioux, carried the banner for Sioux County in the 2018 state classic.
Western Christian's girls, a perennial power as well, missed out on a state tournament berth when a miracle shot from North Iowa found the bottom of the net in a Regional final at Hartley. With the Wolfpack boys losing a week or so later, it marked the first time since 2006 that Western Christian didn't have a team playing in either state basketball tournament, a 12-year run that speaks to the talent and dedication in and around that school, located in the heart of Sioux County.