Editor's Note: Washta American Legion Post 283 in Washta, Iowa, hosts an open house from 2-4 p.m. Saturday at the Washta Community Center to honor Berle "Gene" Keck, a member of the local Legion group for 72 years. The public is invited.
The following is a 2012 Tim Gallagher column detailing Beck's service in World War II, which included being shot down and time as a Prisoner of War.
WASHTA, Iowa -- Berle "Gene" Keck examines a small photo of pilot George Conway a few times each week. Conway died when the B-24 bomber they were in was shot down over the skies of Yugoslavia during their 21st bombing mission.
The end came March 22, 1945.
"I was the last man who ever spoke to the pilot," says Keck, who is now 92. "We were at 2,000 feet and falling fast. He told me to get the hell out of the plane."
Keck jumped, somersaulted through the sky and pulled his rip cord. He fell hard to the earth, his parachute shot up from German soldiers on the ground. The plane crashed into a hillside, killing Conway instantly.
Of the nine who jumped, four escaped. Germans found five crewmen, including Keck, who was knocked unconscious by the fall. All were taken prisoner and paraded before locals in a nearby village.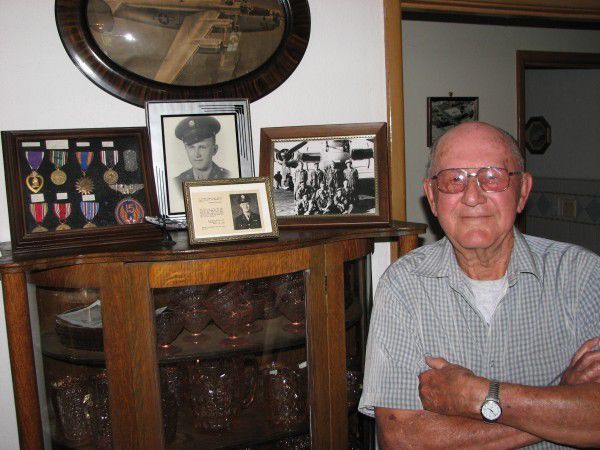 Keck was moved to a prisoner of war camp at Zagreb, where he served three months before the Russian Army liberated the region at war's end.
Sgt. Keck could fly home, but opted not to, the air thick with life-or-death memories. Instead, Keck and 49 fellow POWs boarded a converted luxury liner.
"We landed in Virginia and all 50 of us stepped off the ship, got down on all fours and kissed the ground," he says.
"Hell no," he answers. "No photos. We were darn happy to be home. I never expected to see the U.S. again. I can truthfully say I am one who beat 100-to-1 odds to get back home."
His sacrifice, says Keck, the retired postmaster at Washta, pales in comparison to Conway. "I think he's buried in a military cemetery overseas," he says. "I've always wanted to go back to see, but I never have."
If there are regrets, they're few for Gene Keck. Raised on a farm near Washta at Grand Meadow, Iowa, Keck told his parents he'd enter World War II during his junior year of high school. He didn't want the war to end before he got a chance to fight.
"No," his parents advised, "you are going to catch the school bus tomorrow morning. You are going to finish high school."
He entered the U.S. Army after his 1943 graduation from Grand Meadow High. By late 1944, he found himself stationed as a gunner in the nose turret, out in front of a B-24.
"You'd go to the briefings at 4 or 5 in the morning," he recalls. "They'd tell you to look at the man on your left and the man on your right. Chances were, one of you was not coming back that day."
Keck's 21st mission targeted fortified manufacturing plants in Vienna, Austria. German guns had the Americans' number on March 22, 1945. Four of the nine B-24s in Keck's formation took on heavy fire and scattered.
"We could not get back over the Alps on our return because of the damage," he says. "We crippled back over Yugoslavia, lost altitude badly and had to bail out."
For 30 days, Keck survived on watery broth. A local baroness, Vera Nikolich-Podrinsky, convinced the German guards to allow her to host several P.O.W.s each Sunday. She served bread or toast with grape jelly.
In 1966, the baroness, likely in her 80s by then, did two art exhibitions in the U.S. She and Keck reunited at Columbus, Ohio. She autographed a painting for him. "To my old friend, Gene Keck," it says. "In remembrance of bygone days."
It adds color and history to the home Gene and his wife Carolyn (they were high school sweethearts) built at Washta in 1953. It's here the Kecks raised three children. Carolyn died of cancer in 1997, three weeks shy of their 50th wedding anniversary.
The baroness' gift hangs a few feet from Keck's living room memorial, one featuring a photo of his bomber crew, a B-24 model, a rip cord handle, a shadow box containing Keck's nine medals and that tiny photo of Conway, killed-in-action.
He looks at Conway, all smiles at the time, a young flier fresh from Texarkana, Tex. "I kept his photo here for nearly 60 years," Keck says, voice cracking.
Conway's widow died six years ago. She reached 90 before passing on July 4. "A day celebrating freedom," her obituary reads.
Gene Keck celebrates freedom each July 4. He flies a U.S. flag on the pole he set west of the house.
Memorial Day? He raises the flag that day, too. But there's something more about the last Monday each May.
"My wife and children always knew never to make plans for me on Memorial Day," he says. "Memorial Day is my day. My day to pay tribute to my pilot."