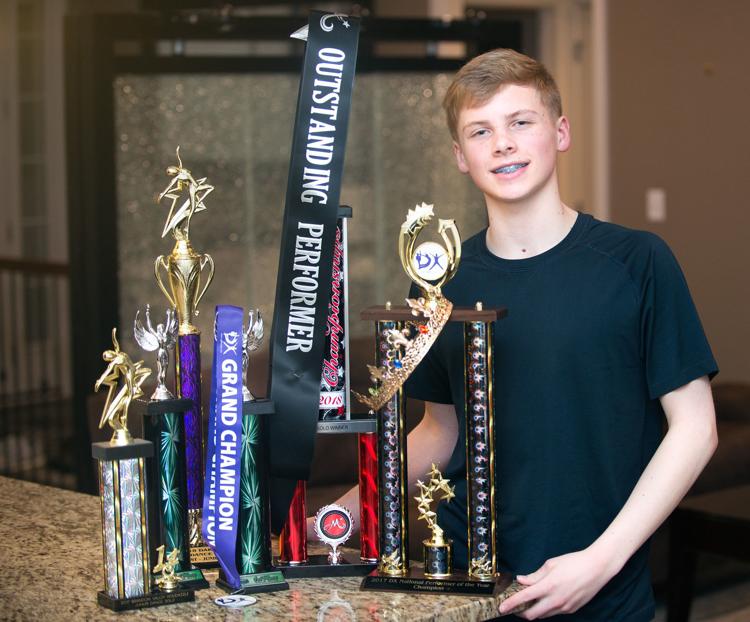 DAKOTA DUNES -- Freddie Linden just wants a chance to compete with the girls dance team at Dakota Valley High School.
The southeast South Dakota school and his friends on the squad support his decision. But South Dakota High School Activities Association rules forbid mixed gender teams in state-sanctioned tournaments. So, Linden, a Dakota Valley freshman, is suing to lift that ban.
"We hope that we will win the case," Linden said Wednesday. "It is such an outdated rule for 2018, for boys not to participate. I just hope I can dance next season."
Stephanie Linden, Freddie's mother, said the family filed suit against the SDHSAA after they were left with no other choice.
"Dakota Valley is in support of Freddie dancing on the team. Their hands are tied, as they must follow the law," Stephanie Linden said.
His mother has taken to social media sites to promote the action the family is pursuing with support from the Pacific Legal Foundation. The firm has a history of taking on personal liberty cases, to support "peoples' right to freely associate and express themselves," according to its website.
In a recent Facebook post, Stephanie Linden wrote, "Thank you to everyone for your support and kind words about Freddie's story/ lawsuit. Our goal is to get this changed for Freddie and all the other male dancers that live within the 20 states that follow this same rule! I appreciate all the shares and posts. #letFreddiedance ."
PLF last week filed suit in federal court in Sioux Falls on behalf of Freddie, arguing the association's "female-only" designation for competitive dance violates the 14th Amendment's equal protection clause.
Freddie Linden, 15, is the second oldest of four siblings.
"My mom always saw as a toddler and kid that I loved to dance. I like the music and I like to express myself...I consider dance a sport and an art," he said.
Freddie Linden, who started training in a dance studio in first grade, practices about 14 hours per week, and is highly talented, as evidenced by awards he has received.
He is the only male dancer at the studio, while many female studio dancers from that studio are on the Dakota Valley dance team. Stephanie Linden declined to identify the studio, other than to say it's in South Dakota.
"Parents from other dance studios have commented that they love to watch Freddie dance at the competitions that their daughters are in," Stephanie Linden said.
Freddie Linden said he first learned he couldn't be on the Dakota Valley dance team in eighth grade, when an email went out telling girls they could sign up for the 2017-18 team. He went to the dance coach and asked, "Why does it say girls only?"
The coach explained it wasn't open to boys, due to a state rule. Freddie said he didn't ask Dakota Valley administrators to intercede.
A news release from Pacific Legal Foundation said the South Dakota High School Activities Association "in a misguided effort to comply with federal Title IX requirements" set competitive dance as a female-only sport, with no corresponding male-only team. Therefore, Linden's only role for competitive high school dance is attending practices and competitions as team manager.
"I had to sit and watch, and play the music, as dance manager. I'd like to be the one dancing," Freddie Linden said.
"This arbitrary, backwards-looking statute violates the Constitution's guarantee of equal protection. Preventing males from dancing does nothing to remedy discrimination against females. Discrimination is not remedied by more discrimination," the PLF statement said.
The lawsuit does not seek to affect the ability of school districts to have sex-specific sports. PLF said schools can establish both girls-only and boys-only basketball teams, for example, since that ensures equal opportunity.
"But as with any other type of discrimination, government needs an exceedingly persuasive reason for restricting athletic opportunities to just one sex," the law firm statement said.
In a statement to The Journal, PLF attorney Joshua Thompson said the timeline for the lawsuit resolution is unclear.
"The association has 21 days to answer the complaint. The case could go a number of different ways. We certainly hope that the association repeals the discriminatory rule, which they could do at any point. If they do so, we will drop our lawsuit. If they answer or move to dismiss, the litigation could take anywhere from 6 months to multiple years," Thompson said. "It's just really difficult to estimate these things."
Freddie Linden said he hopes his case sets a national precedent.
"We are not only trying to change South Dakota, this law is in 20 other states. We are hoping to allow boys in all 20 states to dance. I am the voice for those boys," he said.