Thomas B. Grundman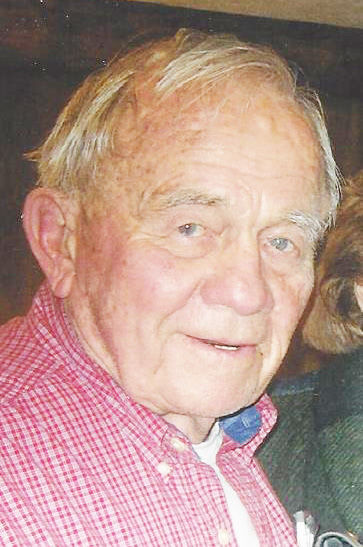 Cherokee, Iowa
Thomas Burtness Grundman, loving husband, father, grandfather, conservationist, accomplished builder, Iowa State Cyclones fan, and airplane pilot, died in his sleep on June 8, 2017 at the perfect age of 93.
Memorial services were held at 1:30 p.m. Wednesday, June 14, at Memorial Presbyterian Church in Cherokee. The Rev. Eric Wright officiated. Following the service, there was military rites, family greeting, lunch and a celebration of Tom's life at the Spring Lake Yacht Club from 3 to 6 p.m. Tom had chosen to be cremated. If you have a story to share with the family about Tom, written forms will be provided or you may bring a prewritten memory. Bring your fishing poles.
Arrangements were under the direction of Boothby Funeral Home in Cherokee. Online condolences can be left at www.boothbyfuneral.com.
Tom was born on May 30, 1924, in Pella, Iowa, to a German father, Ralph Spencer Grundman, and Norwegian mother, Katherine Elvina (Burtness) Grundman. As a boy, Tom enjoyed playing in the woods on his family's dairy farm, swimming in the local gravel pit, riding his Welsh pony Brownie to school, listening to Little Orphan Annie and Jack Armstrong and playing hoop and stick which concluded with knocking out his four front teeth. Tom loved to tell the story of falling off the back of his father's milk truck during a delivery, breaking his leg, and his father backing to subsequently run over his leg again. Always a hard worker, Tom also maintained a newspaper route.
Tom graduated from Pella Community High School and participated in football, basketball and track. He ran in the Drake Relays in Des Moines and then attended the relays for more than 50 years, never missing the event from 1955 to 2011.
Tom attended Reed College in Portland, Ore., and then enlisted in the U.S. Army Air Corps during World War II. He trained as an airplane mechanic in Idaho at Pocatello Army Airfield and was assigned to an air base in Cuba. He was disappointed when the week before he was to begin his pilot training, thousands of cadet training positions were cut. During unscheduled time, Tom and his soldier friends were invited to swim in water falls on the Cuban chocolate plantations.
After the war, Tom attended Iowa State University in Ames, and graduated with an architectural engineering BS in 1950. He started Cyclone football as a walk-on and lettered in '47, '48 and '49. He was a lifelong season ticket holder, attending almost every home game for more than 50 years. Tom's dog Cyclone served as the Iowa State football teams mascot and guard dog at Tom's fraternity, Phi Delta Theta.
Almost 53 years ago in 1964, Tom, a 40 year-old bachelor, married the new school teacher in town, Avis Faye Clark. He quickly had four daughters within six years, Jane, Molly, Peggy and Abby. He was often heard saying, "These women do let me vote, they just don't count it."
As a general building contractor, Tom began his career working with his cousins in Sioux City at Holtze Construction. In 1955, he moved to Cherokee and bought half of the Gunnar Osterling Construction Company to create Grundman-Osterling Construction. In 1959, the company became Grundman-Hicks Construction Company, Inc. Tom was also a partial owner of HEG Painting in Cherokee. During this time, he patented a special tape measure to square-off buildings. He sold Grundman-Hicks in 1995, but continued to independently consult into his 80s.
As an accomplished pilot, he flew all over the Midwest, managing various commercial building projects for Grundman-Hicks Construction. He also flew his Cessna 182 Skylane to regular May fishing trips in Canada. One of his regrets was not flying to Alaska to fish.
Tom was a conservationist, environmentalist and animal lover, especially of his dogs, Sputnik, Kia, Curly, Com'ere, Butters and Alton and once said his second career choice would be a veterinarian. Tom served on the Cherokee County Conservation Board from 1971 to 1990. He also served as a past president. In 1979, he received the Frank Starr Award from the Little Sioux Wildlife Association for dedication to the preservation of outdoor conservation and wildlife. He was instrumental in acquiring Silver Sioux Access Area, Red Tail Ridge and Steele Prairie. In the 1970s, Tom and Avis bought a farm from Arvid Gustafson.
He loved teaching his girls how to fish, fishing with Avis, gathering arrowheads along Mill Creek that ran through his farm and hunting for wild asparagus in ditches under the electrical high wires. He taught his daughters where to find morels, when to pick the gooseberries and wild strawberries, and how long to wait on the trail during deer season with a bow and arrow. In a testament to his bravery, he single handedly took ten six-year-old girls fishing for his daughter Abby's seveth birthday. "Everyone caught a fish and I didn't lose a single child," he later reported. He was also a member of Cherokee County Pheasants Forever.
Tom's motto was "Work hard, then play hard." He enjoyed participating in golf tournaments throughout Iowa, dates and antiquing with Avis, socializing with friends, picnicking at the county parks, water color painting and huge gardens. He built for fun and his little gazebo turned into a cabin.
Tom loved traveling and took his wife and children to many places in the United States on yearly vacations in August, just after the swim team season, when his voice was still hoarse from yelling advice through the swimming pool fence to his four little fish and their teammates. Everyone knew when a Grundman girl was on the blocks; at least that is how it seemed to his children who adored him. He was always at the girls' activities as their biggest fan. He was a longtime supporter of Cherokee Community School Athletics. He enjoyed yearly family summer trips to Okoboji for the Master Builders of Iowa Convention and in 2000, he visited his Norwegian family farm in the Halingdahl Valley in Norway.
Tom was a loyal and true friend and had the tenacity for sticking to tradition. In 1934, a Christmas card was given to Tom by his 10-year-old friend, Stan Ver Ploeg. Tom was short on money, so his mother told Tom to simply give the same card back to Stan, with his own signature on it. So for the next 71 years, until Stan's sudden death in 2006, the two life-long friends exchanged the same Christmas card. The tattered red and gold card, emblazoned with a sail boat crashing through a winter sea and later kept in a safety-deposit box, is peppered with phrases like, "Hello newlywed," "It's a girl," "It's another girl," "Three girls at ISU- poor planning," and "Thankful for health, fearful of war."
Tom loved his children, especially his grandchildren, Tyler, Jack, Tom, Kate, Kyle, Brady, Hazzard and Ender. He would answer their phone calls by saying, Happy New Year and taught a fretting grandchild, if you can do something about it, then do it, but if you can't then stop worrying.
As a mentor, Tom took many individuals under his wing, guided them and gave them a second chance. In his earlier years, he volunteered as a Sunday School teacher and was an elder at Memorial Presbyterian Church. As a father, Tom taught his daughters they could do anything they set their minds to do and people were as nice to you as you were to them.
Tom had a quick smile, a twinkle in his blue eyes and a spontaneous sense of humor. He loved people and loved life. He was incurably curious, always preserving a boyish, invincible quality to the end. His long strong hugs and kisses will be missed.
He is survived by his wife, Avis; four daughters, Jane (John) Fischer of Cedar Rapids, Iowa, Molly Schallau of Sioux City, Peggy (Chris) Lickiss of Newton, Iowa, and Abby (Neal) Guthrie of Arcata, Calif.; Gary Schallau of Le Mars, Iowa; eight grandchildren, Jack and Tom Fischer, Tyler, Katherine, Kyle, and Brady Schallau, and Hazzard and Ender Guthrie; brother-in-law, Ken Kramer; sister-in-law, Georgia Clark; nieces and nephews, John (Deb) Grundman, Tom (Patty) Grundman, Kathy (Barry) Keywood, Martha Kramer Nudi, Thom (Lisa) Kramer, Shannen (Greg) Hilsabeck, Tara (Troy) Sargent, Lance (Carey) Clark, Jill (Russ) Peters, Sara (Mark) Reis, Ben (Jamie) Clark; cousins Gene (Armella) Martin, Carl Ver Steeg, Carol Manussier, and Phyllis Schakel; and other cousins, many other relatives and friends.
He was preceded in death by his parents; brother, Howard "Axel" Burtness Grundman; sister, Susan Ola (Ken) Kramer; parents-in-law, Alton and Bernice Bellows Clark; sister-in-law, Jane West (Howard) Grundman; brothers-in-law, Gary Clark and Craig Clark; and niece, Elizabeth (Don) Mahon.
Memorial donations may be made to the Cherokee County Conservation Board or a charity of your choice in Tom's name.
Family would like to thank Dr.Veit and all special friends and staff at Careage Hills in Cherokee.