Ricketts outlines tax plan, lauds Nebraska senators for cooperation in State of State speech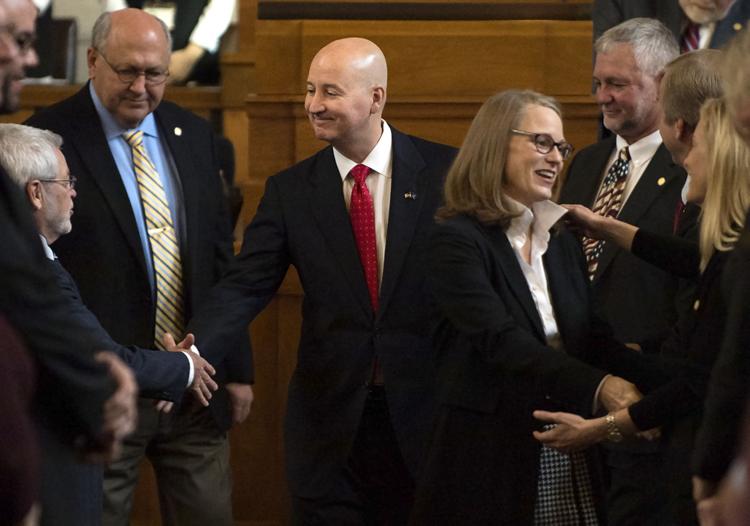 Striking a conciliatory tone and heaping praise on state senators from both parties, Gov. Pete Ricketts on Wednesday lauded lawmakers for working together to grow Nebraska and its economy.
"In the spirit of cooperation, we come together each year to accomplish the priorities that matter most to Nebraskans," Ricketts said during his fourth annual State of the State address.
"Our work together is helping to grow our state and keep Nebraska the best place in the world to live, work and raise a family," he said while addressing the crowd gathered in the George W. Norris Legislative Chamber.
Businesses and people around the state are beginning to take notice of Nebraska, Ricketts said, helping the state achieve "record levels of employment with over 1 million non-farm jobs and the lowest unemployment rate in our state since 1999 at 2.7 percent."
The state also topped a population of 1.92 million people for the first time ever last year, he said.
Entering the final year of his first term as governor, Ricketts said state's leaders have been able to put aside their differences to work for the good of all Nebraskans.
He highlighted bills from Speaker Jim Scheer to allow teachers to wear religious dress in public schools, the "Choose Life" license plate brought by Sen. Dan Watermeier, efforts to reform occupational licenses, the merging of state agencies and bills by Sen. Lynne Walz to protect injured first responders from losing their health insurance and Sen. Anna Wishart to protect the personal information of law enforcement officers.
"It is not always easy," he said. "But it is important."
Scheer introduced the bill to repeal the century-old ban on religious garb on behalf of Sister Madeleine Miller of the Missionary Benedictine Sisters in Norfolk, who couldn't find work at a parochial school in the Norfolk area because she was told she couldn't wear her habit. Miller ended up moving to her order's convent in Winnebago so she could work at Bishop Heelan Catholic High School in Sioux City.
Ricketts outlined the state's accomplishments in his first term, including receiving the Governor's Cup, the top award by Site Selection magazine given to the state with the most economy development projects per capita, and a fourth-place ranking by Forbes magazine in its list of the best states for business.
Recent partnerships with the international community also promise to bring more jobs to the state while helping grow Nebraska's $8 billion in exports annually, Ricketts said. Trade missions to Canada, China and Japan have helped spur growth here on the Great Plains, he added.
A trip to Canada in August helped snag a small plant for Agri-Plastics in Sidney that has created 20 jobs, Ricketts said, while a Danish company Novozymes launched a new investment in Blair after a visit there.
Ricketts introduced Eric Jones, a production worker at Kawasaki who landed a spot in the plant's new aerospace division in Lincoln -- a move the governor said was supported by a 2015 trade mission to Japan.
"Eric told me Kawasaki is great for Lincoln," Ricketts said. "Besides the good-paying jobs and investment, Kawasaki supports local charities and uses local vendors."
From the ranchlands of western Nebraska, Ricketts said beef has found a new destination after a 14-year hiatus: China. "I'm excited to report that over half the American beef in China now comes from Nebraska," Ricketts said.
Other ag commodities are also finding new markets worldwide, Ricketts said, which are being opened by efforts from the Department of Agriculture and Department of Economic Development.
U.S. companies, too, have sought investments in Nebraska, the so-called Silicon Prairie. Ricketts pointed to a 970,000-square-foot facility under construction to serve as a data center for Facebook in Papillion, and a Costco chicken processing operation in Fremont.
Ricketts keyed in on efforts by the state to reduce the red-tape for businesses, draw down state spending to make state government "more efficient, and more customer-focused" and initiatives he said will make the state a more business-friendly environment.
Transitioning to his priorities, Ricketts said he'll propose a state budget that reduces spending growth to 0.2 percent next year by cutting across-the-board appropriations by 2 percent this year and 4 percent next year.
Those spending cuts won't reduce the state's investment in K-12 education, which he recommended maintain its current funding under the state aid formula, the Department of Corrections, which will see a nearly $6 million investment to build 100 new prison beds, or aid to the state's population of developmentally disabled individuals.
While balancing the budget, Ricketts said he'll put forward a plan to cut property, income and corporate taxes in the state to ease the burdens on farmers and homeowners, and make the state more attractive to businesses.
His threefold plan, which will be introduced Wednesday by Sen. Jim Smith of Papillion, will include a restructuring of existing property tax credits into a new tax credit for Nebraskans Ricketts said will provide $4 billion in property tax relief over the next decade.
Next, Ricketts' plan will reduce income and corporate tax rates incrementally if the state's growth exceeds projections. The plan uses existing tax credits to achieve a permanent reduction in the state's individual and corporate tax rates.
"Right now, 90 percent of individual income taxes paid by Nebraskans are at that top rate, and 90 percent of Nebraska businesses pay at the top individual rate," he said.
Ricketts also wants to inject $10 million over the next two years for workforce development -- the third part of his plan.
"We have our work cut out for us, but I have no doubt we are up to the challenge," he said. "Nebraskans expect results."