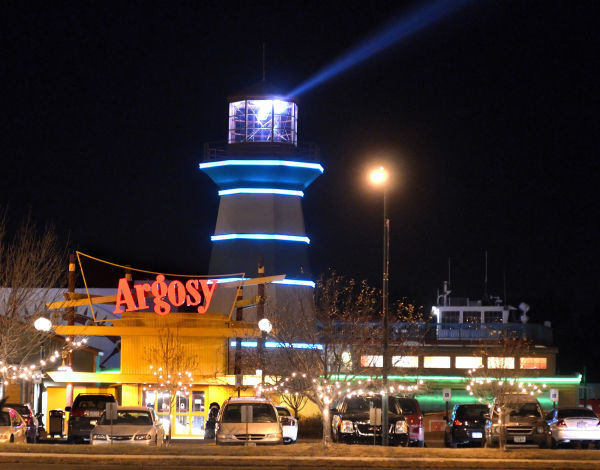 SIOUX CITY  | A Sioux City nonprofit agency and the owners of the former Argosy Sioux City riverboat casino have reached a tentative settlement of a lawsuit seeking nearly $1.8 million in unpaid revenue-sharing funds.
Finalizing the settlement could still take time while attorneys decide the best way to do so.
Attorneys for Community Action Agency of Siouxland and the Belle of Sioux City, which operated the Argosy, and Penn National Gaming Inc., the Belle's parent company, notified U.S. Magistrate Judge Kelly Mahoney last week of the tentative settlement.
Community Action Agency sued in November 2016 for $1.93 million in monthly revenue-sharing payments that Belle and Penn withheld from Missouri River Historical Development Inc. The nonprofit agency is seeking the money on behalf of itself and as many as 54 other nonprofit groups that in the past have received grants from MRHD, the state-licensed nonprofit gaming group that collected and distributed a portion of Argosy gambling profits to charitable and civic organizations.
The amount being sought has been reduced to $1.79 million after it was discovered Belle had made one more monthly payment than initially believed.
Both attorneys in the case -- Terry Giebelstein, of Davenport, Iowa, who represents Community Action Agency of Siouxland, and Mark Weinhardt, of Des Moines, who represents Belle -- declined to comment.
In an order filed last week in U.S. District Court in Sioux City, Mahoney said the settlement is complicated by the class-action allegations involving the numerous nonprofits. The case has yet to be certified as a class action, a sometimes lengthy process. Mahoney said attorneys believe that a more efficient option could be to obtain a declaratory order from the Iowa Racing and Gaming Commission, which regulates state gambling activities.
Mahoney did not move the scheduled June 11 trial date.
It's not yet know if involving the IRGC is possible.
IRGC administrator Brian Ohorilko said Wednesday that the commission has been informed of the tentative settlement, but no formal request for action has been made by either side.
"We're aware of it and the ideas that have been presented to us with no formal request," Ohorilko said.
If and when such a request is made, Ohorilko said the IRGC would need to consult with the Iowa Attorney General's Office for advice on whether the IRGC can take whatever action might be sought.
In order to be placed on the agenda of the IRGC's next meeting March 6, a request would be needed by Feb. 22, Ohorilko said.
Belle stopped making the revenue-sharing payments -- 3 percent of the boat's adjusted gross revenues -- to MRHD in May 2013, seven months after it had sued MRHD for breach of contract.
The monthly payments ceased two months after the IRGC awarded Woodbury County's first land-based gaming license to MRHD and developers of the Hard Rock Hotel & Casino, which opened in downtown Sioux City on Aug. 1, 2014, two days after state regulators ordered the Argosy to close because its state gaming license had expired.
Though it is not a party to the Community Action Agency lawsuit, MRHD executive director Mark Monson said he was happy to hear that a potential settlement had been reached.
"I hope this is over," he said. "It's time to move forward."
The breach of contract lawsuit involving MRHD is pending in Polk County District Court. MRHD has countersued in the case, which is scheduled to go to trial in September in Des Moines.