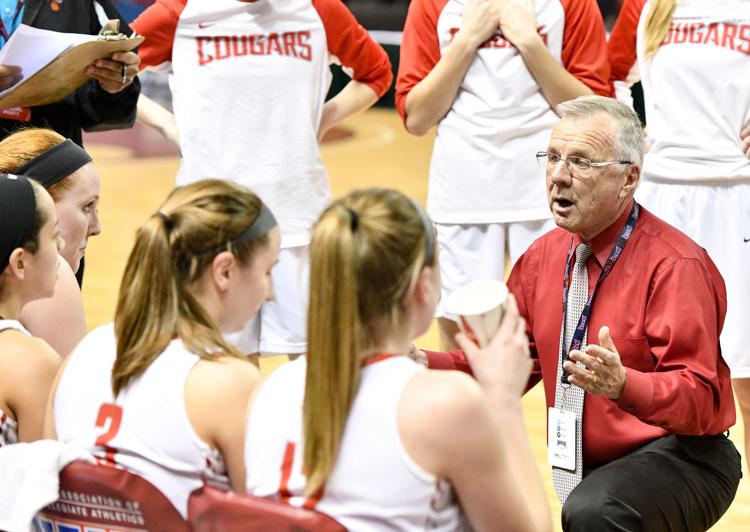 SIOUX CITY | Bob Hallberg's national title quest runs its course as Dakota Wesleyan dispatches Saint Xavier in the national semifinals of the NAIA Division II Women's Basketball Championship on Monday at the Tyson Events Center.
As Hallberg's team, the 52nd of his coaching career, gathers to shake hands as the only coach this program has known glances up, giving a last look at the scoreboard which reads, Dakota Weselyan 81, Saint Xavier 66. The game was much closer than 15 points, a competitive treat for 2,600 loud fans.
Hallberg, clad in red dress shirt and neck tie, sighs and claps his hands twice, softly. His body language suggests, "Shucks. We were close."
Eleven Cougar players shake hands with the Tigers from Dakota Wesleyan. The Cougars file into the locker room only to be summoned to come accept a national semifinal trophy from tourney co-organizer Mike Skaggs, who stands at center court, beneath the bright lights.
It strikes me that not one of the players sheds a tear. They march from their locker, seconds removed from the most gut-wrenching loss of the season, the end of the line for three seniors, and nary a tear is seen. They stand tall for a group photo.
I've seen more despair during a game in my back yard, and maybe that says something about my "coaching" approach. Here's a team exiting stage left on its sport's biggest stage -- the "Fab Four" -- and nobody sobs or stomps their feet.
Perhaps these Cougars reflect Coach Hallberg, the 74-year-old who speaks softly and carries a quiet clap.
"I tell our players to not let the last game of a season define you," Hallberg says. "It does you no good to cry after a game. You can't change the outcome. And I never rant and rave at the end of a season. You want to end on a high note."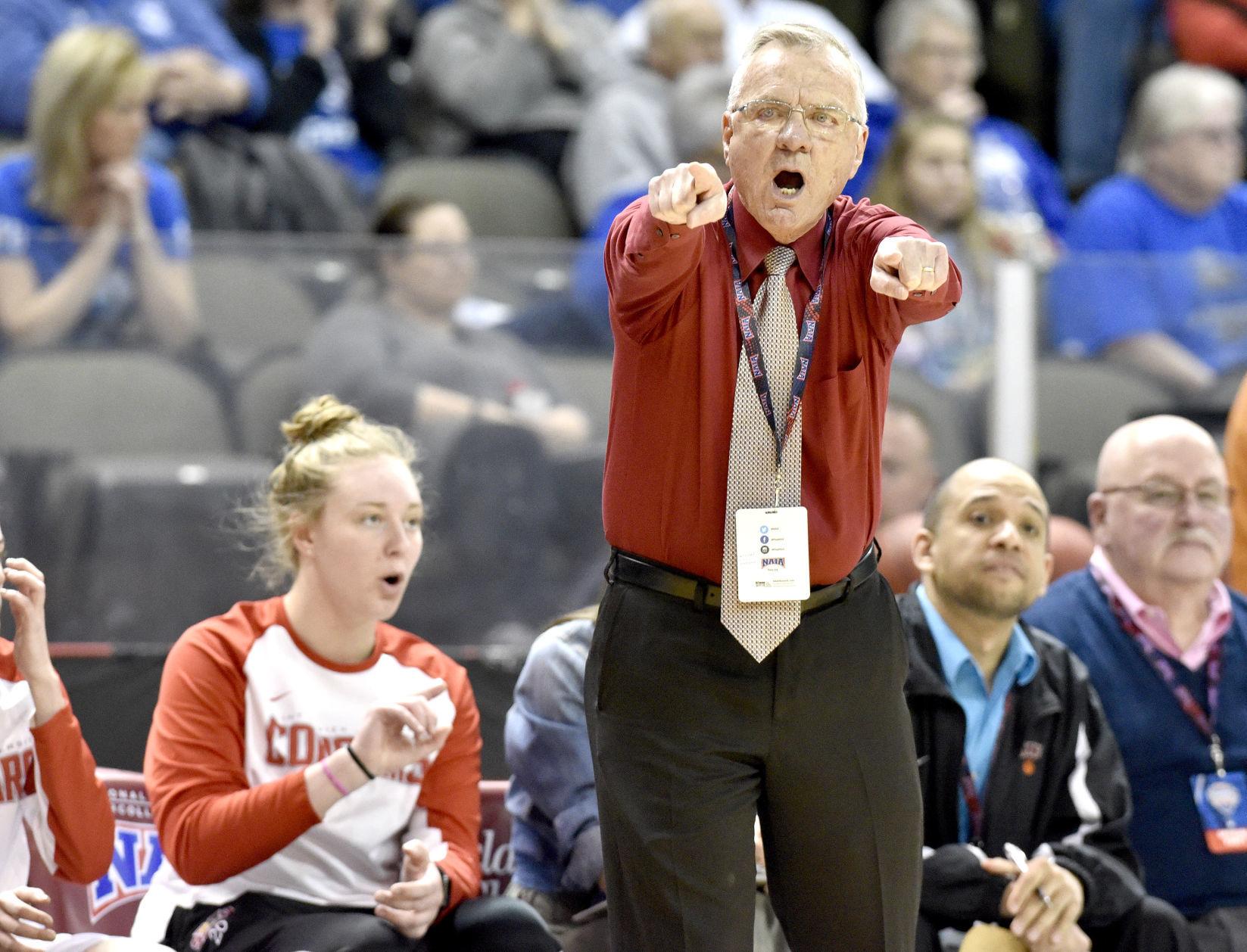 Thirty-one teams, he observes, leave this tournament with a loss. Only one emerges with the brass ring. The Cougars departed after the championship contest one year ago, earning a runner-up honor in the second of Hallberg's three "Final Four" efforts.
"Thirty-one coaches left here telling themselves they'd need to find a better shooter, a better rebounder, or simply just to recruit better," he says. "One team leaves with a title and that coach is quickly asking, 'How do we get back here?'"
Hallberg leaves Sioux City with his team at 9 a.m. Tuesday, heading east to Chicago with fond memories, few regrets. Sure, he'd cherish a national crown. Still, I don't get the impression it defines him.
"We won 33 times this season and lost only three games," he says. "Who wouldn't like to win 33 games and having the feeling that comes with winning?"
The parents and players I watch in the Tyson Events Center concourse match that attitude. Parents hug their daughters and friends. Everyone stands tall at the end of the trail, despite the fact the end comes with a loss.
Hallberg, instead, savors the experience. And while his team has a decided disadvantage in crowd size (several hundred Dakota Wesleyan fans, students and their cheerleaders make the trip from Mitchell, South Dakota, as compared to about 30 Saint Xavier University backers), Hallberg focuses on virtues of volume and crowd strength.
He's a coach who directed a men's basketball team to victory against legendary Coach Lou Henson at Assembly Hall at the University of Illinois. His men's teams at Chicago State, then Illinois-Chicago, won at Marquette, Illinois State and Wichita State. He knows hostile environments.
"It's wonderful for the women to be exposed to this kind of environment," he says. "I thought this was cool tonight. I wish we could play in front of crowds like this every night."
Our chat features the requisite question about his future. The athletic director/coach is well past retirement age.
"I'll keep coaching as long it's fun," he says. "I go to lunch with retired buddies of mine and they go home after we eat and take a nap. I go back to work because I enjoy it. Being around young people, I think, keeps me feeling young."
And so, on Tuesday morning, Bob Hallberg rises and boards the team bus, as he's done since he got into this wonderful profession in 1966. The man with 966 victories to his credit settles in for a long trip back to Chicago. Eleven Cougars take their seats behind him, napping or reflecting, some of them gearing up for the stretch run in their academic year. Three seniors on the Saint Xavier team, the coach boasts, own grade points of 4.0, 3.8 and 3.8.
He says they didn't plan on staying in Sioux City much longer after their elimination, as the players seek a return to research projects and papers. "These kids spend more time in the library than in the gym," Hallberg says.
Maybe that's another reason tears are hard to find after a riveting national semifinal. Perhaps, these Cougars, like their coach, find perspective on the bus, in the locker room and library. They aim to end on a high note, where it matters most.