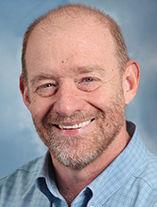 SIOUX CITY -- In two months, Democratic voters in 39 Northwest and North Iowa counties head to the polls to pick a nominee for the state's 4th congressional district.
In the June 5 primary, Democrats Leann Jacobsen, John Paschen and J.D. Scholten will vie for the right to face the Republican nominee, presumbly incumbent Republican Rep. Steve King, in the November general election.
King, an eight-term incumbent from Kiron, must first get past GOP challenger Cyndi Hanson, of Sioux City.
The three Democratic candidates, who have a combined one electoral win among them, have been traveling around the sprawling 4th District since mid-2017. Democrats throughout the district are deciding which of the political newcomers is best suited to challenge King in Iowa's most heavily Republican district.
"The election is still several weeks away and the field appears to be wide open. Speaking as a 4th District Democrat, I am glad that so many qualified people have stepped forward to run," said Al Sturgeon, a lawyer from Sioux City and former Woodbury County Democratic Party Chairman.
Scholten, of Sioux City, has led in fundraising among the Democratic candidates. In fact, he brought in more than King in the quarter that ended December 2017.
Scholten played baseball for the independent league Sioux City Explorers for several years, and also has worked as a paralegal. Paschen, of Ames, is a pediatrician at the McFarland Clinic in Ames. Jacobsen, of Spencer, is a first-term member of the city council in the Clay County county seat.
The three candidates each have been talking about health care and supporting working families, and at times tweeting or speaking against what they see as divisive comments by King. Some local Democratic Party leaders say they have would have liked to see more of the candidates by now, but there are still opportunities to make inroads with voters over the final weeks before the primary.
Ken Mertes, a long-time Monona County Democratic Party official, said there is a benefit to seeing the candidates in person.
"As with everything, from being a used car salesmen to preaching to politics, the more I see you, the more likely I am to like you, Mertes said.
"None of them have had the kitchen table talks with us that we need to hear," said Julie Geopfert, chairwoman of the Webster County Democratic Party. "I would say they really need to make a few more stops in Webster County for us to get to know their positions on anything (other than) defeating Steve King."
Party leaders debate whether Scholten's campaign cash advantage makes him the front-runner or whether Jacobsen's experience as the only elected official gives her an edge. Jim Eliason, chairman of the Buena Vista County Democratic Party, said he didn't see any of the candidates with a lead.
Sturgeon said he doesn't think "Jacobson's election to Spencer City Council has given her a huge advantage, although it certainly does not hurt."
In the last fundraising period, Scholten brought in just above $174,000, while Paschen raised almost $63,000 and Jacobsen collected more than $47,000.
"Certainly in the early stages of this campaign the front runner would appear to be J.D. Scholten," said Sturgeon, a former state legislator. "This is not just due to his more successful fundraising, which is important, but the fact that he seems to work the district very hard. probably more than anybody else in terms of Woodbury County."
Eliason noted, "Money isn't everything. (2014 Democratic nominee Jim) Mowrer outraised King and it didn't give him a win. Total obscurity is likely a big problem, but once a candidate is well known, I'm not sure that being better known is much help."
Sturgeon described Paschen as "the wild card in the race," and Eliason said the physician has been the candidate who has most often visited Buena Vista County.
Sturgeon said Paschen "is very articulate in talking about the Affordable Care Act and the need for national health insurance. If he has resources, he could parlay that background into a very effective run for the nomination."
Eliason said he recalls Paschen addressing how to "improve health care and making the campaign about issues, not personalities. Leann Jacobsen is interested in making Northwest Iowa a good place to live with activities and jobs that will retain young people, (with) affordable health care, good education and economic development."
Mertes said he's seen Scholten speak about workers rights and trade issues in Monona and Woodbury counties.
For now, Eliason said the Democratic candidates should not bash each other and point out their differences on issues. Whoever wins the primary, he added, will then need to court independents and moderate Republican voters.
"The progressive base is too small in this district to win with Democrats alone. Many moderate Republicans are sick of the extremism of King, and someone who can speak to their values can get their vote. This can be done without betraying Democratic principles, since I believe that most of these people share our values," Eliason said.