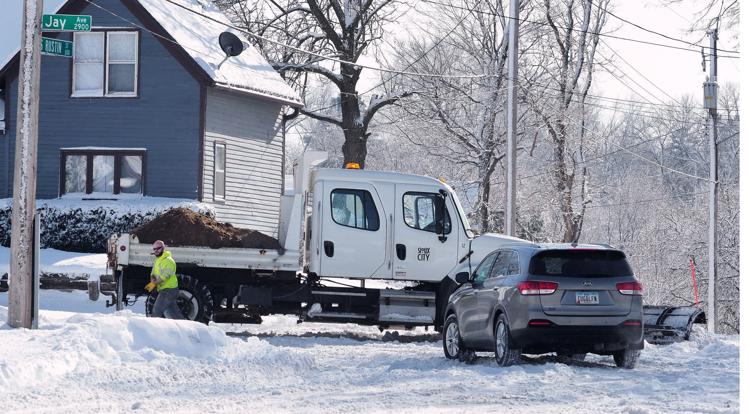 SIOUX CITY | Motorists continued to experience slippery starts and stops on snow-covered stretches of street Wednesday as Sioux City continued to dig out from underneath more than a foot of snow. 
Public Works director Dave Carney said Wednesday afternoon city crews were making progress plowing priority three, or residential, streets throughout the afternoon. He said residents who had seen little clearing on their streets could expect more soon as crews worked through the evening and overnight hours on those roads.
The city has been running 24-hour snow removal since Monday's blizzard. Carney said about 80 employees, including plow drivers and mechanics, have been split between the two 12-hour shifts and running dozens of machines at a time.
The city's fleet includes 17 plows with spreaders, 11 plows, eight front-end loaders and six road graders.
One challenging aspect of Sunday night and Monday's snowfall, he said, was an early rain and rain-sleet mix that caused the first few inches to compact on the street. Traffic driving over that had made the bottom layer even more solid, he said.
"That made it a tough 2 inches to get to," he said. "The plows were almost just bouncing off."
Carney said some afternoon sunshine, combined with salt that crews had put down Tuesday, was beginning to take effect.
The city has hired contractors to start clearing the towering snow windrows over the next few days. Carney said he expected work to begin on clearing Morningside Avenue's windrows overnight Wednesday, with crews moving on to downtown Thursday night and Friday. 
Driving conditions proved challenging for some government vehicles Wednesday, with reports of at least one snow plow and school bus becoming stuck in the snow. A Sioux City Community School District spokeswoman declined to comment whether the district had any trouble with bus routes after taking two days off due to weather. 
Sioux City Transit driver supervisor Rick Scott said that after shutting down Monday, the buses were able to run on the majority of their routes Tuesday afternoon and were back on all of their routes Wednesday.
He said the morning commute was slow-going on some routes, and buses had to shut down for an hour between 8:30 and 9:30 a.m. to catch back up. He said two buses have become stuck over the past two days, but there have been no accidents. 
As streets crews continue to work 'round-the-clock to clear the roads, the exact financial impact of the snow removal effort remains unknown.
The city has budgeted more than $1.4 million for snow and ice control during the fiscal year that ends June 30. As of Wednesday morning, city finance director Donna Forker said the city had used $551,266, much of which is chemicals the city buys in bulk to use during the season.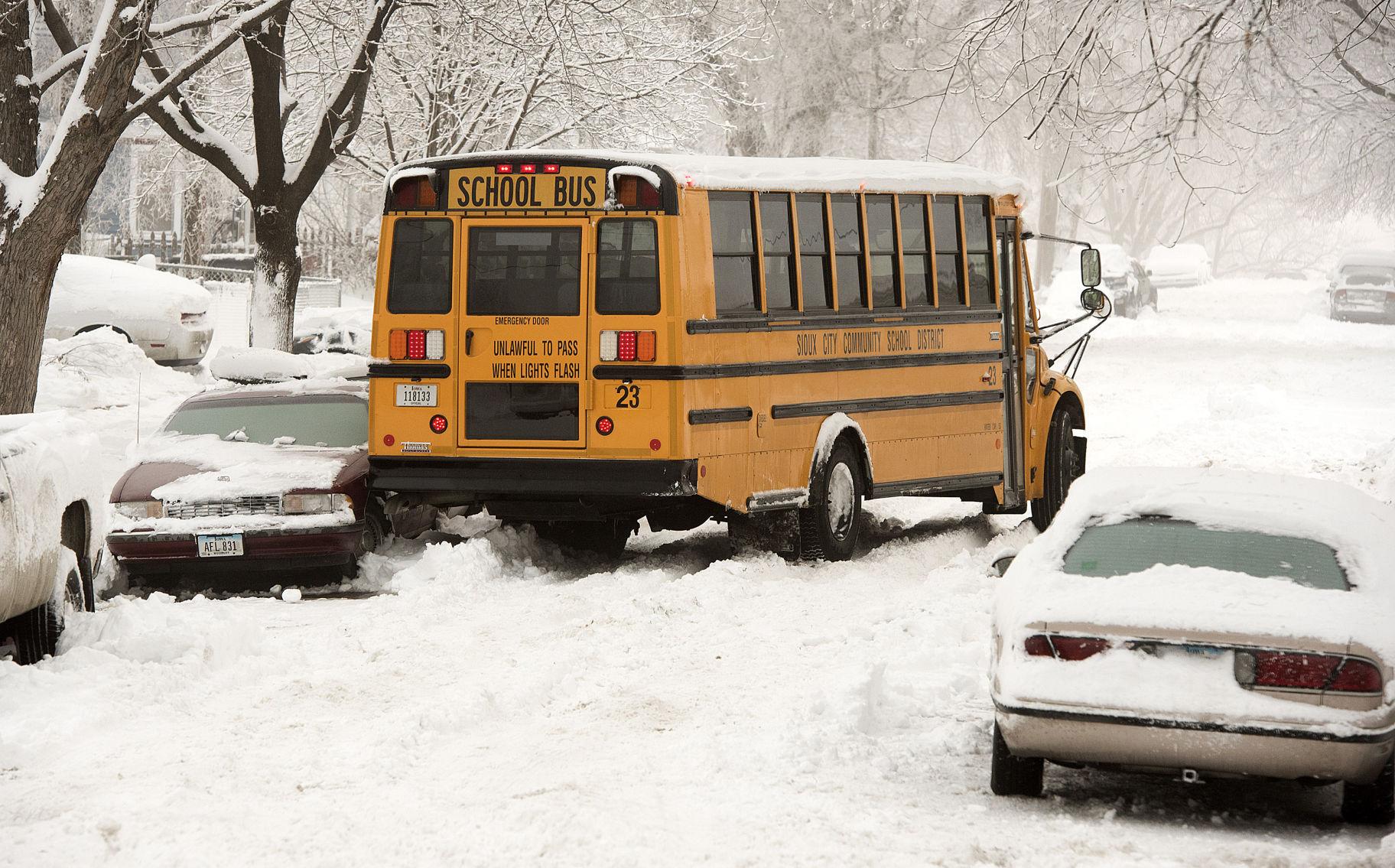 Forker said she won't know the full cost of the storm until February, after the workers are paid for their overtime during the current pay period. She added that significantly more snow doesn't necessarily mean a significantly higher cost than a smaller storm because the crews are already mobilized. 
Sioux City remains under a snow emergency that was declared by Mayor Bob Scott Sunday afternoon. During a snow emergency, no parking is allowed along emergency snow routes. 
Drivers parking along the street are instructed to park on the side of the street with odd-numbered addresses on odd days of the week, and the side with even-numbered addresses on even-numbered days. Motorists are asked to switch sides at 7 a.m. each day to allow plows to access the opposite side of the street. No parking is permitted in no-parking zones. 
Those violating the ordinance can be assessed a $30 fine. 
Carney said compliance so far with the city's snow emergency policy had been "hit or miss." The city sent out a reminder Wednesday of the snow emergency guidelines.