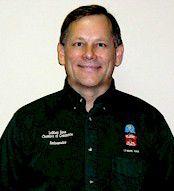 Le MARS, Iowa | Each day, more than 6,500 vehicles, including about a half dozen school buses, pass through a rail crossing in downtown Le Mars that one national expert describes as a "death trap."
The crossing on Iowa Highway 3, locally called Plymouth Street, is marked with warning signs and flashing lights, but doesn't have crossing gates. The nearly 45-degree angle where the tracks cross the street often makes it difficult for westbound motorists to see oncoming locomotives.
"Why aren't there gates at that crossing?'  Bob Comer, a nationally-known expert who has investigated rail crashes for 28 years, asks. "The geometry of Plymouth Street makes the crossing a deathtrap. The skewed angle, the speed of the trains, and that Lally's restaurant building obstructs the view for drivers."
In late December, a westbound semi-truck driver thought the coast was clear at the crossing while the bells and lights were ringing and attempted to drive across the tracks. With her view of the tracks partially blocked by Lally's Eastside Restaurant, 125 Plymouth St. NE, she failed to see the Union Pacific train in time. The southbound engine collided with the trailer, dragging it about 100-feet until the train came to a complete stop.
The 56-year-old driver, Jeannie Harmdierks, escaped with minor injuries. The semi-trailer hauling raw turkey was sliced in half by the train.
Counting that collision, there's been six train-vehicle accidents at the crossing in about 40 years, according to a Journal check of online records. None of the collisions resulted in a fatality and none involved school buses.
Still, Comer said the most recent accident should be a wakeup call for local and state authorities.
"That lady is extremely lucky," Comer said earlier this year. "What if it had been a school bus? That would get people's attention."
"There should be more flashing lights and gates ... It's very important for public safety."
Over the years, local leaders have pushed to install gates at the crossing, but have been told it was too low of a priority to qualify for scarce state or federal funding for such rail safety improvements.
In the wake of last year's accident, city officials are redoubling their efforts to win funding.
"Sight visibility is a major concern and that one has a visibility problem because of the Lally's building and with the skew of the railroad compared to the highway," Le Mars City Manager Scott Langel said earlier this year. "Anytime you are not crossing at a perpendicular angle that will always pose an issue because you are having to look over your shoulder and behind you."
Comer, president of Magnolia, Ohio-based Forensic & Electronic Research, points out that federal law mandates that state highway rail crossings that receive federal funds have adequate warning devices if one or more of the following conditions are present:
Multiple trains use the track
Trains travel at a high rate of speed
The intersection carries a high volume of traffic
A substantial numbers of school buses or trucks carrying hazardous materials regularly use the crossing.
"When a state is looking to spend federal money to upgrade a crossing they are supposed to go by this law," he said.
The crossing meets the federal threshold on several of those fronts. Highway 3 is one of the most heavily traveled roads in the Plymouth County seat of about 10,000. The tracks, owned by Union Pacific, are also regularly used by BNSF Railway and Canadian National Railway. Combined, around 10 trains per day roll through the city.
The Highway 3 crossing is on the route for some school buses operated by the Le Mars Community School District to transport both its own pupils and students from the crosstown Le Mars Gehlen Catholic School District.
Le Mars public schools superintendent Steve Webner said some buses occasionally cross the tracks downtown at another unguarded intersection on Center Street, a block down from Plymouth.
At all rail crossings, Webner pointed out bus drivers are required by law to activate their four-way flashers, come to a stop, open the bus door and window, look and listen for any approaching trains proceeding through the intersection.
On a typical day, the Le Mars district runs 18 buses carrying a total of about 850 students. Some other routes run across rail tracks, and some of those intersections are equipped with crossing gates.
Scores of school districts in Siouxland operate bus routes that cross tracks without crossing gates, though state officials do not keep data on the total number of crossings.
Comer noted that Iowa and other states must complete federal inventory forms for each rail crossing that asks if the crossing is "regularly used by school buses." In most states, that box is consistently marked "no," he said.
Phil Meraz of the Iowa Department of Transportation Office of Rail Transportation said the box was added to the form more than a year ago and the "no" really means "no data is available."
"I would love to have that data as I am doing safety analysis and that kind of thing," Meraz said. "But when you figure we have 4,300-plus public crossings and another 2,500 private crossings and 336 school districts… (and) the way bus traffic moves around, we have not found a good way to (collect that data) on a mass scale."
Kris Klp, manager for the Iowa DOT Crossing Surface Program, reiterated the difficulty in gathering the data.
"It's always fluid. It is never going to stay the same and there's no way to keep it absolutely completely accurate," Klop said. "Of course, if a new kid joins the district and the bus stops at their house they certainly are not going to get a hold of the DOT to provide that information."
When ranking crossings eligible for upgrades like crossing gates, state officials rely on a formula that takes into account such factors as vehicle and train traffic, train speeds and effectiveness of the proposed improvements, said Jim Gibson, crossing manager for the DOT's Rail Transportation Office.
Gibson said the Highway 3 crossing's predicted accident number is below the ratio that gets top priority from the federal government. But under another metric that determines the benefit-cost ratio, the crossing is due for improvements. On a scale of 1 to 5, it scores at 1.1, which just hovers on the side of the public benefit exceeding the public cost for an upgrade, he said.
UP spokesperson Kristen South said safety is the rail carrier's top priority and it is "actively" working with the Iowa DOT to upgrade the Highway 3 crossing. But she said the carrier still has concerns that need to be addressed, such as a center turn lane and private driveway near the intersection.
"Union Pacific is working with IDOT, who is coordinating with the city, to come to an agreement," South said.
Langel said city officials are anxious for a deal, noting the potential danger associated with the crossing increased after UP recently upgraded a section of track.
"Since (Union Pacific) did the improvements on that stretch of rail (putting in) a lot of new ties and rail, they almost doubled the speed that the train goes through town," the city manager said. "You couple that speed with the visibility problem and I really do think there is an issue there. It really needs to be addressed."