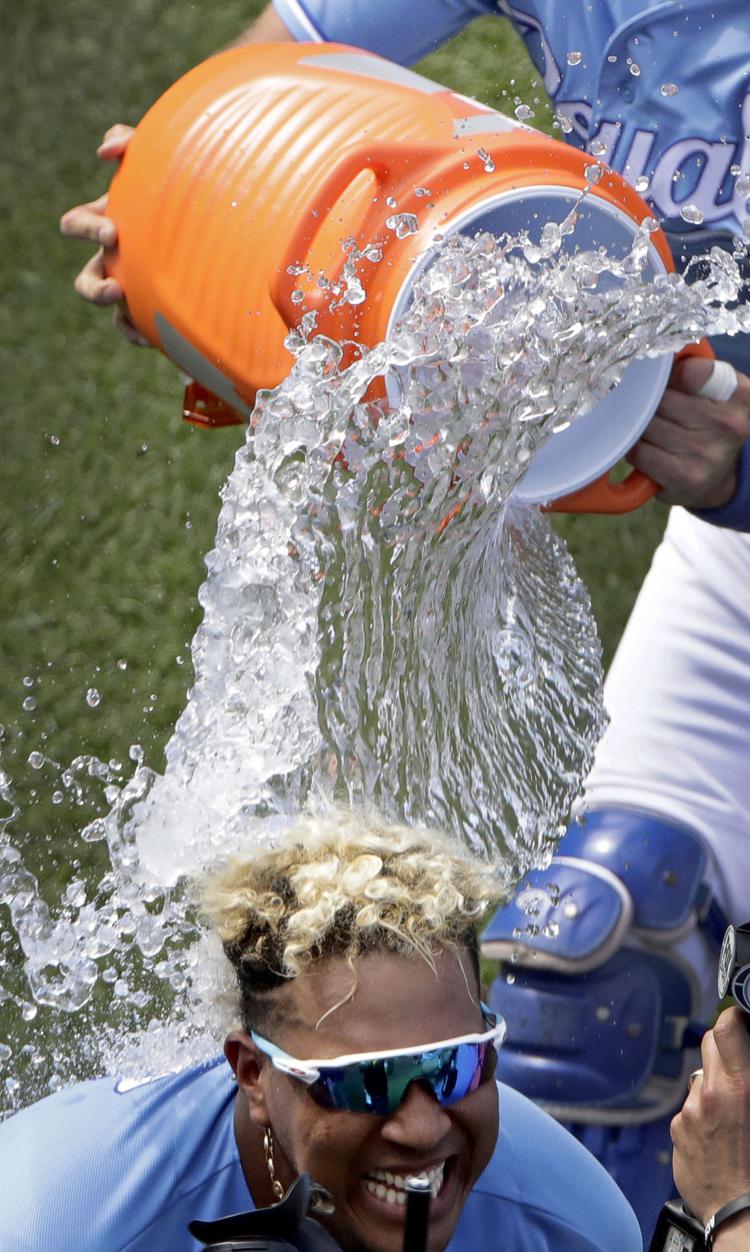 KANSAS CITY, Mo. | Salvador Perez borrowed a Miguel Cabrera bat from Kansas City Royals teammate Drew Butera for the first time Wednesday.
"It's a magic stick," Butera said.
It was magic for Perez, who hit his first career grand slam, connecting in the eighth inning to rally the Royals over the Boston Red Sox 6-4.
"Miggy gave the bat to Butera when Detroit was playing here," Perez said. "Drew doesn't use it. It's too heavy for him. Today, coming into the clubhouse, I put it in my locker. I like the bat.
"Today was the first day I used it and I'll use it Friday, too, before you ask me. I don't want to break that one. I've got to call Miggy and say, 'You've got to send me some more bats.'"
The Royals have won nine of 11 and moved within a game of .500.
Perez homered over the Kansas City bullpen in left field on the ninth pitch from Robby Scott (0-1). With Boston leading 4-2, reliever Matt Barnes started the inning by walking Jorge Bonifacio and Lorenzo Cain on 12 pitches.
"We uncharacteristically lost the strike zone," Red Sox manager John Farrell said. "For a group that has been so good at not issuing too many walks over the course of the year, we had an inning that got away from us. Matt was up in the zone. He couldn't get the ball down.
"This one stings because that group has been so good, so consistent for the better part of the whole season."
Scott was summoned to face Eric Hosmer, but walked him on four pitches to load the bases for Perez. The All-Star catcher fouled off three full-count deliveries before hitting his 15th home run of the season.
"I was happy with where the pitch was, but it was too good," Scott said. "There's not much else to say about it."
According to ESPN Stats and Information, Perez was the first Kansas City player to hit a grand slam in the eighth inning or later with the Royals trailing since Frank White in 1986. Perez went 3 for 3 in the win.
Jorge Soria (3-2) worked a spotless eighth. Kelvin Herrera pitched the ninth for his 17th save in 19 chances.
Andrew Benintendi and Xander Bogaerts hit successive home runs in the Boston fourth off Ian Kennedy.
Benintendi's drive was estimated at 454 feet and landed in the right-center waterfall. The leadoff homer was Boston's first hit, and the 100th of Benintendi's career.
Five pitches later, Bogaerts went deep to left, tying the score at 2. It was the fourth time this season the Red Sox have hit back-to-back home runs.
"I tried to go inside and the ball just ran back over," Kennedy said of the homers.
Red Sox lefty Drew Pomeranz worked 6 1/3 innings, allowing two runs and six hits.
Kennedy was removed after 4 2/3 innings, giving up four runs, two earned, three hits and three walks. He has just one victory in his past 17 starts.
Errors by Kennedy and first baseman Cheslor Cuthbert helped Boston score twice in the fifth.
YANKEES 8, ANGELS 4: Didi Gregorius and Matt Holliday each hit a go-ahead homer and New York piled on from there, lifting the Yankees over the Los Angeles Angels 8-4 on Wednesday night to snap a season-high seven-game losing streak.
New York's skid was its longest since 2007. The Yankees haven't lost eight straight since August 1995. They moved back ahead of Boston for first place in the AL East a night after losing the division lead for the first time since mid-May.
TWINS 4, WHITE SOX 2: Jose Berrios won his fourth straight start for Minnesota and Miguel Sano homered for the second straight game as the Twins beat the Chicago White Sox 4-2 on Wednesday night behind two of their brightest young stars.
Berrios (7-1) finished eight innings for a second consecutive turn in the rotation where he's quickly become the ace, striking out eight with just four hits and one walk against him. The White Sox had one single over their last 18 at-bats against the 22-year-old right-hander, who lowered his ERA to 2.67.
INDIANS 5, ORIOLES 1: Carlos Carrasco struck out 10, Francisco Lindor homered and the Cleveland Indians defeated the skidding Baltimore Orioles 5-1 Wednesday night for their seventh win in eight games.
Carrasco (8-3) allowed seven hits and walked none over six-plus innings to win his third straight start. The right-hander struck out every Baltimore starter except Trey Mancini to reach double figures in strikeouts for the 11th time in his career.
NATIONAL LEAGUE
MARLINS 2, NATIONALS 1: Max Scherzer's bid for the third no-hitter of his big league career ended with one out in the eighth inning, and he then gave up two unearned runs as the Miami Marlins rallied to beat the Washington Nationals 2-1 Wednesday.
After backup catcher A.J. Ellis reached on an infield single for Miami's first hit, an error by first baseman Adam Lind and a hit batter loaded the bases with two outs. Scherzer threw a wild pitch that scored the tying run, and Giancarlo Stanton lined an RBI single — the Marlins' only other hit — to put them ahead.
Scherzer (8-5) threw no-hitters against the Pirates and Mets in 2015, and he seemed on his way to another when he began the eighth inning with a 1-0 lead.
CARDINALS 7, PHILLIES 6 (10): Tommy Pham' second solo homer off Hector Neris in the ninth inning tied it and the St. Louis Cardinals rallied from a 5-0 deficit to beat the Philadelphia Phillies 7-6 in 10 innings Wednesday night.
Jedd Gyorko hit a two-run homer and pinch-hitter Jose Martinez also connected for St. Louis.
PADRES 3, CUBS 2: Erick Aybar hit a tying shot home run in the sixth inning, Luis Torrens walked with the bases loaded against Koji Uehara in the eighth and the San Diego Padres stopped a three-game losing streak by beating the Chicago Cubs 3-2 on Wednesday.
Chicago rookie Ian Happ hit a two-run homer in the fourth against reliever Craig Stammen, going deep for the second straight game and third time in four.
Jose Pirella started the comeback with an RBI single in the fifth off Eddie Butler, and Aybar tied the score against Brian Duensing.
BREWERS 4, PIRATES 3: Domingo Santana hit a two-run home run off Pittsburgh Pirates reliever Daniel Hudson in the seventh inning to lift the Milwaukee Brewers to a 4-3 victory Wednesday night.
Pinch-hitter Eric Thames cut Pittsburgh's lead to 3-2 with a run-scoring ground out in the seventh. Two batters later, Santana kept a 2-0 offering from Hudson (1-3) just fair down the right-field line to give the Brewers the lead.
INTERLEAGUE
RAYS 8, REDS 3: Tampa Bay left fielder Mallex Smith rushed in to tag out speedy Billy Hamilton after a lengthy rundown, highlighting the Rays' 8-3 win over the Cincinnati Reds on Wednesday.
Hamilton stole his major league-leading 31st base in the fourth inning. But he later got trapped when he thought about scoring from second base on a two-out grounder by Eugenio Suarez that shortstop Daniel Robertson bobbled.
It took five throws to nab Hamilton between home and third, with six Rays lined up ready to take part in the rundown. Smith dashed from the outfield and was stationed at third to take a throw and tag Hamilton.