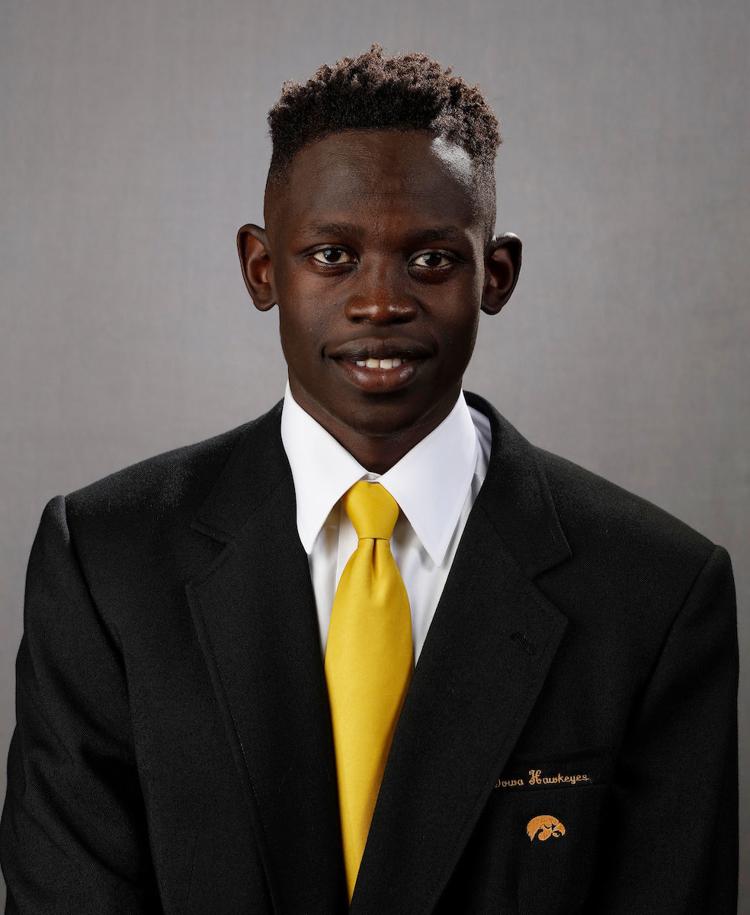 ESPN college basketball and NBA draft expert Fran Fraschilla calls them "third-rounders.''
They are players who had great careers at the college level and who might be able to play in the NBA but who aren't quite good enough to be selected in the league's annual two-round draft. They generally come up short in a couple of areas and end up having to battle their way up the ladder some other way, either in an international setting or the NBA's Developmental League.
Peter Jok, Fraschilla said, is almost certainly a third-rounder.
Despite leading the Big Ten in scoring, breaking Iowa's career free throw shooting record and setting assorted other records for the Hawkeyes, Jok is not likely to be selected when NBA teams sit down to divvy up the available talent Thursday night.
"He's got one NBA skill and that is his range and his shooting,'' Fraschilla said. "His body type and his ballhandling are the two major negatives.''
But that is not to say that Jok couldn't someday play in the NBA.
"He's one of those guys that will likely go undrafted and be playing in the Las Vegas Summer League for somebody,'' Fraschilla said. "When that happens, he's got to make open shots and he's got to prove that he can be a great teammate and he's got to give the team that puts him on their summer league team a reason not to cut him, and then decide 'You know what, we like this kid, let's see if we can get him on our D League team.'
"I think he's one of the guys that's going to be in the D League, and with some development, all of a sudden, a couple years later, you go, bam, Peter Jok, he's playing for the Washington Wizards.''
Fraschilla said the NBA draft now is all about drafting for potential and because of that, it favors players who have spent only one year in college over four-year men like Jok.
He said Jok's stock was not any higher last year when he went through the draft process, then opted to come back for one more year at Iowa. He said the season that Jok had probably helped his stock somewhat.
But a trip to the NBA Combine in Chicago in May didn't help.
While Jok had high marks in the shooting drills the players are put through in the camp, he did not produce much in the games. He played 45 minutes, made 2 of 13 shots from the field and finished with six points, four rebounds and eight fouls.
He also didn't come out well in the phase of the camp in which players are measured in almost every imaginable way. Of the 21 shooting guards in Chicago, he had the 18th best vertical jump, the 19th biggest hands and the 19th lowest body fat content.
Iowa coach Fran McCaffery, who is much higher on Jok as a potential draftee than the other Fran, said he simply told Jok to "keep grinding'' when he went to the combine.
"You go to the combine and it's a different situation,'' McCaffery said. "There's part of it where you're playing and part of it where you're interviewing. So, go just be himself and be honest.
"He's just a tremendous human being. I think people will see that when they interview him. And then go play as well as you can play. It's only two days, two games, and you only play half the game. With his body of work, having played the last four years, I think it's less critical for him to do extremely well at the combine than maybe for a freshman who doesn't have that body of work.''
Jok also has done individual workouts with several teams since the combine.
Unfortunately, almost none of the published mock drafts mention Jok as a possible draftee.
He most likely will need to go the free agent route, as the Hawkeyes' Jarrod Uthoff did a year ago. After playing in the D league, Uthoff ended up appearing in nine games with the Dallas Mavericks late in the season.
Fraschilla points out that such NBA stalwarts as Isaiah Thomas and Jeremy Lin have found NBA stardom without being drafted very high, if at all.
"That's the beauty of our game …'' he said. "Peter is going to get that opportunity because he can really shoot the ball from deep and that's something NBA teams value right now.''