SIOUX CITY -- Two local theater groups are staging productions you might not have heard of -- but the relative unfamiliarity of these productions is no excuse for not going to see them. 
"Aura," playing at Lamb Arts Regional Theatre
In Tommy Lee Johnson's "Aura," Earl (Garie Lewis), a solitary widower who spends his mornings in the park, is visited by Mike (Chad Gaul), a younger man who tries to strike up a conversation with Earl -- even if Earl doesn't want the company.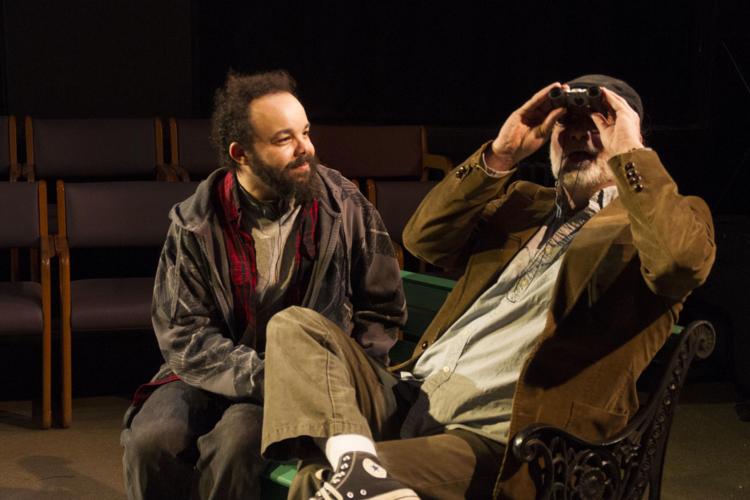 Mike, it turns out, can see people's auras -- which might be cited as a factor in his residence in a nearby mental institution. Except he checked himself into it. 
Jessica Wheeler, the director of "Aura," said the show uses Mike and Earl's interaction to explore themes like mental illness, misunderstanding, regret and moving on. 
"These are big, huge, universal things that we all deal with, and so it's really powerful to watch another character going through things from our lives," she said. 
Wheeler said "Aura" defies being boxed into a single genre. Despite the fact that the play depicts a lonely widower and a mental patient, "It is an intensely funny show." 
"When you're talking about categories like comedy and drama, the really, really good pieces are all of them," she said. 
The cast features a total of four people -- Dr. Emily (Krystal Deck) and Amanda (Meret Thali) make appearances via stories told by Mike. 
Garie Lewis, who plays Earl, said the widower isn't exactly a ray of sunshine when the play opens. 
"He's been struggling for five years with the death of his wife, became a little bit isolated and a little cut off from everybody, a little bit in his own mind and in his own world," Lewis said. "It takes a bit to get him opened up." 
Although Lewis isn't exactly an Earl-type in real life, he worked to cultivate the stage presence of a woebegone, middle-aged widower. 
"Almost every time I take on a role, I try to find the parts that I can identify with and expound on those," he said. "I think (Earl)'s a little more closed-minded than I am." 
"[title of show]," playing at Evelyn Larson Theatre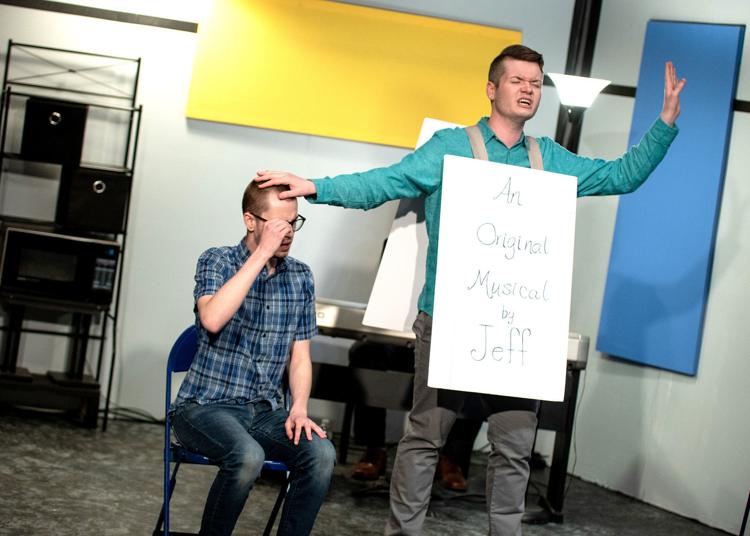 The Tony Award-nominated musical "[title of show]" depicts a pair of less-than-successful writers and their associates as they scramble to put together a new musical in three weeks, so they can enter it into a festival. 
Their finished work is "[title of show]," named for the space that appears on the entry form. The "characters" in the musical -- Jeff Bowen, Hunter Bell, Susan Blackwell, Heidi Blickenstaff and Larry Pressgrove -- are the people who created it. In fact, the original cast consisted of the writers portraying themselves writing the musical. 
"[Title of show]" is thus a work of meta-theatre, taken to the extreme. 
Director Deb Morgan said the show, put on by Shot in the Dark Productions, is a treat for anybody who likes musicals or Broadway. 
"It hits all the notes," Morgan said. 
Morgan fell in love with "[title of show]" when she first saw it several years ago, and this season she saw an opening to stage it at Shot in the Dark. 
"They are trying something new this year, which was, instead of setting a season of six plays and then going out and trying to find people to direct those six plays, we did it in reverse -- which was, sending us a notice that said, 'What would you like to direct and when would you like to do it?'" she said. "And I thought immediately of '[title of show].'"
Mandy Suing plays Heidi, "the funny girl in the room" and talented singer. She might be a perfect fit for the character, since she's been doing musicals since she was 8.  
"(Heidi) is a born Broadway star; she has been in the business of theater since she was 7 years old," Suing said. 
During the musical's opening night, three musical theater authorities happened to be in the audience -- and they loved the show's obscure show biz references and name-drops. 
"Professional actors from 'West Side Story' come see us, because they just wanted to see some local theater," Suing said. "They loved it. They were laughing at things that we didn't even know were funny."