Mihalis Paradisanos, literally, grew up in Paradise.
That is, until Nazis invaded Crete, the largest of the Greek islands and Mihalis' birthplace, during World War II.
A teenager at the time, Mihalis fended off starvation by farming on his family's land, and aided the Cretan resistance by joining a covert British intelligence group as a runner. Captured and tortured by Nazis when he turned 15, he miraculously evaded execution by escaping.
This is a story that Mihalis shared with very few people.
It was especially true once Mihalis Paradisanos became Michael Paradise. He changed his name after coming to America at the invitation of his uncle George Paradise, a prominent District Court judge in Sioux City, and his uncle Dan Paradise, owner of the Princess Hat Shop on Jackson Street.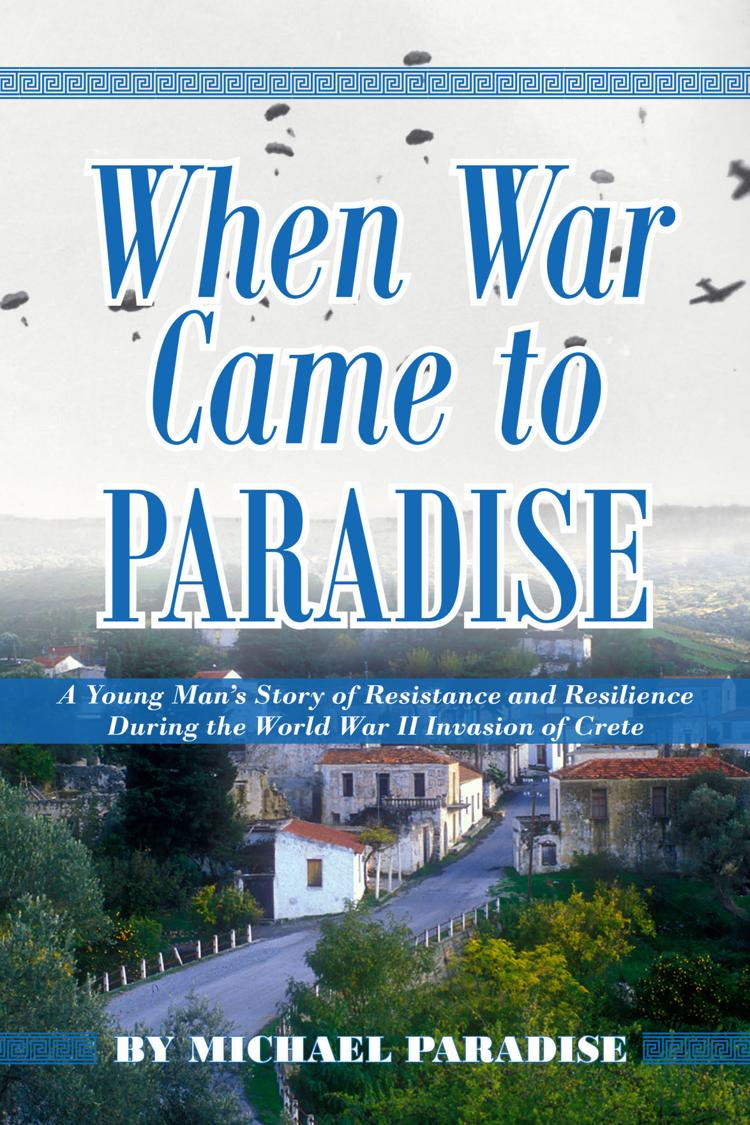 "When War Came to Paradise" (2017, Dakotafire Media) gives a harrowing account of Paradise before he became a college president, university chancellor and executive director of an international college consortium.
Paradise was in the final stages of editing his book when he died on Nov. 1, 2016, at the age of 89.
"Mike was diagnosed with cancer in 2015 and died from the disease almost exactly a year later," Ann Paradise, his wife of 59 years, said. "He was working on the book practically to the end."
However, Paradise's wartime memories initially were not intended to be a book.
"The book actually began as a series of 8-to-10-page letters Mike wrote for our children Maria, George and Andrew when they were young," Ann Paradise said. "Mike was determined to leave our children with knowledge about their lineage as well as what he had to endure in order to become educated and successful in America."
Indeed, Paradise didn't speak English when he started blocking and cleaning hats in his uncle's shop. His understanding of the language was similarly limited when he was studying for a bachelor's degree from Morningside College.  
By the time he accepted a position as a high school math teacher in Wausa, Nebraska, Paradise had mastered the language and discovered a love for teaching.
Eventually earning master's and doctorate degrees in education, Paradise became chairman and dean of students at Chadron State College, in Chadron, Nebraska; president of Northeastern Nebraska College, in Norfolk, Nebraska; and president of Central Technical Community College in Hastings, Nebraska.
In 1979, he accepted the position of chancellor with the University of Alaska-Juneau before becoming the executive director for a Washington, D.C.-based international consortium of more than 120 colleges from a dozen different countries. 
"Mike thought he'd retire when we moved to Aberdeen, South Dakota, in 1993," Ann Paradise said. "That retirement didn't last very long because he became a mathematics director with the university center at Northern State University (in Aberdeen)."
When Paradise really retired at age 79, he wanted to tend to his garden and write a book based on the letters he had previously written to his children many years earlier.
"Even though (the book) took nearly a decade, Mike considered the writing process to be a labor of love," Ann Paradise said.
In fact, Paradise knew that his wartime experience forever changed the course of his life. While his history was important to his family, Paradise thought it would resonate with other readers.
"I don't think young Mihalis ever imagined how far he would go, (since) the events that took over his life occurred as stepping stones," Ann Paradise said. "Every accomplishment he had in his life eventually led to the next accomplishment."