When did Josh Brolin morph into Tommy Lee Jones?
In "Only the Brave," he sounds – and moves – so much like the veteran actor you'd swear Jones is the film's star.
Once he comes out of the shadows, Brolin becomes his own man, the superintendent of the Granite Mountain Hotshots, a group of elite firefighters who go everywhere to stop fire in its tracks.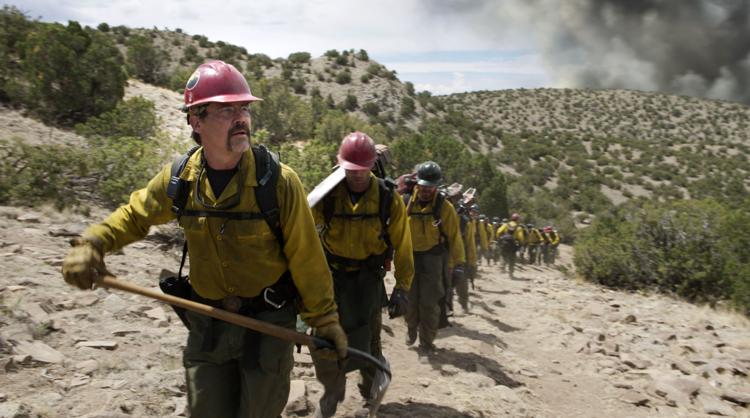 Based on a real group of rescuers, the film takes plenty of time setting up the team. Miles Teller plays a ne'er-do-well who gets one of the last slots on the force; Taylor Kitsch is a hothead who doesn't like those who cut corners. Jeff Bridges is the town's benefactor who isn't afraid to counsel Brolin and Jennifer Connelly is the woman who stands by the man. Because the Hotshots aren't a certified squad, they're looked down upon by those who are.
In many ways, "Only the Brave" is the "Top Gun" of firefighting. It sets up a "them vs. us" scenario, then shows how the lesser compensate.
Director Joseph Kosinski is careful to treat everyone with respect – even those who don't deserve it. He equates the work with that of soldiers and gives Brolin and company ample time to muse on what it is they do.
While the film rambles on too long for its own good, it does have a compelling story to tell. The Granite Mountain guys were the subject of an engrossing account in GQ magazine. That captured the essence of folks who do this kind of work; "Only the Brave" adds a hint of gloss.
Through some of those training moments, we get to see the weaknesses in several of the men. Like "Friday Night Lights," it suggests some of the biggest heroes are also some of the most vulnerable people. Kitsch's character, for example, has relationship woes; Teller's deals with an unexpected pregnancy.
There are plenty of drills to help us understand the work (some wield chainsaws, others dig trenches) and gatherings to comprehend what they're leaving behind. (While Connelly gets a subplot about her character's horse whispering, she's really there to feed Brolin's story.)
Obviously building to a big fire, "Only the Brave" shortchanges a story that could be life-changing for many. It goes quickly through the big Yarnell, Arizona, fire, leaving us with closing cards to understand what price the men paid.
Had Kosinski borrowed a page from Peter Berg's playbook, this could have started with that fire and doubled back.
It's fine; Brolin and company still move us (even though Teller's blond hair is a distraction) but something this big deserves more.
Even Tommy Lee Jones would have to agree.