The four-month-old dog was purchased by Darlene Erickson at the 82nd annual event, held noon Saturday in the atrium of the Ho-Chunk Centre.
"I lost my dog this year, and it was a 16-year-old Maltese," Erickson said. "I wanted to get another dog, and this was just an opportune time for me to do this."
Erickson, who worked at Wells Fargo Bank for 45 years and has been involved with the Little Yellow Dog event as a secretary for 25 years, said she plans to re-name the dog Daisy.
Proceeds from the auction, sponsored by the Little Yellow Dog order, will benefit the Sioux City Journal's Mr. Goodfellow Charity, a tradition that provides gifts and books to 8,000 underprivileged area children at Christmastime.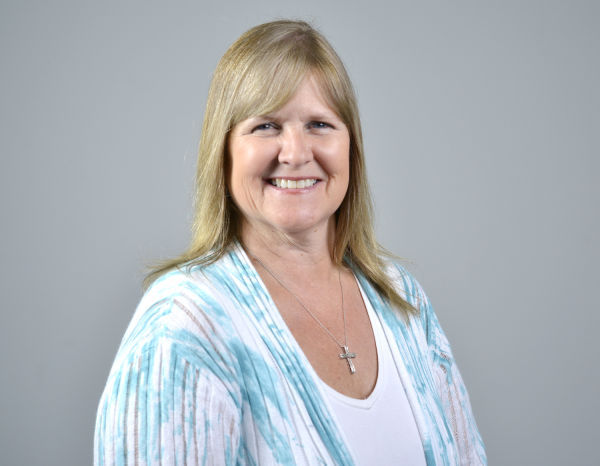 Sue Stusse, treasurer of the Mr. Goodfellow Charity, said overall proceeds from the event totaled around $132,500 as of Saturday afternoon. She said she expected the charity to easily reach its goal of $135,000 in the coming days. 
"The generosity of this community – I tell you what, it's overwhelming," she said. "People were writing $5,000 checks here and there." 
The Journal's Goodfellows fund began in 1914 to provide Christmas toys to needy children and expanded in 1936 to include the auction of a puppy.
Toy giveaways will take place 8 a.m. to 3 p.m. Sunday and 10 a.m. to 3 p.m. Saturday at 501 Pavonia St., the warehouse directly south of the Journal building. Families must apply for the Goodfellow toys with the application that is running every day in The Journal and in the Siouxland Shoppers Guide. An application can also be picked up at The Journal, 515 Pavonia St.
An estimated 200 people attended Saturday's auction. The event was also broadcast via live-feed on the Journal's website and on KSCJ radio. In addition to the auction, it featured Christmas tunes from Sioux City's All-America Concert Band.
KSCJ Radio's Charlie Stone and Dave Nixon, a former anchor for KTIV and KCAU television, emceed the event. 
Samantha was donated this year by Powell Broadcasting, the company that owns KSCJ an a group of other local radio stations, as part of its celebration of KSCJ's 90-year anniversary. 
The puppy's name, Samantha, was a tribute to the late Sam Seldon, a longtime engineer and historian at KSCJ who was heavily involved in the Yellow Dog auction each year and with KSCJ's broadcasts of the auction.
During last year's auction, Aspen, a 14-week-old Maltese, was sold for $16,000 to an anonymous Sioux City buyer.
Little Yellow Dogs: 1936 to present
| Year | Name | Breed | Buyer | Price |
| --- | --- | --- | --- | --- |
| 1936 | Skippy | Mongrel | Herman Miller | $25.00 |
| 1937 | Midget "Mike" | Mongrel | Wax Nelson & John Kampmeyer | $200.00 |
| 1938 | Bruce | | Oscar Hoberg for S.C. Scottish Rite Consistory | $250.00 |
| 1939 | Zero | | Oscar Hoberg for S.C. Scottish Rite Consistory | $300.00 |
| 1940 | Happy | | Abu Bekr Shrine Temple | $275.00 |
| 1941 | Kit | | K.A. Murray | $250.00 |
| 1942 | Victory | | Hugh Twohig | $310.00 |
| 1943 | Palermo | | Frank Pilley | $337.00 |
| 1944 | Peter | | G.F. Peceny | $375.00 |
| 1945 | Cinderella | | Charles McKenna | $390.00 |
| 1946 | Dancer | | Tetonia Club | $450.00 |
| 1947 | Mistletoe | | H.R. Scroggs | $500.00 |
| 1948 | Blondie | | Elks Club | $510.00 |
| 1949 | Meme | | Wally Wilson & Harold Jacobsen | $525.00 |
| 1950 | Sir Tippet | | Schaff's Hardware, Remsen, Iowa | $565.00 |
| 1951 | Soo Wing Wu | | E.S. Gaynor | $575.00 |
| 1952 | V-Eight | | Jess Getz | $577.50 |
| 1953 | Blue Boy | | Fred K. Harbeck | $615.00 |
| 1954 | Siouxland Coquette | Sealyham Terrier | Miles Patton | $650.00 |
| 1955 | Donnabelle | | C.H. Brechlin | $700.00 |
| 1956 | Lorrie | Dachsund | Russell Deever | $710.00 |
| 1957 | Little Joe | | R.P. Boulay | $725.00 |
| 1958 | Peggy | | Bob Johnson | $765.00 |
| 1959 | Nick | | Sodrac Park | $800.00 |
| 1960 | Happy | | Carter Dennis | $900.00 |
| 1961 | Little Bill | | Jerry Kozney | $950.00 |
| 1962 | Missy | | Mrs. L.J. Kaplan | $1,000.00 |
| 1963 | Little Ike | | J.J. Arkin | $1,075.00 |
| 1964 | Georgie | | Dave Levitt | $1,130.00 |
| 1965 | Maxie | Miniature Poodle | Board of Directors LYD for Mrs. Winifred Perasso | $800.00 |
| 1966 | Joey | Poodle | Vernon Boyers | $810.00 |
| 1967 | Wacuwa St. Nick | Brown and white English Springer | Sioux City Grain Exchange | $830.00 |
| 1968 | Paddy | Vizsla Pointer | United Order Buyers Dixon Co. Feedlots | $850.00 |
| 1969 | Little Maxie | Wire haired Dachsund | Mr. & Mrs. Irving Levich | $640.00 |
| 1970 | Little Yeller | Fawn Colored Chihuahua | Julian Torgeson | $2,310.00 |
| 1971 | Scottie | Black Scottish Terrier | James Gribble | $1,650.00 |
| 1972 | Kandy | Cairn Terrier | Northwestern National Bank, Stan Evans | $1,410.00 |
| 1973 | Polly | Shetland Sheepdog | David, Norman & Peter Waitt | $1,530.00 |
| 1974 | Goldie | Yellow Labrador | Ray E. Friedman | $2,520.00 |
| 1975 | Georgy | Boston Terrier | Vernon Boyers | $3,000.00 |
| 1976 | Buckwheat | Boston Terrier | Jim Yanney | $3,550.00 |
| 1977 | Sandy | Cocker Spaniel | Ray Grandle (Bill Grabau) | $3,500.00 |
| 1978 | Sir Nick | English Springer Spaniel | Jim Yanney | $5,000.00 |
| 1979 | Jingles | Miniature Schnauzer | Alan Booge & Jim Cuthbert | $7,500.00 |
| 1980 | Sir Tannenbaum | Wire haired Dachsund | Alan Booge, Jim Cuthbert & David Sitzmann | $8,000.00 |
| 1981 | Kringles | Sheltie | Ray & Todi Switzer | $5,200.00 |
| 1982 | Jingles | Black & White Cocker | Alan Booge | $4,400.00 |
| 1983 | Sir Nicholas | Samoyed | Larry Doeschot | $5,000.00 |
| 1984 | Sir Lord Stone | English Bulldog | Ken Opstein | $5,100.00 |
| 1985 | Golden Girl | Golden Retriever | Bob Hoefer | $7,500.00 |
| 1986 | Golden Boy | Golden Retriever | Walt E. Beggs | $6,700.00 |
| 1987 | Sir Vern | Buff colored Cocker | Chuck Avery | $6,000.00 |
| 1988 | Sir Frank | Golden Retriever | Fred Wells | $5,300.00 |
| 1989 | Elmer's Girl | Black and white Cocker | Paul Meloy | $8,100.00 |
| 1990 | Mink's Magic | Tri-colored Cocker | Ted & Norm, Jr. Waitt | $8,500.00 |
| 1991 | Miss Kringels | Yellow Chinese Shar-pei | Jerry and Kathy Weiner | $6,700.00 |
| 1992 | Noel | Bichon Frise | harold A. Bomgaars | $7,100.00 |
| 1993 | Lady Gracie | Bull Terrier | Norm and Andria Waitt | $8,600.00 |
| 1994 | Princess Vi | Miniature Schnauzer | Fred Wells | $6,500.00 |
| 1995 | Miss Amber | Golden Retriever | Tom Kurdy | $8,700.00 |
| 1996 | Doc Holiday | Golden Retriever | Kevin Vaughn of Fimco | $12,750.00 |
| 1997 | Yukon Cornelius | Golden Retriever | Ted Waitt | $15,500.00 |
| 1998 | Mr. Golden | Golden Retriever | Roger Miller | $15,600.00 |
| 1999 | Fargo | Golden Retriever | Hirsch/Wooldridge family | $9,000.00 |
| 2000 | Chad | Yellow Labrador | Brad Gunderson | $10,200.00 |
| 2001 | Miss Noel | Maltese | Mike Wells | $18,300.00 |
| 2002 | T-Bone | Maltese | Jim and Jameley Levich | $18,500.00 |
| 2003 | Seaman | Great Newfoundland | Todd and Cathy Ellison | $11,500.00 |
| 2004 | Colonel Harold | Boston Terrier | Bob Scott and Duane Davis | $20,000.00 |
| 2005 | Little Nicholas | Poodle | Tim Brown and D.A. Davis | $21,100.00 |
| 2006 | Belle | Westie | Dr. Ralph and Julie Reeder | $30,000.00 |
| 2007 | Brubeck | Golden Retriever | D.A. Davis, Roger Miller, Leonard Gill, Paul Braunger and Bill Barkley | $20,000.00 |
| 2008 | Boji | Cairn Terrier | Dave Marx and John Goldsmith | $20,000.00 |
| 2009 | Holly Berry | Yorkshire terrier | Dan Wells | $20,000.00 |
| 2010 | Hope | Miniature Schnauzer | Charese Yanney | $10,000.00 |
| 2011 | Stoney | Yellow labrador retriever | Sioux City Explorers | $45,000.00 |
| 2012 | Truffles | American water spaniel | Rhonda Capron | $14,500.00 |
| 2013 | Snickers | Liver and white springer spaniel | Patty and Eric Lohry | $15,000.00 |
| 2014 | Finnegan | Scottish terrier | Brad Smith | $15,000.00 |
| 2015 | Dasher | Beagle | Don and Linda Boyer | $10,200.00 |
| 2016 | Aspen | Maltese | Anonymous | $16,000.00 |
| 2017 | Samantha | Maltese | Darlene Erickson | $15,000 |