SIOUX CITY | East's ninth consecutive win in the series against city rival North had a certain defensive flavor to it.
Kolby Gries had two interceptions, one which he returned for a 22-yard touchdown in the second quarter. Overall, East turned three first-half takeaways into as many touchdowns while building a 33-0 advantage en route to a 47-12 victory in the Class 4A District 1 opener for both teams Friday night at hot and humid Olsen Stadium.
A 5-foot-10, 160-pound senior strong safety, Gries now has four interceptions this season for East (2-3, 1-0 District 1) and six for his career. The first of his interceptions came on North's first possession in the opening quarter and launched a five-play, 42-yard drive that concluded with Alex Klieder's 10-yard touchdown run.
"There were a couple of bad passes and that's what it was," said Gries. "That's how I got the ball. It wasn't anything special. As soon as the ball is thrown, you kind of have to judge it. You get it over time. I got good reads on them. One was a lucky bounce off a foot or a knee, it happened to be in my hands and I ran."
"I told him before the game that our defense goes as Kolby goes," said East Coach Bob Goodvin. "He's played really well this year, as has James Page. Our success defensively actually starts in the back and works forward. Our safeties, our corner play and our linebacker play for the most part has been really good all season. Kolby's part of that. He's a playmaker. He's a good athlete who can run."
East (2-3, 1-0 District 1) is on the positive end of the takeaway/giveaway ratio for the first time this season. Jerney Bigbee's fumble recovery at North's 29-yard on the second possession for Coach Mitch Mohr's Stars led to a brief, three-play drive that featured Page's 28-yard burst to the 1-yard line followed by his 1-yard touchdown for a 14-0 lead.
East now has nine takeaways (7 interceptions, 2 fumble recoveries), compared to eight giveaways. In its two wins, Goodvin's squad haven't committed a turnover.
East's defensive effort was also highlighted by six tackles for losses that totaled 26 yards. Bigbee, a 5-9, 210-pound senior nose guard, contributed one solo and two tackles for loss while 6-2, 220-pound sophomore defensive end Patrick Conley added one solo TFL and one assist.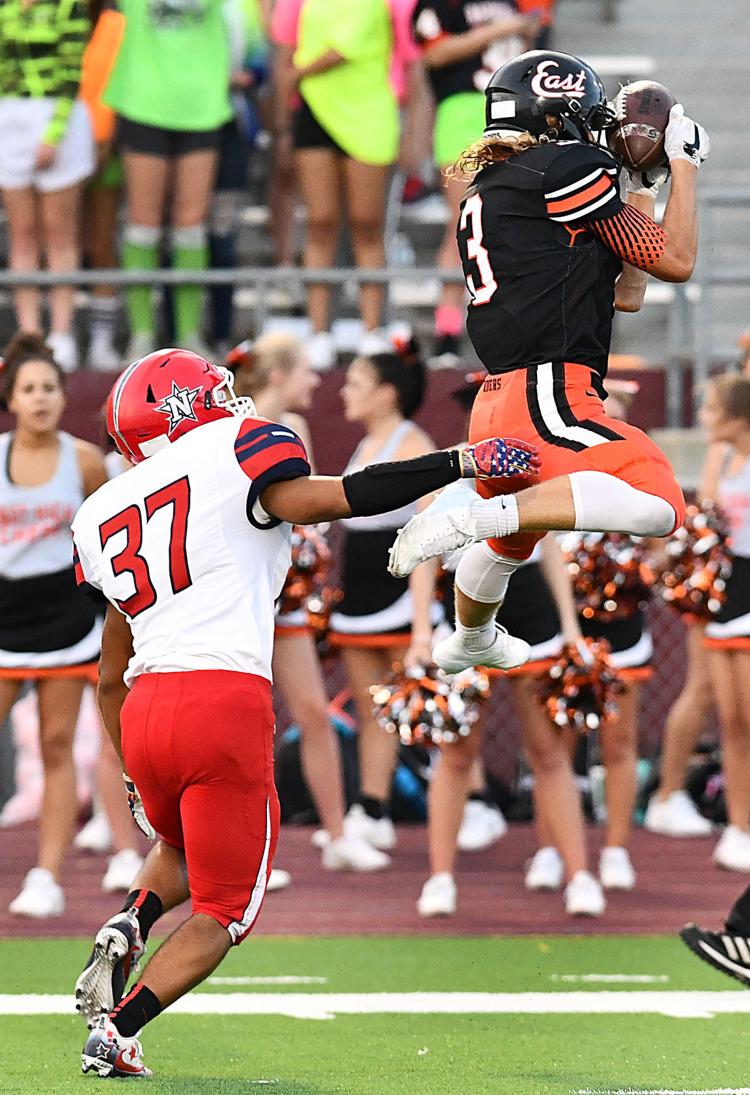 Offensively, winning quarterback Steve Siebersma completed 14 of 23 passes for 135 yards and two touchdowns. D.J. Drent had seven catches for 70 yards along with an 85-yard kickoff return touchdown to start the third quarter. Siebersma threaded passes to six teammates, including Dain Hoch, who had a 29-yard scoring grab in the second quarter while Gries had an eight-yard TD catch in the third quarter.
"Look at Steve now and where he was after Weeks 1 and 2," said Goodvin. "He's made great progress throwing the ball. He didn't throw the ball well the first two games and it really hurt us. The last two games, three games really, he's thrown the ball a lot better. We forget that this was his fifth game as a varsity quarterback. He's progressing very well. I'm very happy for Steve."
East was bidding for its first shutout since Oct. 16, 2015 when it rolled past Des Moines North 63-0. Incidentally, that was one of two blankings for the Black Raiders in a 5-5 campaign.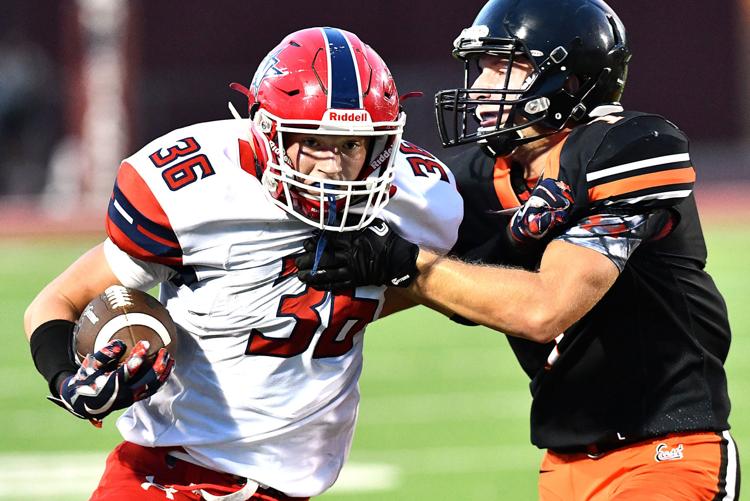 North (0-5, 0-1 District 1) avoided the shutout when Jayse Martineck answered Drent's kickoff TD with a 76-yard run in the third quarter. Martineck rushed 18 times for 184 yards on a squad that actually had a 307-251 total yards advantage. However, the Stars also committed 12 penalties for 100 yards.
North will host Des Moines East Friday night while East travels to Waukee.