SIOUX CITY | Though not as familiar today, "Amahl and the Night Visitors" was a popular television Christmas special decades ago -- until it was dethroned by the likes of "A Charlie Brown Christmas" and "Rudolph the Red-Nosed Reindeer." 
But this weekend, a live version of the 1951 one-act opera is being presented at First Congregational Church. 
"Amahl and the Night Visitors" tells the story of an impoverished, lame boy (Amahl) and his mother, who are visited one night by the Three Wise Men -- King Kaspar, King Melchior and King Balthazar -- on their way to see the newborn Jesus. 
The mother character, in desperation, tries to steal the gold meant as a gift to baby Jesus. A scuffle ensues, and Amahl is miraculously healed of his handicap. 
Amahl then decides to give the baby Jesus his crutch as a gift and accompanies the Wise Men to see him.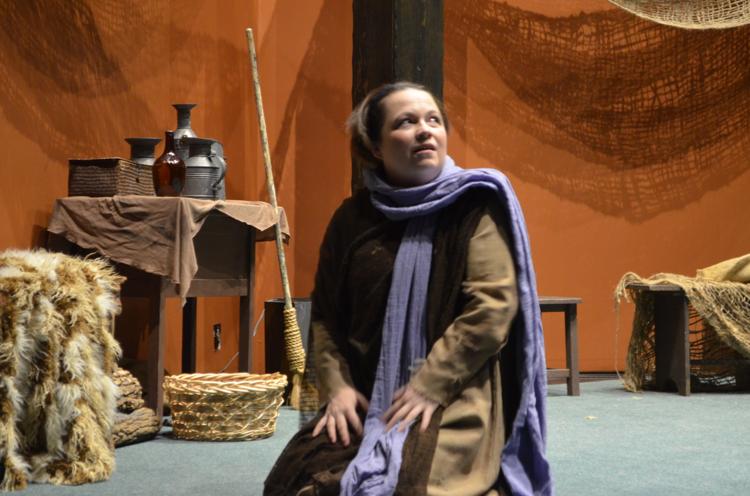 The kings are portrayed by Randy Peters, Greg Gregerson and Steve Lundberg; the mother character is played by Ellen Osborn; Amahl is played by Nathan Kitrell, a student at East High School; and Dan Patterson plays the page. A five-piece orchestra accompanies the performance, as well as a choral group of shepherds. 
Deanna Mumgaard, the show's director, said that even though "Amahl" is an opera, it is not difficult to follow.
"It's a beautiful story, it's a beautiful opera, and it's very accessible, it's in English," Mumgaard said. "It's very understandable." 
Mumgaard said the story itself might be new to younger audience members, who didn't see it on television in the 1950s. 
"Your grandparents' generation probably grew up with it, or people over 50 grew up with it," Mumgaard said. "Under 50, probably not. They probably don't know it very well." 
A driving force behind the production is Randy Peters, a former artistic director at Morningside who plays the role of King Kaspar. 
Peters had wanted to put on the show before, but he was in charge of summer theatrical productions at Morningside -- not quite the right time of year for a Christmas story. 
"I always wanted to do it, but it just didn't work out there," Peters said. "So the church said, 'Yes let's do it!' and it's been a really fun project."
Though the show requires quite a bit of vocal skill of its actors, Peters said they didn't have any problem recruiting local operatic talent. 
"Sioux City has a wonderful talent pool," Peters said. "We had open auditions, and we had a lot of people come and sing, and it was hard to make the choice. The mother, particularly, we had lots of sopranos come, and that role is just an absolute gem." 
Dan Patterson, who plays the page, said that he admires the talent of the show's singers. 
"All three kings are fantastic performing parts -- you need to be operatically able. And our three kings are. And the mother has to be, and Amahl for sure," Patterson said. 
After this year's production, Peters said Amahl will "hopefully become an annual event" at First Congregational.