SIOUX CITY | Kevin Hines felt instant regret a millisecond after he leapt from the Golden Gate Bridge.
But there was no turning back for the then-19-year-old, who was free-falling 25 stories at a rate of 75 miles an hour from San Francisco's signature landmark.
"I don't want to die. God, please save me," he said in his head, before hitting the water. The impact reverberated from Hines' legs to his lower back, shattering three of his vertebrae like shards of glass and nearly severing his spinal cord.
Hines, who couldn't feel his legs, used his arms to swim to the surface. He managed to stay afloat until the Coast Guard could rescue him.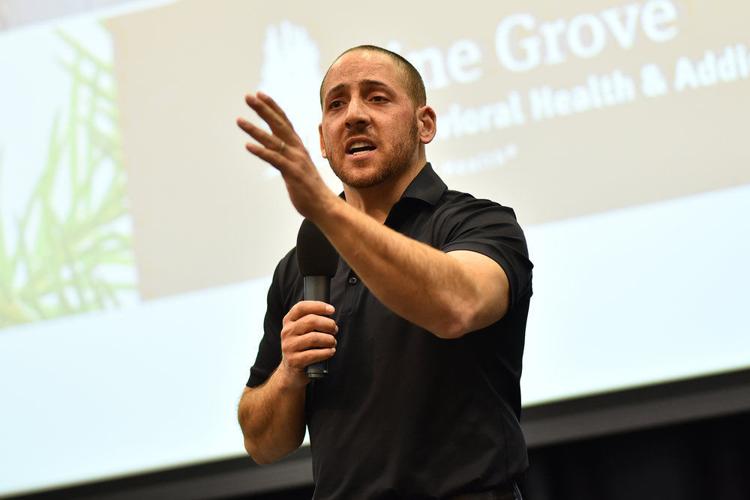 Seventeen years later, Hines, who is one of 36 people to survive that fateful 220-foot jump, is sharing his story to foster hope among people struggling with mental illness and difficult life circumstances.
Hines will speak to students at all three Sioux City high schools on Dec. 12 in conjunction with Youth Mental Health First Aid, a public education program that trains people who work with adolescents to identify, understand and respond to signs of mental illnesses and substance use disorders.
Some 900 Sioux City Community School District personnel, including teachers, counselors, bus drivers and food service workers, as well as other community members, have completed the program, which is funded through the federal Project AWARE (Advancing Wellness and Resilience in Education) mental health grant.
Shelly Lewis, project manager for the grant, said the district has seen a 40 percent increase in mental health referrals since Youth Mental Health First Aid began being offered in the fall of 2014. She said district leadership invited Hines, whose story is featured in videos shown during the training, to speak to Sioux City students because he's a "living example of recovery and resilience."
"We wanted to be able to show students that recovery is possible," she said.
The smartphone link
Depression and suicide rates are on the rise among teens. 
After declining for several decades, the suicide rate for teens 13-18 increased by 31 percent between 2010 and 2015, according to statistics from the Centers for Disease Control and Prevention. A national survey showed that the number of teens reporting symptoms of severe depression rose 33 percent during that same time period.
Alison Benson, a West Middle School counselor, said mental health problems aren't uncommon among adolescents. She said 22 percent of 13-18-year-olds will experience a severe episode of an anxiety, behavior, mood or substance abuse disorder.
Psychology professors, who examined data from two surveys of U.S. adolescents and national statistics on suicide deaths, have linked the rise of mental health problems among teens with smartphone usage.
The study, which was published in the journal Clinical Psychological Science last month, found that adolescents who spent more time using new media devices were more likely to report mental health issues than their peers who were involved in screen-free interactions and activities.
Benson said teens not only fall victim to cyberbullying, which often occurs anonymously online, but also feel pressure to project a perfect image on social networking sites, such as Facebook and Instagram.
"If they don't have a certain number of 'likes,' then that signifies that they're not cool and they try to take (the post) down," she said.
Removing barriers
Mental Health First Aid was first launched in Australia as a way for adults to help other adults experiencing mental health problems. The program was later adapted to help adults assist adolescents in crisis.
To date, more than 175,000 people from all 50 U.S. states, the District of Columbia and Puerto Rico have completed the core eight-hour course, which helps participants recognize the warning signs of suicide.
Hines, who began sharing his story at the urging of a Franciscan friar whom he met in a psychiatric hospital, said during a phone interview that he hears young people say, "I've been diagnosed with this disease, but my parents don't believe it's real," everywhere he speaks.
"You're suffering now, but this is not the rest of your life," Hines said he tells young people who are struggling with their mental health. "People die by suicide because they're in epic amounts of emotional pain that they cannot deal with. Your thoughts don't have to become your actions. Your thoughts have to lead you to get help."
Through role-playing and other activities, Youth Mental Health First Aid teaches adults how to implement a five-step action plan to help adolescents in mental health or substance use-related crises.
Benson said the program advises adults to approach adolescents with statements such as, "I've noticed that you're withdrawing from friends" or "I've noticed that you've been sleeping a lot," in order to get them to open up so they can be referred to the appropriate services and supports.
Before the training, Benson said she never would've asked whether a student had a plan to end his or her life. Today, she said she not only asks if a student has a plan, but what that plan is.
"In my mind that was taboo. Going through the training, you realize that's not taboo. You need to ask them," said Benson, who is obligated as a school counselor to report students with intentions to do harm to themselves or others. "If that student has expressed intent to harm, I notify the parent or guardian or whomever has custodial care. We work on getting that student necessary help from a therapist."
Lifelong recovery
To say that Hines had a rough start in life is an understatement. 
When Hines was placed in foster care as an infant along with his brother, he was severely malnourished from being fed Kool-Aid, Coca-Cola and sour milk, which his birth parents stole for him. Before the boys could be adopted together, they developed bronchitis. Hines' brother died from the illness.
Patrick and Debbie Hines, of San Francisco, adopted Hines at nine months of age. For the first 30 days he lived with the couple, Hines was violently ill and exhibiting signs of attachment disorder, a condition in which a child struggles to bond with his or her caregivers due to early neglect or mistreatment.
"It was after those 30 days that I finally came into my own -- I was home. I had attached for the first time," he said. "My childhood was absolutely beautiful. Even all that love and nurture wouldn't stop me from developing the disease that both my biological parents had before me -- manic depression or bipolar disorder."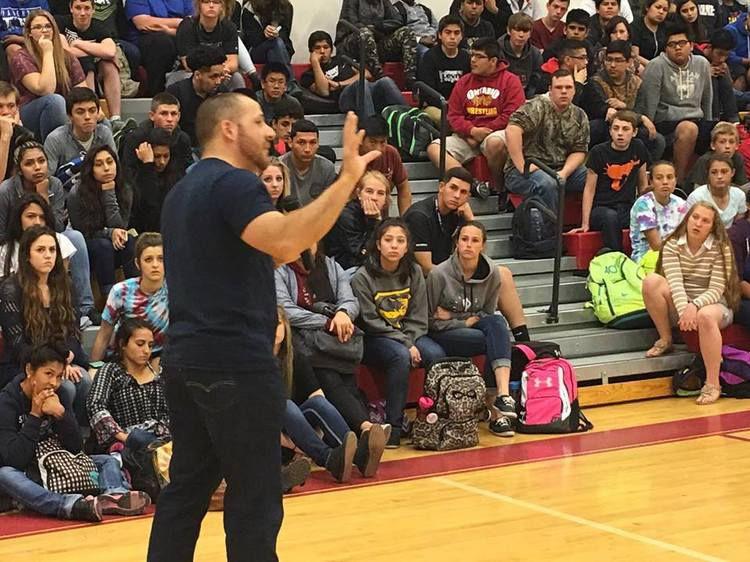 Hines, who described himself as a happy-go-lucky kid, "heard voices" for the first time in the fourth grade. He didn't tell anyone about the auditory hallucinations, which soon disappeared.
On the opening night of a high school play, in which Hines had the leading role, this terrifying symptom of bipolar disorder -- a mental illness that causes dramatic shifts in a person's mood, energy and ability to think clearly -- resurfaced. Hines, also a champion wrestler, football player and member of the speech and debate team, had to leave the stage before intermission.
"I didn't know what was going on. I was terrified," recalled Hines, who also began having vivid visual hallucinations that kept him awake at night. He described seeing a figure of "death himself" with fiery eyes and bony hands clutching a blade.
Hines was diagnosed with bipolar disorder with psychotic features at 17. He was prescribed medication to curb the disturbing visions and voices that were telling him he was "worthless" and encouraging him to harm himself, but he didn't follow the treatment plan.
"I didn't want to listen to the doctor. I wasn't going to because I didn't want everyone to believe that I had this mental illness," he explained. "I certainly at 17, 18 or 19 didn't want to have that label on my back. I didn't want to accept it. I was clearly in denial."
On Sept. 24, 2000, Hines drafted a suicide note. The next day, he took a bus to the Golden Gate Bridge, where he planned to end his life. Along the way, he said he was hopeful that someone would notice his pain and intervene.
"If one person said, 'Are you OK? Is something wrong? Can I help you?' I would've told them everything and begged them for help," said Hines, who would recover from his physical injuries, but spend time in seven psychiatric wards over the next 11 years.
Today, Hines is able to manage the disease with a routine that includes exercising, eating healthy and educating himself about the latest treatments for bipolar disorder. When symptoms arise, he said reaching out to loved ones is key.
"I'm just able to function because any and every time it happens, I actually reach out to the people that love me and tell them about it," he said. "It's a long recovery process. It's a continuous recovery process."