SIOUX CITY -- Dylan Mills received his first concussion at age 13.
The Cottage Grove, Minnesota, native was playing hockey in Canada when he was struck from behind. The hit sent him flying headfirst into the ice rink's boards.
"After that, I didn't remember much," Mills said while seated in the penalty box at the Tyson Events Center Monday before practice. Mills, now 18 and a Sioux City Musketeer, recently suffered his second and third concussions.
Michael Nguyen, a primary care sports medicine physician at CNOS who specializes in concussion management, said more and more young athletes, like Mills, are willing to report concussions than in the past.
Chronic traumatic encephalopathy (CTE) has received significant media attention in recent years as the NFL grapples with the degenerative brain disease linked to concussions. Many current and former NFL players have developed depression, dementia, mood swings and even taken their lives after receiving consistent blows to the head.
"There's very strong evidence why we need to be protective, especially with kids, because they're doing it not necessarily understanding all of the potential risks," Nguyen said. "We know that the more concussions you have, the easier it is to get that next concussion. We also know that once you're in double digits, you usually start accruing more and more damage."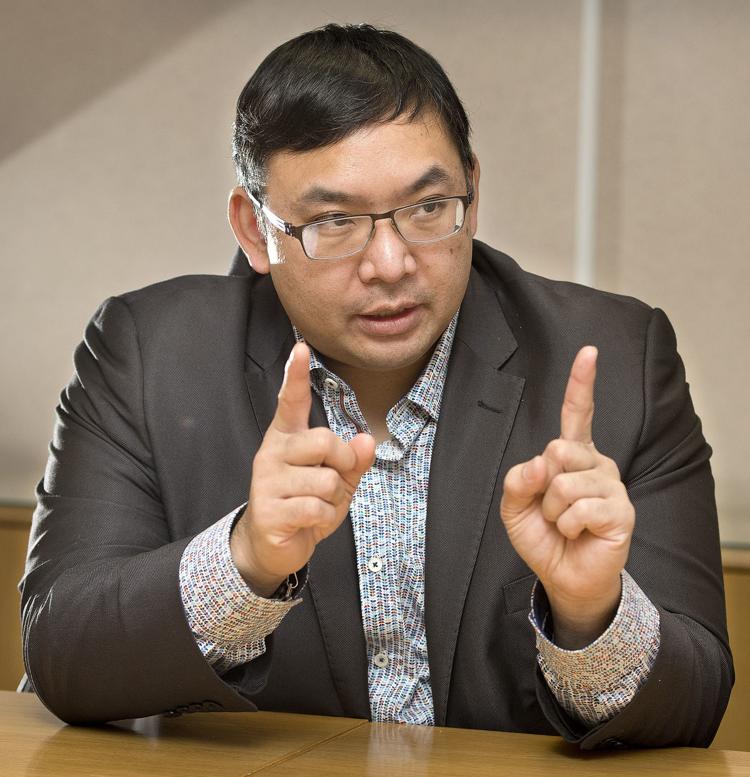 Nguyen said athletes involved in any sport could experience a concussion, a mild traumatic brain injury from a sudden impact to the head or body. He said high school boys who play football, hockey or basketball are prone to concussions, as are high school girls who participate in soccer, basketball and cheerleading with stunting.
According to Nguyen, coaches and trainers on the sidelines should take a "conservative" approach when it comes to managing concussions by making players sit out, especially at the high school level.
Concussions don't always involve loss of consciousness. Other common signs and symptoms of a concussion include headache, unsteadiness, blurred vision, nausea, vomiting, sadness, irritability and change in personality.
"It's not worth the risk not to take another week or two out of practice and games," Nguyen said. "I've seen it at the college level where (student-athletes) have chronic headaches for the rest of their lives. They can't do their homework and they drop out of school just because they pushed through it rather than take the time to get better."
Laws reduce repeat concussions
All 50 states and the District of Columbia have laws on the books designed to protect student-athletes in grades 7-12 from concussions and other brain injuries. 
Iowa legislation, which was signed into law by former Iowa Gov. Terry Branstad in 2011, requires student-athletes to be removed from play after a hit, fall or other incident where a concussion or other brain injury is expected. Student-athletes are to be examined by a licensed health care provider trained in the evaluation and management of concussions. They aren't allowed to return to their sport until the provider has given them written clearance to do so.
A study published in the American Journal of Public Health in October found that repeat concussions among high school athletes began to decline 2.6 years after these state laws were passed. According to the study, high school athletes reported 2.7 million concussions from fall 2005 to spring 2016. Eighty-nine percent of these concussions were new injuries, while 11 percent were recurrent in nature.
For a long time, Nguyen said doctors graded concussions from mild to severe, but he said that practice was discontinued because athletes with "mild" concussions were returning to the playing field before they had fully recovered. These athletes would get hit again, resulting in second-impact syndrome or rapid swelling of the brain.
"The first insult can be relatively mild, but if it's not fully recovered and you injure it again, the swelling is much, much worse," Nguyen said. "You can have permanent disability. You can have persistent symptoms for greater than six months or years. You can also have cognitive deficit and death."
Evaluating injury
Mills' memory is still fuzzy.
Even pinning down the date of his second concussion was challenging for Mills, who believes a player from the opposing team elbowed him in the chin on Nov. 13.
"My head went flying back, hit the board and hit the ice," said Mills, who didn't lose consciousness. "I came back to the bench, and I didn't know where I was. I was just sitting there kind of clueless."
Mills returned to the game, but he sought help from the team's trainer at the end of the period.
"I just remember the lights and the music in the locker room were really aggravating me. My symptoms were really bad," Mills said.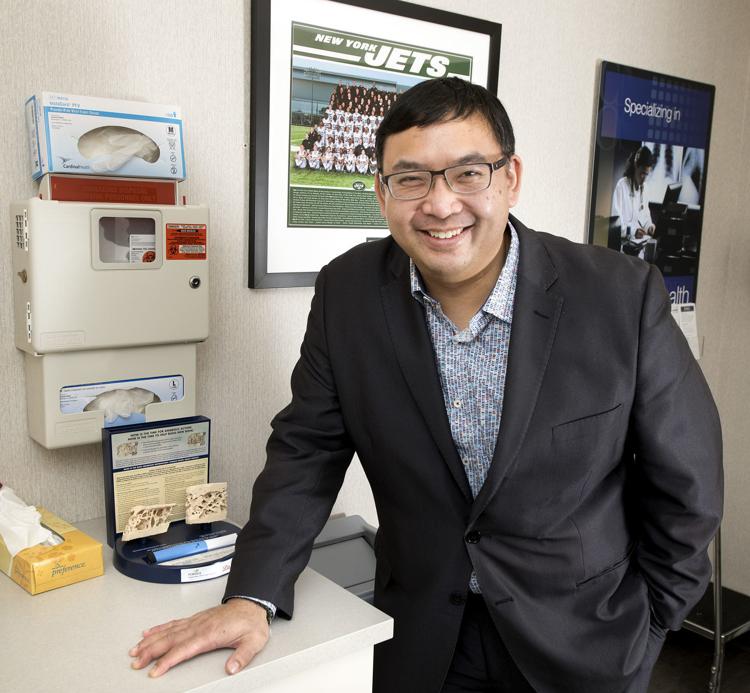 Nguyen said young athletes could be fully recovered from a concussion within 7 to 10 days. Others, he said, will need six to eight weeks to heal.
"We get a lot of people going to the ERs for a concussion. That's fine, because it could be something more serious than a concussion, like a traumatic brain injury with bleeding in the brain," he said. "In the first week or so, you just rest them."
Mills saw the team trainer daily after the concussion, but his symptoms, which he was asked to rate on a scale of 1 to 6, lingered and he was referred to Nguyen.
ImPACT (Immediate Post-Concussion Assessment and Cognitive Testing) is a tool that Nguyen said can help identify concussions. The computerized neurocognitive test is used by more than 7,400 high schools and 1,000 colleges and universities to help evaluate and manage suspected concussions.
"The biggest things that we look for in testing is memory and concentration. We'll show you shapes. You have to remember shapes and their orientation," he said.
Recovery takes time
Treatment depends on the patient's symptoms, but Nguyen said rest is key.
He also encourages student-athletes to hydrate well, and, in some cases, he recommends vitamins, such as B2, D, calcium and magnesium, to combat headaches.
"I had to get lots of sleep and had to try to stay away from the computer and the TV," said Mills, who was sidelined for more than a month. "I had to notify my teachers and tell them that I wasn't able to work on my schoolwork because I take online school."
Years ago, Nguyen said student-athletes were kept out of school after suffering a concussion. He said some teens missed entire semesters due to reoccurring headaches. Although being back in the classroom may irritate the brain, Nguyen said it won't necessarily prolong symptoms. He said allowing student-athletes to use pre-printed notes, wear sunglasses, have extra time on tests, and skip classes and activities that involve a noise irritant, such as band or wood shop, will help them transition back to the classroom after a concussion.
Getting back on the court, field or ice, however, takes more time. 
When student-athletes report zero symptoms, they follow a gradual return to play progression under the supervision of a medical professional. Nguyen said student-athletes' bodies are stressed with cycling and running before sport-specific activities are resumed. All activity, he said, is contact-free.
The first time he stepped on the ice after his second concussion, Mills said he felt "weird" and like a "completely different player." He wore a heart rate monitor during practice. When Mills developed a headache, he said he tried to relax until his heart rate dropped. Then, he'd try the activity again.
"If they have worsening symptoms, we know they're not over their concussion yet because their brain is still irritated," Nguyen explained. "Then you jack up their blood pressure. If their symptoms come back, then we know they're not ready."
Nearly two weeks after returning from concussion protocol, Mills got hit again and knocked out. He went back under concussion protocol, but did well on ImPACT testing.
"I'm guessing a couple more (concussions) and I won't be able to play," he said. "You want to play sports -- it's fun and you're with your friends, but in the long run it's really not worth it to do that to your brain and your body."