SOUTH SIOUX CITY | Ari-el Earth has always feared type 2 diabetes.
The 32-year-old Winnebago, Nebraska, woman, who watched her mother manage the disease while growing up, nursed her daughter and her son as long as she could in hopes of decreasing their risk of developing the chronic condition later on in life.
"I was very athletic growing up. I just got unhealthy because I had these guys full-time and no help," Earth said motioning to Melodine, 11, and Tristan, 9, who were seated on the floor at the Norm Waitt Sr. YMCA.
Last fall, after one of Earth's brothers was diagnosed with type 2 diabetes, she decided that she better get her blood sugar checked, too. At the time, Earth said she was feeling unusually tired.
"He had really bad diabetes where he could've died," she said of her brother. "He's skinny and everything. I didn't think anything was wrong with him, but his blood sugar was 900 when they tested it."
An estimated 30.3 million people in the United States had diabetes in 2015. Type 2 diabetes, which accounts for 90 to 95 percent of all diabetes cases, can cause major complications including lower limb amputation, late-stage kidney failure, heart attack, stroke and even death from high blood sugar.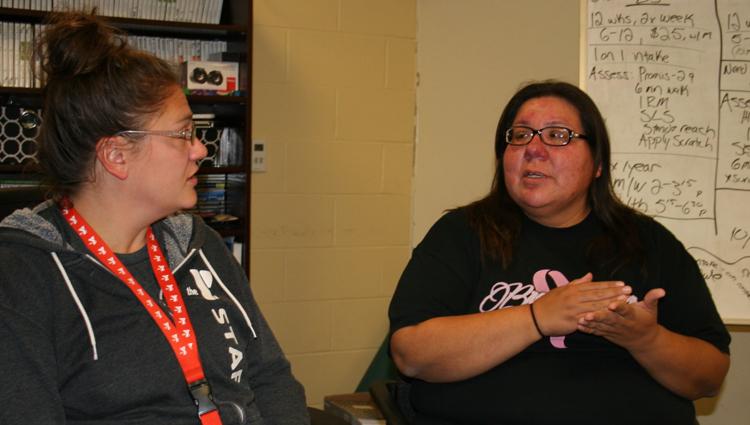 According to the Centers for Disease Control and Prevention (CDC), type 2 diabetes may be reversible with diet and lifestyle changes, but one in four people with the disease doesn't know he or she has it.
Earth's results revealed that she had pre-diabetes. Her blood sugar was higher than normal, but not high enough to have type 2 diabetes. Without weight loss and moderate physical activity, the CDC says 15 to 30 percent of people with pre-diabetes will develop type 2 diabetes within five years.
The group-based lifestyle intervention program, which was developed by the CDC, has been shown to reduce the number of new cases of type 2 diabetes by 58 percent overall among adults at high risk and by 71 percent in adults over 60 years old. The program, which takes place in a classroom setting, is offered at the Norm Waitt Sr. YMCA, on the Winnebago Reservation and to Tyson Foods employees at the meat processing plant in Dakota City.
Program participants must be at least 18 years old, have a body mass index of 25 or greater and be at high risk for developing type 2 diabetes, or they must have been diagnosed with pre-diabetes by a health care provider. The cost of the program is $429 per participant, but Jacque Perez, wellness director for the Norm Waitt Sr. YMCA, said some insurance plans cover it. Next year, she said Medicare may offer diabetes prevention as a health benefit.
Perez said an $11,890 grant, which was recently awarded to the Norm Waitt Sr. YMCA by Blue Cross and Blue Shield of Nebraska, will help make the cost of the Diabetes Prevention Program more affordable for participants. The grant will also allow the nonprofit organization to add the MoveWell Today Diabetes Exercise Program to its fitness class schedule in October.
MoveWell is a 12-week, group-based exercise program for people who have already been diagnosed with type 2 diabetes. Perez said the program features coach-led circuit workouts, which can be performed in a church basement just as easily as in the gym. Participants have to get clearance from their doctor before beginning the program; and they test their blood sugar before and after exercising.
"One of the best things you can do if you have type 2 diabetes is getting moving," Perez said. "The insulin that you have already in your body responds to your muscles moving. It's very, very important to get your body moving."
Since starting the YMCA's year-long Diabetes Prevention Program, Earth upped her water intake, cut out soft drinks and began walking to Winnebago Hospital where she works in the billing department.
She's lost more than 20 pounds so far and can't wait for that next opportunity to step on the scale.
"They watch me weigh myself and they're like, 'Mom, You're losing weight!'" Earth said of her kids with a wide smile.
Perez said the basis of the program is behavior change. Participants who are at risk for diabetes learn how to modify their diet, control portion sizes and partake in physical activity. The goal for each participant is seven percent weight loss and building up to 150 minutes of physical activity per week, which equates to five 30-minute walks.
"Our lifestyle coaches within the program are never telling the participants what to do, what to eat and how to be active," Perez said. "That kind of all relies on the participants themselves and the lifestyle coach kind of guides them."
After 16 weekly one-hour sessions, which include themes such as overcoming stress, healthy eating and ideas for physical activity, group meetings taper off to five weekly sessions and then monthly sessions.
One aspect of the Diabetes Prevention Program that took some getting used to for Earth was tracking what she ate and when she ate it, and then reporting that information to her lifestyle coach. Participants are also required to submit the amount of time they spend exercising each week. 
When they tried to lose weight in the past, Perez said some of the participants in her class said they would do well for a few weeks and then "hit a bump in the road" and give up. She said what they learn in the program helps them get right back on track.
Earth experienced one of those "bumps in the road" when her father died in March. With responsibilities piling up, she found it difficult to find time for fitness.
"A lot of the participants in this program learn that those bumps in the road are normal and they're actually beneficial for lifestyle change. You have to experience them and move on," Perez said.
When the Diabetes Prevention Program ends for Earth, she plans to be at Norm Waitt Sr. YMCA swimming in the pool and toning her muscles with weights. She encourages others who are at risk for developing type 2 diabetes to adopt a healthier lifestyle.
"I just got my labs back and they said everything looks great," she said. "I just need to keep going."