SIOUX CITY -- Ryan Allen believes mental health is the No. 1 obstacle college students face as they strive to succeed academically.
Today's undergrads feel stressed, depressed and anxious as they try to balance classes, jobs, athletics and other activities, while worrying about how they will pay off student loans when they graduate and if they will be able to find work in an ever-changing job market.
Allen, an associate professor of English and writing at Briar Cliff University who also teaches yoga and mindfulness in Siouxland, is helping students and staff reduce stress through a seven-week series titled, "Mindfulness for Mental Health."
On a recent Monday afternoon, Allen asked the dozen attendees seated at long tables in a naturally lit classroom to set aside their phones and notebooks and imagine that a string on the tops of their heads was being pulled. As they felt their spines getting longer, Allen asked them to close their eyes or soften their gazes.
"Take a moment to find some of that stillness and sensation in the body. What are you feeling? Where are you feeling it?" he asked, before instructing them to inhale and exhale for a count of four.
Toni Beck, a senior nursing student, said she was standing in line at the Java City coffee shop on campus when a blue flier for the series caught her eye. Beck, who is thousands of miles away from her home on the Big Island of Hawaii, thought she could benefit from some stress reduction strategies.
"I've always been interested in yoga, but never had the time to get into it," she said. "Just getting into the whole breathing, beginning aspect of it will really help with stress."
Allen said mindfulness, paying attention to our thoughts and feelings without judgment, is a meditative practice that is growing in popularity across the country. He said studies have shown that mindfulness is more than "magic and mysticism," pointing to research conducted by Jon Kabat-Zinn, a scientist, writer and meditation teacher who founded the Stress Reduction Clinic and the Center for Mindfulness in Medicine, Health Care, and Society at the University of Massachusetts Medical School.
Kabat-Zinn created an eight-week Mindfulness-Based Stress Reduction program in 1979 as an alternative way to cope with chronic illness. Since then, physicians, therapists and other practitioners have adopted the program as an evidence-based treatment option.
Transforming the community
Jenny Tobin, director of counseling services at Briar Cliff University, said students are arriving on campus less emotionally prepared than those who went before them. Some of them have been diagnosed with anxiety disorder, bipolar disorder or depression.
She said faculty will be able to use what they learn in the "Mindfulness for Mental Health" series to reduce their own stress, thereby creating a safer learning environment for students.
"It's like a re-parenting almost -- transforming the whole community, not just our students," she said.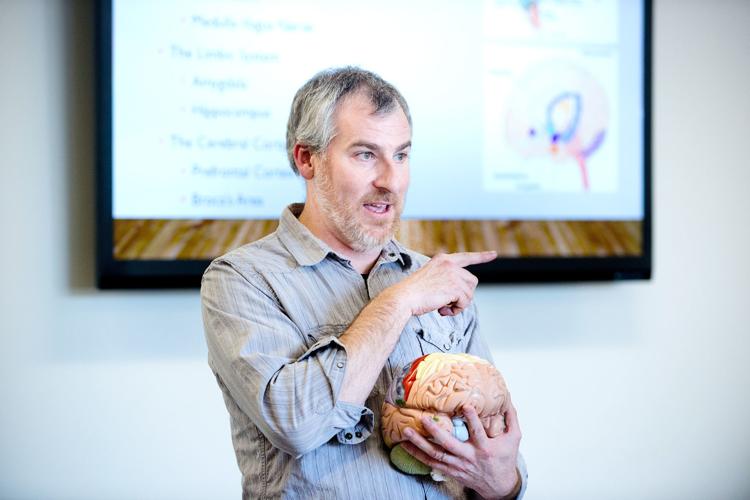 Allen said being mindful won't make students feel like they're "walking on rainbows," but he said it will increase their problem-solving skills, confidence and acceptance of criticism. He said it will also improve their memory, focus and attention skills, as well as reduce any anger or hostility that they're carrying around and increase their self-compassion.
"Life's hard. Stand like a tree and take it all. Let the breezes blow through you," he told students and faculty.
Breathing exercises, Allen said, are key. He encouraged those in attendance to take a breath before putting their hands on the steering wheel or the computer keyboard.
"When I'm down, I can breathe in a certain way and I can't help but get up, or I'm too up, if I breathe a certain way, physiologically, I will come down," he explained. "Individuals who have experienced high levels of anxiety can learn ways to bring it down a notch. People who are naturally down a few notches can learn some ways to bring it up."
Rebecca Taylo, a senior nursing student from Missouri Valley, Iowa, said she has a lot of anxiety, but hadn't heard much about mindfulness before attending the series. She said she thinks she could use some of the breathing exercise in her future career.
"That's something that you could just bring up to patients, especially since they're worried all the time," she said.
Students and staff cupped their hands, as if they were holding something, then took a breath and blew the object away. This technique is dubbed the "blow-it-away breath." They also covered their ears and hummed while breathing like bumblebees and curled their tongues like tacos and exhaled out of the space.
In the coming weeks, attendees will also practice mindful eating, movement, communication and celebration.
"Paying attention to your body, to your breath, just paying attention to the present moment, I think that's the biggest thing," Allen said. "Learning how to just sit with it -- the good, the bad, the ugly."