STORM LAKE, Iowa | When Bill and JoAnn Kozisek, of Storm Lake, celebrate their 65th wedding anniversary on Oct. 1, they'll do so with a Mass at St. Mary's Catholic Church here, a family dinner and an open house at the Knights of Columbus Hall.
The celebratory wrinkle comes in the wedding gown JoAnn will wear for the dinner and open house; it's the same one she wore on Nov. 6, 1952, when the couple exchanged vows at St. Mary's Catholic Church in Ulysses, Nebraska.
She kept the dress in a cedar chest all these years. And, yup, it still fits, perfectly.
"The dress cost $147.80," Bill says, noting how it came from a department store in Grand Island, Nebraska, although neither he nor she can recall which store.
The long-sleeve dress features 42 buttons. The satin underdress features lace over-top and long train.
"I'd get it out of the chest every once in a while to see if it still fit," JoAnn says.
"Our daughters told her she'd have to wear it for this celebration," says Bill.
The Koziseks have plenty to celebrate. The couple met on Nov. 6, 1950. JoAnn Bowman, as she was known then, from Gothenburg, Nebraska, was working for a hospital as a student nurse. Bill, who hailed from Surprise, Nebraska, was interested in becoming a mortician. So, he was asked to take a class that involved instruction at the hospital.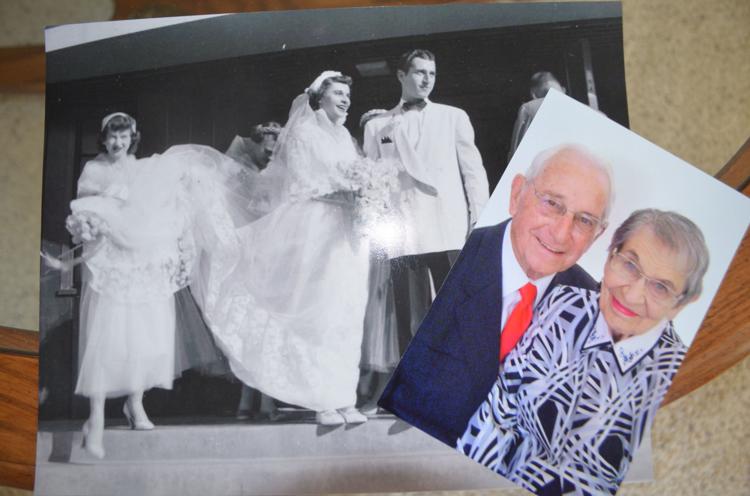 "I was to learn to make square corners on a hospital bed," Bill says. "And they sent this nurse in to teach me. It didn't take long before I had no interest in learning about square corners."
Rather, he was interested in the nurse!
JoAnn smiles and blushes at her husband's memory. She notes that he gave her a diamond ring exactly one year later. And, one year after that, to the day, they exchanged vows in a wedding Mass at 9:30 a.m.
After the wedding, the couple enjoyed a brunch with family members and friends. After a luncheon around noon, they enjoyed dancing to a three-piece polka band. An eight-piece band entertained for their dance that night.
"It was a Czech wedding," Bill says, describing how it lasted the entire day. "And we had a great time."
The couple honeymooned in Omaha before heading to western Nebraska to enjoy a few days together. Five years after they married, the couple moved to Storm Lake, where they have been ever since. They raised five children, saw them all graduate from St. Mary's High School, and now boast of having four grandchildren.
Their children include: Janet Mims, of Texas; Patricia Tisler, of California; Karla Scholl, of Lincoln, Nebraska; Tom Kozisek, of Garner, Iowa; and Doug Kozisek, of Colorado Springs, Colorado.
Daughter Lorie, they mention, now occupies a home in Heaven. She was 3 months old when she died of what today is called sudden infant death syndrome, or SIDS.
"We truly believe Lorie has helped us through whatever troubles we may have had through the years," Bill says. "She is our angel."
JoAnn worked as a nurse in obstetrics in Storm Lake for nearly 35 years. Bill covered seven Northwest Iowa counties as a paper salesman.
Twenty-four years ago, they constructed a duplex across the street from St. Mary's Catholic Church, a location that allows them to walk back and forth to worship each day.
"We've had so many great times," Bill says. "JoAnn learned to polka while we were dating and, once we were married, we spent many nights and weekends at dances all over the region. We danced in places like Sioux City and Fort Dodge and in Minnesota towns like New Ulm, Sleepy Eye and Fairmont. We loved to dance."
And while, after 65 years, they won't likely high-step, twist and twirl through a pair of polka sessions on Oct. 1, the couple will look oh-so at home and familiar, Bill in white coat and black tie (no, it's not the original), JoAnn in the wedding gown she wore to the altar on a picture-perfect day in November 1952.