VERMILLION, S.D. | Lucas Bonham has played with The Sound at USD since he arrived on campus three years ago.
Bonham, though, isn't a music major. He's not a music education major, either.
"You don't have to be a music major to be in band, or to have a leadership position (in the band program)," said Bonham, an Elkhorn, Nebraska, native who plans to teach high school history and government following his graduation in 2019.
"We are an all-inclusive organization," he continued. "It doesn't matter if you're from a high school in Sioux Falls and had a lot of marching band during high school or if your school didn't have marching band. We'll gladly accept you and teach you how to march and we'll all become great friends."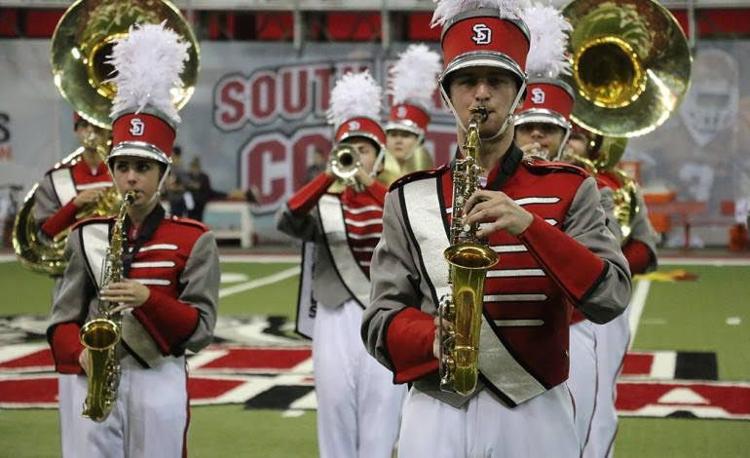 The Sound of USD entertained thousands of great friends under picturesque blue skies on Oct. 9, marching through Vermillion during the parade marking the 103rd Annual DakotaDays celebration. After a brief respite, band members assembled on campus and spent time prior to the homecoming football game marching and playing for tailgaters outside the DakotaDome.
It's one of the finest football traditions in all of Siouxland.
"Ok, I'm going to need your help," commanded Todd Cranson, director of athletic bands at the University of South Dakota, as he took tailgaters through a musical first-down ritual. "The words are real easy. It's 'Go Yotes!' We'll show you how it goes."
The band then played a series of notes, stopping for a split-second to allow Cranson to turn and holler, "Go 'Yotes!" as fans followed along.
The activity represents a sea change for Bonham, who didn't march much while playing alto saxophone in his high school band. The reason? He played football, so he spent his Friday night pregame and halftime sessions in a locker-room, going over assignments for his role as a special-teams contributor. Bonham also wrestled and competed in track and field as a prep.
"I'd march for contests on Saturday during high school, but not on Friday nights," he said.
The only Friday night marching (besides The Sound of USD's impromptu parading through Vermillion on the eve of homecoming) for Bonham has occurred when band has made a road trip to play for the Coyotes when they travel away from Vermillion. Those trips generally take place once per fall.
"Last year, we played when the 'Yotes played at the University of North Dakota," Bonham said. "We stopped at places like Lennox, Madison and Pipestone, Minnesota, on our way to Grand Forks."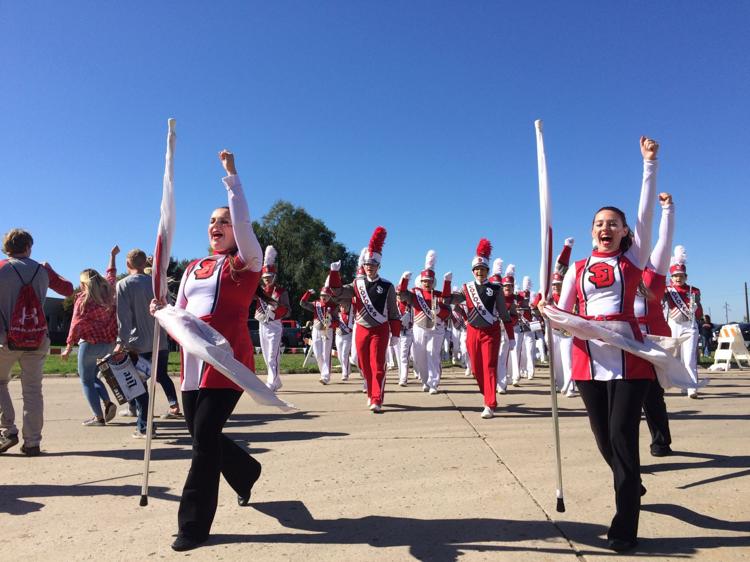 At one location, the band played for a high school halftime show.
"We then played in the stands as the Coyotes played on Saturday against North Dakota," Bonham recalled. "The game went into double-overtime, but, sadly, we lost. Still, there were some awesome memories made on that trip."
Bonham, like most or all of his fellow Sound band-mates, qualifies for a marching band scholarship because of his play. He earns this stipend by practicing three times each week and then once on Saturday morning before home games.
The junior alto sax player also performs with the USD pep band during home basketball games. The audition process to become a pep band member is a bit more rigorous, since there are fewer positions with the group.
As The Sound of USD marched around the DakotaDome last Saturday, fans flocked to follow the group, several taking photos or video, straining to see a fellow classmate marching with the group. Young Coyotes like Bonham noticed and tried to give something back to their fans.
"It's so fun to march through the fan base and get everyone pumped up for the game," he said. "It's especially fun when fans know you and they're calling out your name."
Standing on the DakotaDome turf just prior to the game is another memory Bonham says he'll carry with him longer than his alto sax.
"I'd say that was the biggest crowd I've ever seen at a game," he said, noting how 10,000 fans were present. "The DakotaDome was packed and it was so fun to be on that field and feel that energy."
Bonham mentioned that his time with the band will be something he'll miss when his days at USD come to a close. Eventually, he said, he'll find himself teaching high school government and history. Of course, he'll find time to make it back to Vermillion as a USD alum, one anxiously following the football team as much as his old "squad," the marching band.