ORANGE CITY, Iowa | After a nearly picture-perfect stretch of late-August weather, Jude Louis had a confession to make.
"I've been cold nearly the whole time since I got here," he said.
Lows in the 50s and highs in the 70s may have that effect on someone. If they're a native of Haiti, it seems.
"I'm told it will get A LOT colder, like below zero," Louis said.
The Northwestern College freshman said the cooler day-time highs rate among few complaints he has regarding his first weeks on the Orange City campus, where the 6-foot 5-inch Red Raider soccer goalie has received a warm reception.
"I came on a school visit to Northwestern last October," Louis said. "I practiced with the soccer team and the guys, to me, felt more inviting than in any of my other five school visits."
Louis knew then he'd become a Red Raider in the fall of 2017.
Heading to somewhat unknown territory isn't an unknown concept for the son of Joanie Louis and Luc Louis. The family resided in Haiti until one decade ago when Joanie finally had her family's visa application approved, on the eighth attempt, no less. Conditions in the country forced the couple to seek visas to help make a move to either France or the United States. The U.S. was the first to approve the visa.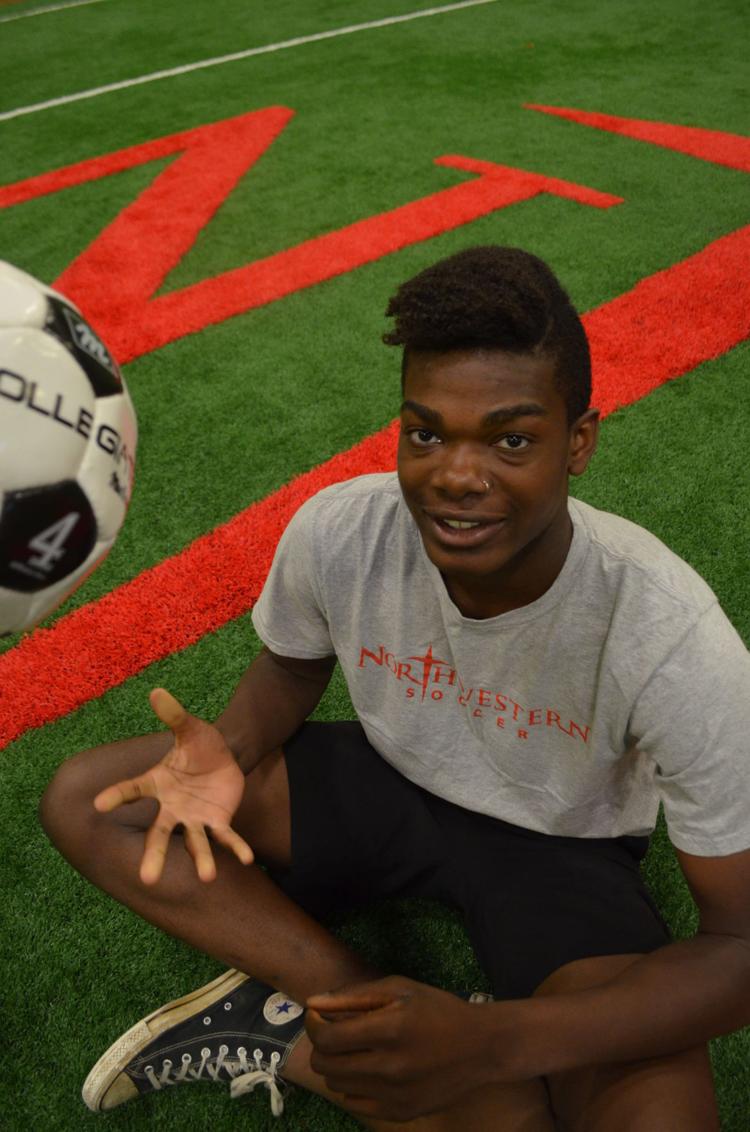 "My dad came first and lived in Florida for six months," Jude Louis said. "We joined him there and lived in Florida for one year before moving to Kentucky."
Jude was just over 10 years old at the time. He spoke French and Creole, but not English. He picked it quickly, thanks to cousins he joined in the United States.
"My mom discovered Asbury Seminary, which took us to Kentucky," he said, disclosing that the family now resides in Nicholasville, a suburb of Lexington. "My mother earned her master's degree there and taught kindergarten. She's now pursuing her doctorate."
His father, meantime, works for Amazon in New York.
Dan Swier, Northwestern College soccer coach, recalled that Jude reached out to him as he sought to play collegiate soccer in a Christian college setting. Swier kept in touch, but couldn't execute a full-court press in recruiting terms because Jude resided 880 miles from Orange City.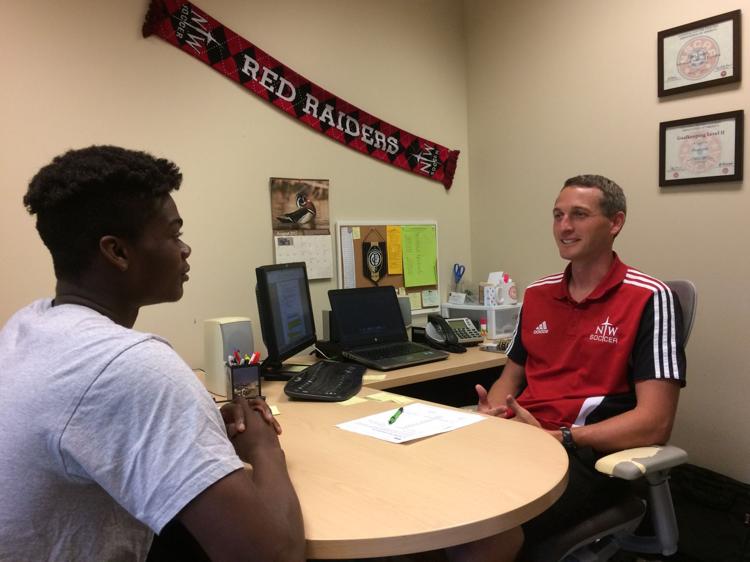 "We knew about Jude and we kept in touch and then he scheduled a campus visit," Swier said.
During that visit, Jude Louis played a game called "World Cup soccer" in the new soccer/football practice area inside the Rowenhorst Student Center. The game requires players to holler the name of their homeland as they shoot. It's quite a pursuit for the Red Raiders, who now count 14 international students among 35 players on their roster, soccer student-athletes that hail from Brazil, England, Chile, Spain and Haiti, in addition to eight states.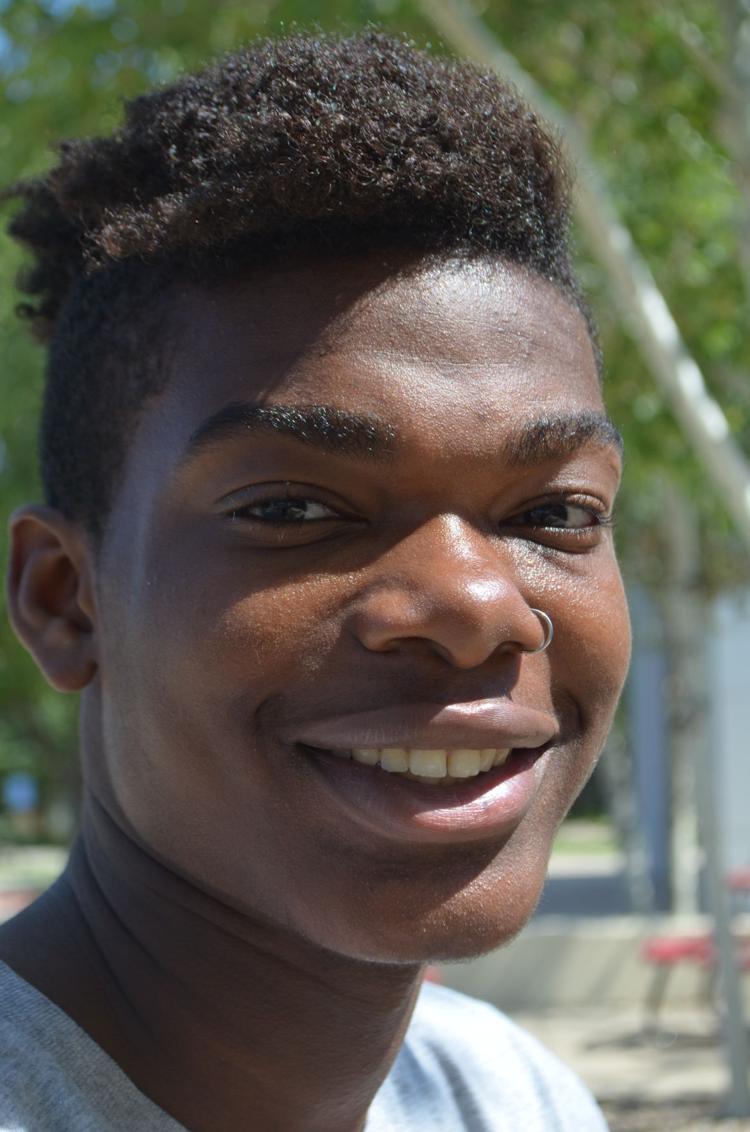 Louis visited Cincinnati University, the University of Kentucky (where he met men's basketball coach John Calipari), Asbury University, Ave Maria University in Florida, Azusa Pacific University of California and High Point University in North Carolina. In the end, it was Northwestern that had the most appeal, and made the most sense, despite its cooler climate.
"Seventeen members of our soccer team went to Haiti last year," Swier said, explaining how the players tapped into a mission project already begun in Haiti by an alum of Northwestern.
Jude Louis has also done volunteer work in his home country. His mother, who visits family in Haiti two to three times per year, founded New Oaks Ministries, which seeks to serve Haitian children who have aged out of foster care and adoption programs. Her aim is to help these young people land jobs to earn money which can be used to help pay college expenses.
"I went to Haiti and helped launch a project called 'Jerry's Yum-Yum,'" said Jude Louis, who plans to focus on international marketing within a business administration course of study. "The young man, Jerry, grows fruit for a fruit stand that has natural juices. I helped him harvest fruit and make his juice. He's trying to help fun his education this way."
Haiti, one of the poorest countries in the world, and the poorest in the Americas, continues a comeback from a pair of natural disasters that rocked the county in the past decade. A 2010 earthquake counted Louis' great uncle among its more than 220,000 deaths. In 2016, tens of millions of dollars in damage was done and more than 1,000 were killed as Hurricane Matthew pounded the country, flooding the home of Louis' aunt.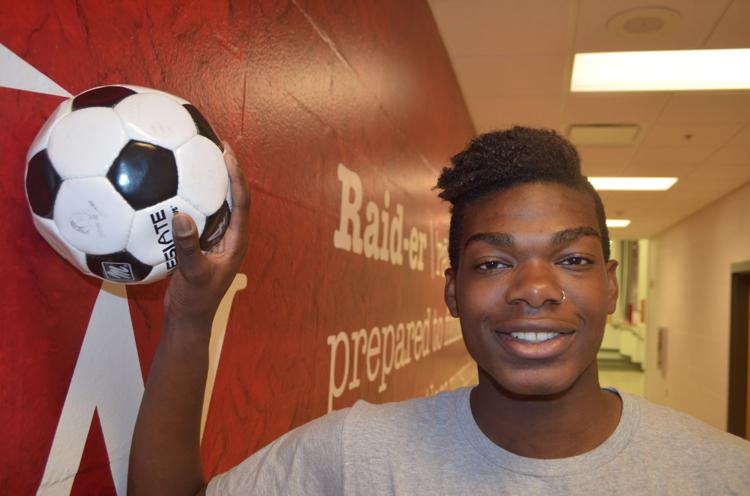 The struggles, while close to this college freshman's heart due to the presence of family members there, are distanced somewhat as he immerses himself in his new surroundings, those of a small college in Northwest Iowa.
"I'm in Iowa," he said with a smile, glancing around at fellow students as they headed to or from class. "If you would have asked me about living in Iowa two years ago, I would have said, 'No way!'
"I only knew about the East Coast and the West Coast, not Iowa," he concluded.