SIOUX CITY | At restaurants, gas stations, auto repair shops and other businesses she frequents, Patricia Washburn stops men and asks them, "Did you know that men can get breast cancer?"
Some of them snicker and look away, while others ply her with questions.
"My goal is for nobody to ever have to go through the pain that we went through," said Washburn, who lost her husband, Marlyn, of 23 years to breast cancer in May. He was 66. "Men and women both need to know that men can get breast cancer, because by the time most men find this, it's too late. They can't do anything."
After Marlyn's death, Washburn, formerly of Lawton, Iowa, decided to become an advocate for male breast cancer. She recently had her husband's white 2014 Dodge Dart wrapped with half pink and half blue ribbons. The message "Breast Cancer Does NOT Discriminate MEN TOO" is printed on the sides of the car, while Marlyn Washburn's smiling face covers its hood.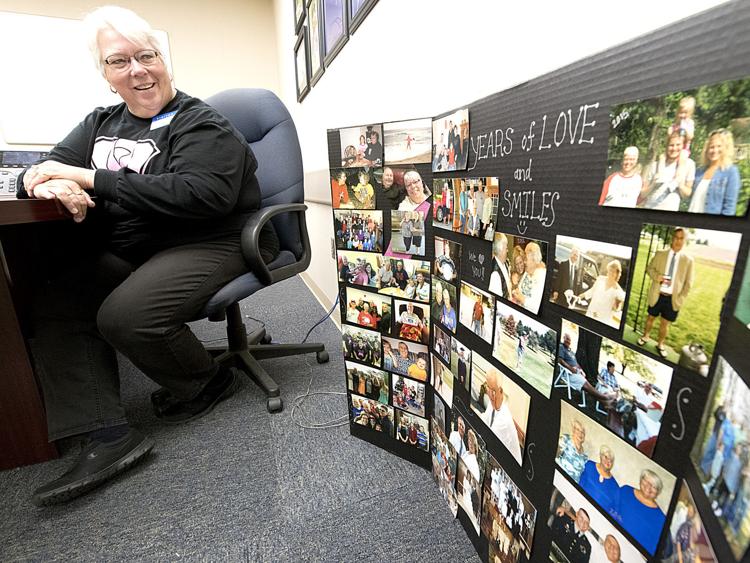 "There's a lot of embarrassment. Thankfully, Marlyn was not embarrassed and he would talk about it if somebody asked him," said Washburn, who wore a black shirt emblazoned with a big pink ribbon and the words "TEAM MARLYN."
Breast cancer is about 100 times less common among men than among women, according to the American Cancer Society, which estimates the average lifetime risk of men developing breast cancer is about 1 in 1,000.
While researchers don't completely understand the causes of breast cancer in men, the American Cancer Society says about 1 in 5 men with breast cancer have a close male or female relative with the disease.
On average, men are about 68 years old when they get breast cancer. The American Cancer Society lists a lump or swelling, skin dimpling, redness or scaling and nipple discharge or retraction as possible symptoms of breast cancer in men.
"A man has to watch for the same things that a woman has to watch for," Washburn said. "It's just that as women we're taught these things from the time that we're young girls. The guys are never, ever taught what to watch for."
Getting the word out
Twenty-four years ago, Washburn met her late husband Marlyn at a support group for people who are divorced, widowed or separated. She was surprised to learn that Marlyn, whom she described as a "good family man," student-taught at Battle Creek High School in Nebraska when she was a student there.
"I didn't remember him, but he is in one of my high school yearbooks," she said with a chuckle.
Marlyn also served as the high school principal at Lawton-Bronson High School in the early 2000s, according to Washburn, who was the city clerk in Lawton from 2001 to 2014.
About a year after meeting, the couple married.
"He treated me like a queen. He put me on a pedestal," Washburn said.
The Washburns lived apart for nine years of their marriage, as Marlyn finished up his teaching career. He lived in Red Cloud, Nebraska, while Patricia stayed in Lawton so Marlyn's youngest son could graduate from Lawton-Bronson High School.
"We eventually found a house that we liked in Omaha, so that's where we settled," she said. 
Washburn said Marlyn enjoyed trout fishing, golfing and traveling around the country with her after they both retired. They visited all but two of the lower 48 states, and had planned to visit Alaska this year.
"If we saw something that looked kind of odd, we went," Washburn said. "We weren't planning on retirement being cut quite so short."
Washburn described Marlyn's breast cancer diagnosis as a "fluke" that came last Christmas after a routine blood test to monitor his diabetes. At the time, she said Marlyn was experiencing pain in his right arm.
Marlyn's doctor initially suspected there was a problem with his liver or gallbladder, so he ordered an ultrasound, which revealed that Marlyn had six lesions on his liver. A subsequent MRI turned up a mass in Marlyn's left breast.
"It showed that it had metastasized throughout a lot of his body," Washburn said of the breast cancer, which had also spread to Marlyn's lungs, kidneys, lymph nodes, bones and brain. "He had eight tumors up in his brain. He felt fine."
Washburn said her husband had noticed a lump in his breast tissue earlier on that he thought was a lipoma, a noncancerous fatty mass. The lump was actually breast cancer. With the cancer now being so advanced, Washburn said there was nothing doctors could do to save her husband's life.
"It was considered stage 4 metastatic breast cancer," Washburn said. "Quite often, that's what happens to men because they don't go in right away. Men and women alike do not know that men can get breast cancer."
Marlyn was hospitalized four times before his death. Washburn said he developed blood clots in his lungs and one of his legs and was placed on "massive amounts of oxygen."
"At one point, they told us the only way he could be transported in Omaha was by ambulance because of the amount of oxygen he was on," she said.
Five months after he was diagnosed, Marlyn succumbed to breast cancer on May 26. A month before he died, he received a Nebraska breast cancer awareness license plate that he ordered for his Dodge Dart that reads, "MEN 2." Washburn now proudly drives the car and shares Marlyn's story with anyone who will listen in hopes of saving lives.
"He knew it was important to get the word out that this can happen," Washburn said.