SIOUX CITY | Siouxland's first major winter storm of 2018 paralyzed the region Monday, dumping more than a foot of snow in some areas and resulting in road closures, power outages and the shutdown of scores of area schools, businesses and government offices.
Travel was not advised for much of the day as heavy snow and blustery winds created whiteout conditions, leading to a handful of stalled vehicles and accidents. More than 70 miles of Interstate 29 between Sioux City and Sioux Falls were closed down Monday afternoon, and both lanes of U.S. Highway 20 east of Sioux City were blocked in by two jackknifed semi-trailer trucks.
A tow ban was instituted across Northwest Iowa.
Some of the highest snow totals were expected in an area encompassing Sioux City and running northeast toward the Iowa Great Lakes. As of noon Monday, Sioux City had received 9.1 inches of snow, with 11 inches estimated to fall by the end of the day.
Meteorologist Brad Temeyer with the National Weather Service in Sioux Falls said Monday afternoon that the highest totals were expected in a band stretching from Vermillion, South Dakota, through Rock Valley, Iowa, and into southern Minnesota, where up to 14 inches was possible.
The area fell under a blizzard warning through midnight Monday, with wind gusts of 40 to 50 mph blowing snow across roadways and reducing visibility to near-zero throughout the late morning and afternoon. The snow tapered off in the evening hours, but winds continued to make visibility difficult.
In Sioux City, the weather halted transit services and shut down Sioux Gateway Airport from Sunday night to at least 9 a.m. Tuesday.
As of Monday afternoon, as many as 1,600 MidAmerican Energy customers in the Sioux City area had lost power due to storm-related outages in dozens of locations. Crews were on scene in Sioux City from the early morning hours Monday in preparation for the storm, with work to restore power ongoing.
Around 540 MidAmerican Energy customers in Le Mars also lost power for about an hour early Monday morning following an outage resulting from downed power lines.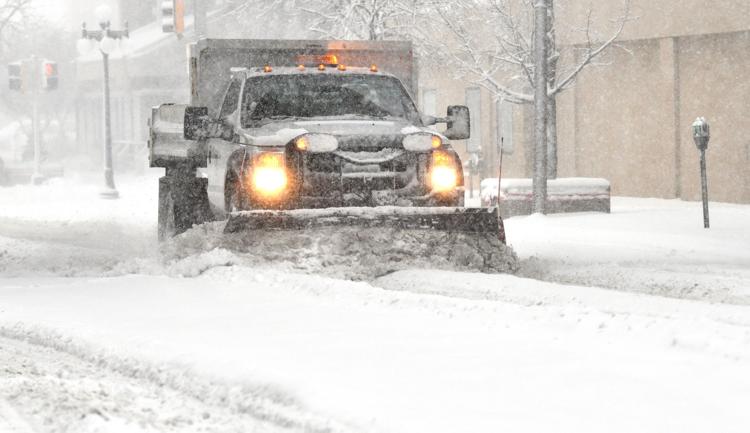 County sheriffs from the Sioux City metro said there had been few wrecks involving drivers on heavily snow-packed roads midday Monday, but two semi-trailer trucks spun out just before noon on U.S. Highway 20 one mile east of Sioux City, blocking both eastbound and westbound traffic.
Plow crews operating in the Woodbury County Secondary Roads Department were pulled from duties prior to noon. While aiming to keep roads clear, the crews are not to put themselves into unsafe situations with poor visibility, said Woodbury County Sheriff Dave Drew.
In downtown Sioux City, City Hall, the Woodbury County Courthouse and the Federal Building were all closed. The Sioux City Council meeting was postponed to Jan. 29, and the Sioux City School Board meeting planned for the evening was moved to 6 p.m. Tuesday.
Some Siouxlanders also reported "thundersnow" Monday morning, a phenomenon that can occur in the middle of a strong storm front.
Conditions look to clear up for an extended period following Monday's storm. The weather service reports clear conditions with highs around 30 on Tuesday and Wednesday, with temperatures warming to the 40s Thursday and Friday.