SIOUX CITY -- The winter weather continuing to sock Sioux City Monday has caused approximately 70 power outages affecting around 800 customers, according to MidAmerican Energy. 
Spokesman Adam Jacobi said around 1:15 that the company has had crews in the area since early Monday morning and work on the outages is ongoing. He did not have estimates for restoration times. 
---
SIOUX CITY -- County sheriffs from the Sioux City metro said there had been few wrecks involving drivers on heavily snowed packed roads midday Monday, but two semi-trailer trucks spun-out just before noon on U.S. Highway 20 one mile east of Sioux City, blocking both eastbound and westbound traffic.
The sheriffs of Woodbury County in Iowa and Dakota County in Nebraska continued to urge people to not go out on roads. A flood of school districts, including all in the metro, and other area businesses were not open, and the sheriffs said staying home is the best decision.
Woodbury County Sheriff Dave Drew said the major county wrecks occurred with the two semis near Buchanan Avenue outside Sioux City.
Drew said plow crews operating in the Secondary Roads Department were pulled from duties prior to noon. While aiming to keep roads clear, the crews are not to put themselves into unsafe situations with poor visibility, the sheriff said.
"The only bright spot is the snow is wet and heavy, which is helping somewhat on (reducing) the drifting," Drew said.
Dakota County Sheriff Chris Kleinberg said the conditions certainly constitute a blizzard.
"Thankfully (there have been) no major wrecks. Roads are heavy with snow," Kleinberg said.
The National Weather Service in Sioux Falls was continuing to estimate the worst band of snow would encompass Sioux City and run northeast toward the Iowa Great Lakes. The forecast called for a possible 12 to 18 inches of snow, and 9 inches had fallen in Sioux City by noon.
At 11:30 a.m., Iowa State Patrol Northwest Division Trooper Vince Kurtz reported there was a ban put in place throughout the region on towing any stranded vehicles from ditches. Kurtz said it was too dangerous to handle that towing task amid the still-falling snow and heavy winds.
Kurtz also shared a 7:15 a.m. dashcam video in a Twitter post that showed "near white-out conditions near Sheldon."
Outside of Sioux City, Northwest Iowa authorities were urging people to be safe in poor weather conditions.
The Sioux County Sheriff's Office in multiple platforms at 5 a.m. noted "the roads in Sioux County are 100 percent snow covered and slick in observed areas. Visibility is very limited at this time." Then at 9 a.m., the Sioux County Sheriff in a tweet said conditions had worsened, "Deputies are advising visibility is near zero in spots in Sioux County, advising no travel."
Dickinson County Iowa Emergency Management reminded people of the blizzard conditions expected to last all of Monday, and to take precautions.
In downtown Sioux City, City Hall and the Woodbury County Courthouse were closed. The Sioux City Council meeting was canceled, and the Sioux City School Board meeting planned for the evening was moved to 6 p.m. Tuesday.
In South Dakota, Interstate 29 was closed at noon from the Iowa border for 75 miles, to just south of Sioux Falls.
---
SIOUX CITY | Due to blizzard conditions, City Hall will be closed on Monday.
In addition, the Sioux City Council meeting has been postponed until Jan. 29.
Garbage and recycling pick up will not be collected on Monday. Collection is expected to resume on Tuesday and will be delayed by one day for the remainder of the week.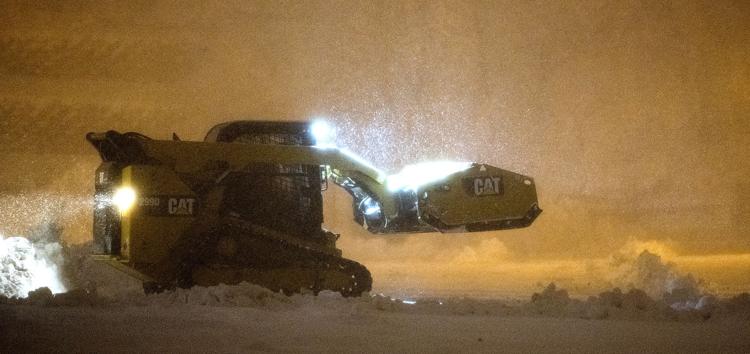 According to a Twitter post, Woodbury County Sheriff Dave Drew said the Woodbury County Courthouse will also be closed on Monday.
______________________________________________________________
SIOUX CITY | The Woodbury County Sheriff's Office is among the local government agencies who said traveling is not advised on Monday. Winds are picking up, creating whiteout conditions in isolated areas.
_____________________________________________________________
SALIX, Iowa | Iowa State Patrol Trooper John Farley reported Interstate 29 between Salix and Sloan was 100 percent snow-covered at 6:30 a.m. Monday.
"I'm driving around 37 mph on the Interstate and so is everybody else," he said. "Hopefully, people will stay put today. But if you have to be out and about today, expect treacherous conditions. "
Much of southeast South Dakota, northeast Nebraska and northwestern Iowa, including Sioux City, remain in a blizzard warning until midnight.
A blizzard warning means sever winter weather conditions are expected or occurring. Falling or blowing snow with strong winds and poor visibility are likely. This can lead to whiteout conditions, making travel extremely dangerous.
______________________________________________________________
SIOUX CITY | The first major winter storm on 2018 will likely dump more than a foot of snow in Sioux City on Monday.
Mike Gillispie, a meteorologist with the National Weather Service in Sioux Falls, said the heaviest band of snow is expected to reach Sioux City at around 8 a.m. The 30 mph northerly wind is expected to gust to more than 40 mph by mid-morning.
"The snow will fall fairly consistently throughout the mornings and afternoon hours," Gillispie said. "The absolute peak will be from 8 a.m. to around 2 p.m., before slowing ending during the early evening."
While Sioux City may be seeing more than 12 inches of the white stuff, such Siouxland communities as Cherokee and Storm Lake can see accumulations closer to 16 inches.
"Barring isolated examples, the further south you go, the snow amounts will be less" Gillispie said.   
Monday's temps will gradually fall throughout the day. The overnight low will likely bottom out at around 17. 
In anticipation to blizzard conditions, most Siouxland schools will be closed on Monday and many businesses will close or open late.
The Sioux Gateway Airport will also be closed at least until 11:45 a.m. Monday. Anne Westra, a communication and public engagement specialist with the city, said updates for the airport's hours of operation will be updated based on weather conditions.
Mayor Bob Scott declared a snow emergency for Sioux City. This declaration prohibits parking or leaving a vehicle unattended on an emergency snow route street. A map showing emergency snow routes can be found at www.sioux-city.org under Community/News/Snow Information.
Sioux City Field Services Street Superintendent Ed Pickens said city trucks have spent the overnight hours preparing the streets for Monday's anticipated snowfall.
"Right now, it's a waiting game," Pickens said on Monday morning. "Once the snow hits, all of our trucks will be out in force."