SCHLESWIG, Iowa | Eight years ago, Devon Evers earned a diploma from Northwest Iowa Community College, and was on his way to becoming a commercial/industrial electrician.
Except for the fact he never worked in that capacity.
Evers last week stood before a crowd that convened in his Crossgrain Woodworking headquarters in downtown Schlewsig and thanked locals for their support in helping make his company Iowa's Business of the Month, an award bestowed by the Small Business Development Center.
"I'm still a little guy putting all my money back into the company with my faith in God," Evers said.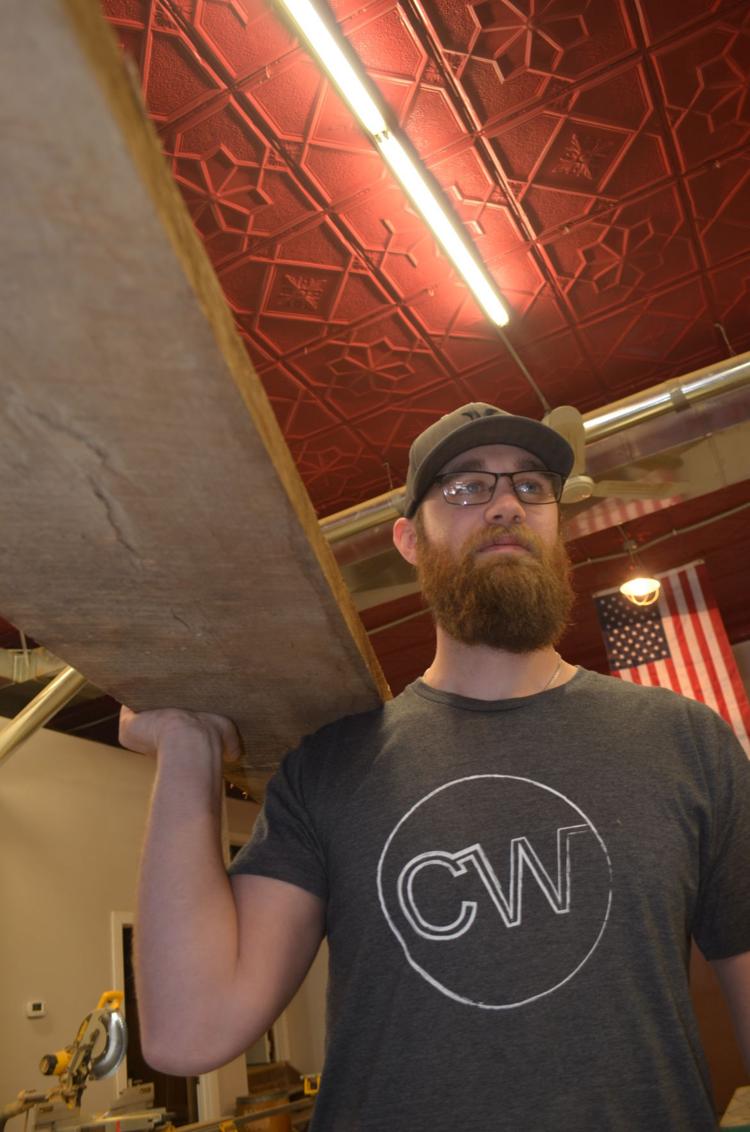 The 29-year-old from nearby Denison isn't shy in admitting he starts every business day in prayer, adding that the company's name draws upon his faith ("Cross") and his penchant to go against the norm, or "grain," in this case.
He's an industrial wiring pro who toiled in agriculture before turning a hobby into a trade that's doubled its orders and revenue annually since its founding four years ago.
Devon Evers, a 2007 Denison High School graduate, headed to Northwest Iowa Community College and studied commercial/industrial wiring. However, a yearning to stay close to home after graduation kept him in Crawford County, not far from the farm of his parents, Brian and Rachel Evers, west of Denison.
"I worked for a farmer north of Denison and helped my dad and grandpa farm," he said. "I ended up buying a home in Denison."
It was at home one night that Evers hatched a plan to build a small hutch out of glass and reclaimed wood from his family's century farm. His sister, Alyssa (Evers) Rihner, put a photo of the finished work on Facebook, prompting a friend to ask if Evers would build a bathroom vanity. He completed that task, too.
"And then the orders started rolling in," he said.
Evers would farm by-day, then tend to his woodworking each night and weekend. In 2013, he left the farm to work at the Andersons Denison Ethanol plant. His work in processing there lasted but six months.
"I hadn't planned to leave the ethanol plant, but my orders kept coming in for woodworking jobs," he said. "I prayed about it, and, in January 2014, I had saved enough money to take on woodworking full-time."
Evers fixed up one-third of a barn on his parents' farm and went to work, taking various finished pieces to vendor shows like the Uptown Market in Denison. The Crawford County Chamber & Development Council, led by Executive Director Evan Blakley, approached Evers and helped him write a comprehensive business plan. Soon, Todd Rausch of the Western Iowa Tech Small Business Development Center in Sioux City joined the effort, offering counsel and resources.
One of Evers' first big orders came from Happy Medium, a social media firm in Des Moines that was in search of a conference table. Evers met the challenge by crafting a 4-foot by 10-foot quarter sawn oak table that was two inches thick and weighed 300 pounds. He got the table to Des Moines then decided to hire his first employee, Phil Wieman, of Denison.
"By late 2015, the shop on the farm had become too small," Evers said.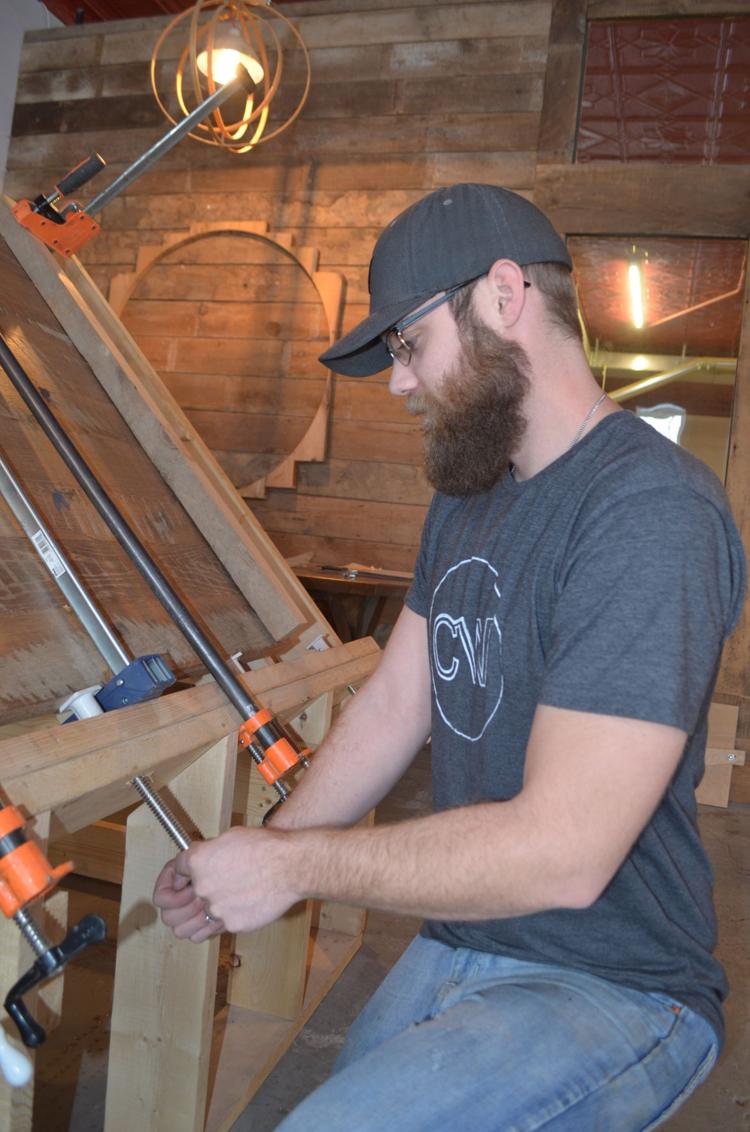 Last February, Evers began leasing the old NAPA store site on Cedar Street in Schlewsig, a town of 866 residents 12 miles north of Denison. The structure, which offered 10,000 square feet of work and showroom space had been gutted and renovated, ready and waiting for Crossgrain.
Five months ago, Evers added another employee, Brett Nuzum, of nearby Kiron, as the company worked to tackle a huge job for the Stables at Copper Ridge, a new wedding venue near Denison, one set in an old horse barn.
"We built them 29 10-foot tables and one 20-foot head table, all made from reclaimed wood, 1890 lumber, all from one source in central Iowa," Evers said. "We built all their custom doors, stage flooring, sliding accent doors and sliding exterior barn doors."
In addition, Crossgrain Woodworking repurposed some of the old lumber found at the Copper Ridge farm.
Evers and staff have made tables, hutches and more for businesses like this, while also filling orders for new homes, residences as far away as Okoboji to Des Moines.
"Whatever he puts out of his shop will last a lifetime," said Blakley. "To watch him grow from a basement shop to a legitimate manufacturing woodworking facility has been great to watch."
The Small Business Development Center Region XII helped Evers secure a loan for additional tools he needed as the company expanded into this space.
"We have 15 to 25 orders on-hand that we're working on, typically with a turnaround of six to eight weeks," said Evers, who spends his time away from work with his wife, Amanda, a kindergarten teacher in Denison, and their 9-month-old son, Jed.
Someday, Evers said he'd like to have a separate showroom that allows prospective customers to see for themselves how Crossgrain Woodworking can blend steel with wood (both new and reclaimed) for a look that combines modern and rustic elements.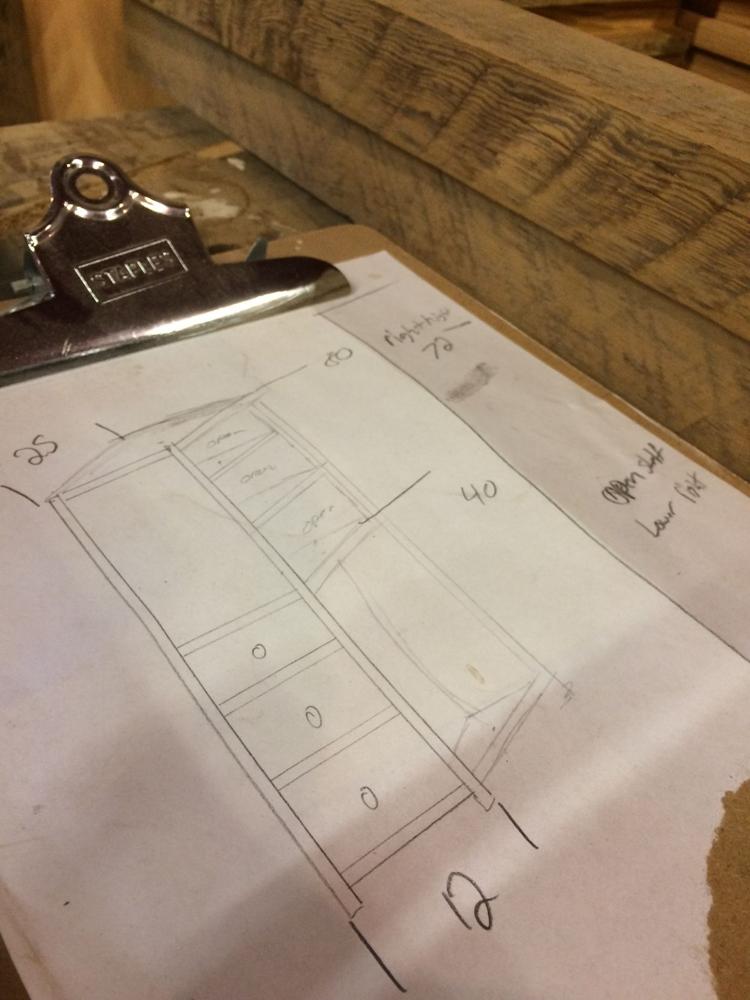 "Two separate spaces would be nice, eventually," said Evers.
It's big-picture dreaming for a guy who never pictured himself in this particular frame.
"Nobody did formal carpentry in my family," said the business founder, an electrician who never was. "I've always enjoyed working with my hands. I found a passion in this."