SANBORN, Iowa | Three years ago I pulled into Sanborn, seeking a dinner special at Jay's Restaurant, a favorite stop on Highway 18. The town's ambulance caught my eye that day, parked on the south side of the highway, sporting a no-frills banner that read, "This ambulance is sitting here today because there are no volunteers to take it out! Volunteer today!"
The message included a phone number for Paul Schuler, Sanborn Ambulance director. Schuler remains in that role. He remains head recruiter, too.
"We're still in need of volunteers," he told me Wednesday. "In fact, we just started partnering with Primghar (Iowa) to provide weekend coverage."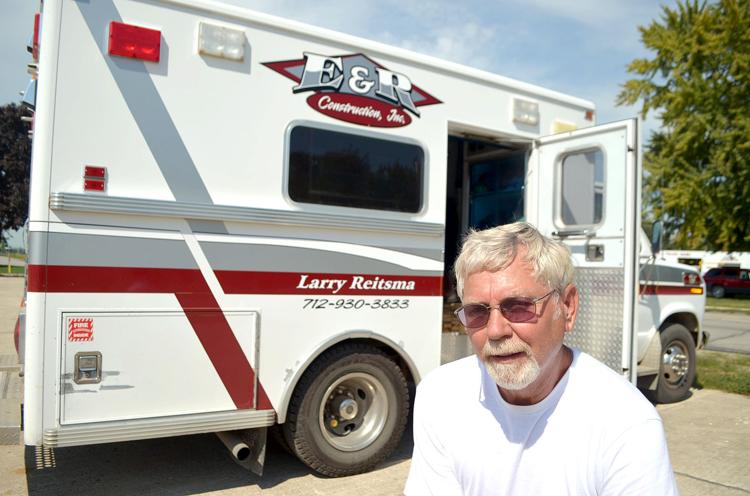 A different ambulance caught my eye while parked in the same spot last week. It had nothing to do with volunteer recruitment or emergency medical coverage. This ambulance, the town's old unit, now serves as mobile office for Larry Reitsma of E&R Construction Inc., of Sanborn.
"This was the city's old ambulance until the city upgraded and had this one sitting in a shed taking up space," said Reitsma. "They couldn't get bids for it."
Five years ago, Reitsma heard city workers were having to move the old ambulance when they put the diving boards from the municipal pool away for the winter. He approached City Hall, left a bid of $3,500 for the 1992 Ford and said his bid was good for one day only.
"They called me back 15 minutes later and said they'd take the bid," Reitsma said.
Arrow Manufacturing of Rock Rapids, Iowa, has made a business interest out of renovating and retrofitting old ambulance units. The Journal's Earl Horlyk will have a story in the October issue of Siouxland Life magazine that details how one Sioux City couple took an old ambulance and made it their football tailgating centerpiece.
But, a mobile office for a local construction company? This was news to me.
"You have interior and exterior storage space and everything is double-walled and insulated," Reitsma said.
He can park the old ambulance at a job site all day during the winter and none of his tools will freeze. They'll barely get cold.
"You can hook up anything inside, including a heater," said Reitsma.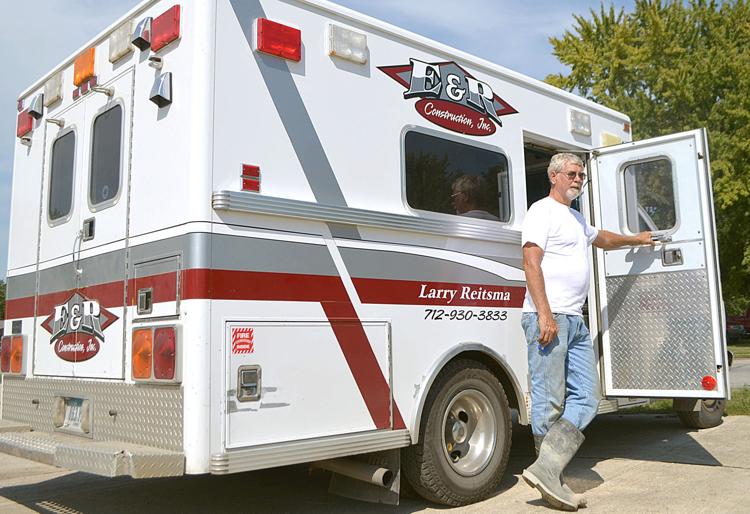 Reitsma, who served on the Sanborn Volunteer Fire Department for 17 years, kept the siren and public address system in place. Every once in a while, he has fun "warning" someone of his approach with an announcement over the speaker system.
He can't legally activate the siren.
"We have had situations where someone has come to get us," he said, alluding to the fact people in a panic sometimes mistake this construction truck for the current Sanborn Ambulance.
Interestingly, Reitsma's wife, Alvina Reitsma, used this ambulance in medical emergencies not too many years ago, as she served Sanborn as an EMT for one decade.
Larry Reitsma, a builder around here since 1973, is simply pleased his firm has been able to extend the life of a truck that helped extend the lives of others.