IDA GROVE, Iowa | As an interview Tuesday morning drew to a close, Liz Adams, a senior at OABCIG High School in Ida Grove, switched her piccolo from one hand to the other.
The instrument fell to the floor, crashed and busted a key.
In seconds, band director Benjamin Mauritz tackled the delicate case, commanding a quiet study hall while straining to match the ends of a replacement key, a surgeon of sorts doing all he could to keep Adams in tune.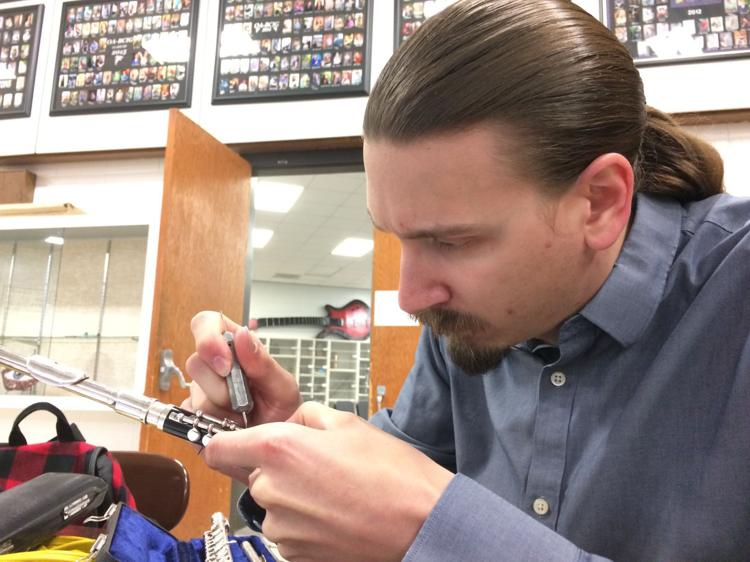 Benjamin Mauritz's day started much earlier. He rose, checked the forecast and decided to direct his OABCIG High School marching band to the football field in Ida Grove as the school day commenced under gray skies and temps around 40.
"You should have heard the groans when I told the kids we were going outside," said Mauritz, in his third year at the high school serving Ida Grove, Battle Creek, Odebolt and Arthur.
"The upperclassmen get it," he continued. "We'll march unless it's raining. It gets cold in October here. And we still have a home football game on the schedule. We'll play that night, unless it's raining."
The workout early Tuesday morning prepared his band for the 2017 Iowa High School Music Association's State Marching Band Festival, which begins at 4 p.m. Wednesday (today) at Sheldon High School. The event, originally slated for Saturday, was postponed four days because of rain.
"Rain is always the big concern," Mauritz said. "Because of the instruments."
Wind represents another issue for Mauritz, because his band members hold music in flip folders attached to their arms or horns. This program, while growing, doesn't yet feature musicians marching to memorized music. That day may come.
"Marching band is one of my favorite activities and we're just building it up here," said Mauritz, a Spirit Lake High School graduate who toted a sousaphone while playing with The Sound of USD, the marching band at the University of South Dakota. His building effort has seen growth from last year to this season, an increase in participants from 29 to 39.
"Musically, this is our strongest year," Mauritz said. "We've played at our home football games and we've gotten many compliments from our staff members and people in the community." (His band plays the fight song of opposing teams, too. Nice touch!)
The OABCIG marching band received a Division III rating in the 2016 state contest. Mauritz eyes a Division II rating this time around. He remains hopeful. A functioning piccolo for Adams will help.
It's not that Adams HAS to play piccolo. The Ida Grove resident began playing in the percussion section as a fifth-grader. She switched to flute in sixth grade and now plays piccolo, an instrument that plays to her individuality. She also plays ukulele and the piano.
Adams hopes to become a band director someday. She'll put some of Maurtiz's teaching methods to work in her program.
"Mr. Mauritz always takes a few of us to the middle school at the end of the year and we talk to younger students about the band program," she said. "It's one way of recruiting."
Having a show at halftime is another recruitment tool. Mauritz even drafted his drum line to play on Monday afternoon as 291 high school cross country runners completed their 3.1-mile run around the Ida Grove Golf Course. When one of the drummers couldn't make it, Jacob Pedersen, the high school's director of vocal music (and a program builder in his own regard) filled in.
"It was cold out, but we kept playing until the very last person finished the race," Mauritz said.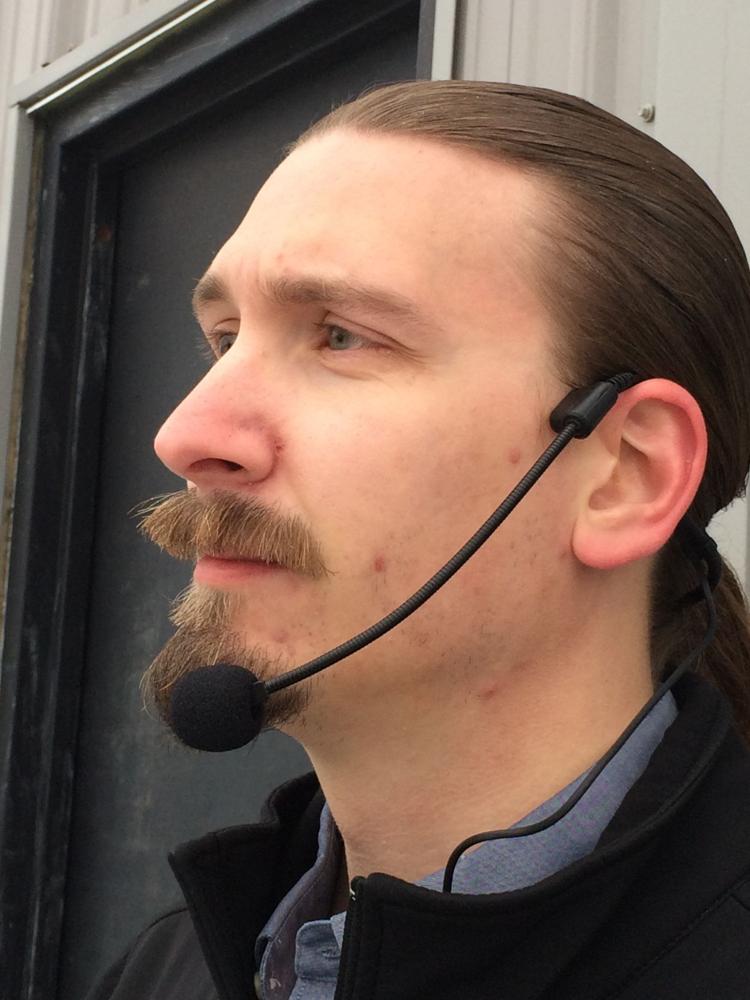 And so it goes for an educator in the throes of growing a small-school program, working with enthusiasm and, in the case of an imperfect piccolo, the precision of a surgeon, tending to the tiniest detail of his marching band.