VERMILLION, S.D. | Wednesday dawned bright and sunny and just right for Dar Ellis of Diesel Machinery in Sioux Falls, as he sold a piece of farm equipment as the 35th annual Dakota Farm Show opened inside the DakotaDome on the campus of the University of South Dakota.
"The customer is coming back this afternoon to pay me for it," said Ellis.
The JCB TM 320, per Ellis, can load feed, manure, pallets, dirt and just about anything else on the farm.
You can buy just about anything else for the farm, or a residence, for that matter, inside the DakotaDome through 4 p.m. Friday, when the show closes. Some 300 exhibitors showing off more than 1,000 product lines welcome an estimated 25,000 customers into the toasty DakotaDome for this event, one that tells me spring is just around the corner.
Doug Zobel, of Freeman, South Dakota, scouted fencing options on Wednesday morning as his wife, Jean Zobel, rested in a place where, a few weeks ago, fans stood to cheer on the USD football team.
Jean Zobel had one knee replaced in August, the other replaced in December. She and Doug arrived at the Dakota Farm Show as it opened at 9 a.m., beating the rush, in essence, so Jean could walk the aisles as part of her rehab assignment.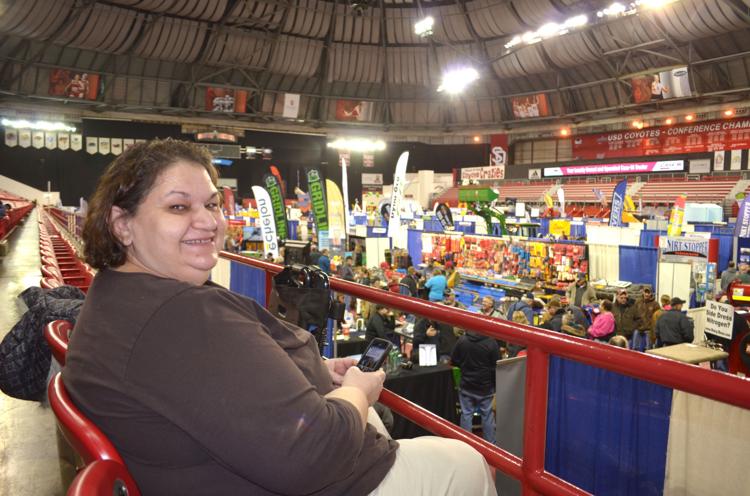 "I got a half-mile walk in this morning," she said. "Now, I'm just waiting for my husband. I love to sit here and watch people."
The Zobels don't travel for fun, rather they head to farm shows to pass the cold-weather blahs. She called this day, and days like it at shows in Sioux Falls and Omaha, their winter vacation.
Vacation might have been the farthest thing from the minds of 24 Bomgaars staffers as they answered questions, stacked boxes and helped customers through an organized maze of thousands of DeWalt tools, a staple for Bomgaars, a Sioux City-based retailer that operates in seven Midwest and western states.
Just over two decades ago, the Bomgaars presence at the Dakota Farm Show was a bit more than a blip, a business that occupied one 4-foot booth space. Bomgaars now has the space equivalent of 14 booths.
It's like a city block of bright yellow DeWalt boxes with farmers, contractors and city dwellers scooping up everything from 99-cent grinding wheels to a 7.5-horsepower 2-stage air compressor priced at $2,699.
I met Bomgaars employees from Cherokee, Sioux Center, Rock Valley and Omaha, to name a few locations. Jay Jelkin, regional manager for DeWalt Tools, missed the 2017 Farm Show due to the flu.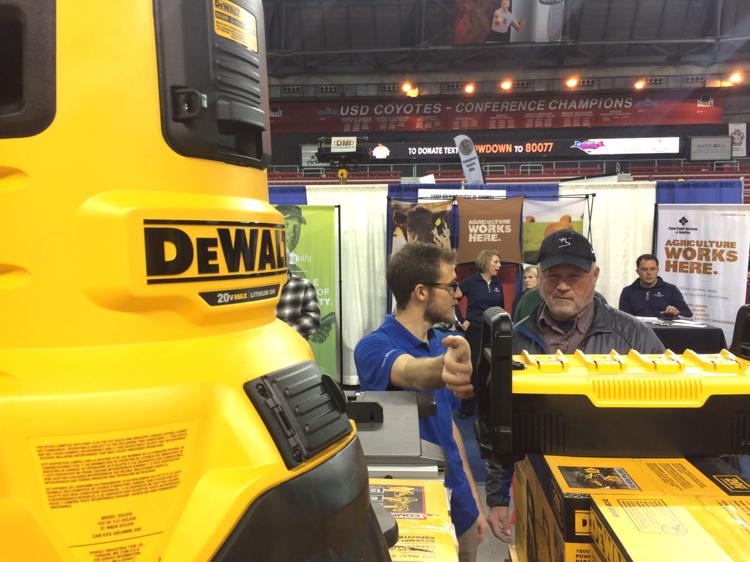 "I've been to this show 18 years and last year was the first one I missed," he said. "This (show) is my baby. I remember taking some calls last year while I was laying in bed."
Customers, he said, will spend hundreds of thousands of dollars for DeWalt tools at the Dakota Farm Show.
It's a sea change from the Bomgaars of old that handed out coupons at the Dakota Farm Show.
"Yes, I remember handing out coupons for 15 percent off," said Jim Nelson, a Bomgaars employee from Cherokee. "Those coupons were good for two weeks. So, yes, it's changed."
Among the more popular items are those carrying the Flexvolt name, a newbie here for DeWalt one year ago. Flexvolt equipment meets the demand of tools that require high power and long run-time.
Ronald Sebade, of Wayne, Nebraska, checked out some Flexvolt items, as well as many others. Sebade said he loves doing business with Bomgaars and noted he spent $1,000 on Bomgaars gift certificates for friends and employees this Christmas season.
Chris Slothower, a Bomgaars employee from Rock Valley, Iowa, said the store there sold a couple of customers between $8,000 and $9,000 in gift certificates this Christmas.
"This is fun," said Le Mars resident Brian Junck, Bomgaars manager at the Sioux Center site. "We brought four truckloads of tools in here on Tuesday and we'll go get more."
Doug Savage, who works for Bomgaars in Sioux City, helped managed the sprawling collection of yellow DeWalt boxes on the floor of the DakotaDome, mentioning that Quincy Air Compressors were also part of their business mix here.
"This helps with putting Bomgaars on the map as a DeWalt destination store," he said. "Bomgaars is the largest Midwest dealer of DeWalt."
Speaking of the map, Savage noted that Bomgaars, when it began with its lone booth at the Dakota Farm Show during the 1990s, had 12 stores. Today? There are 84.