ELK POINT, S.D. | Burdette and Gladys Hanson wear smiles and somewhat heavy hearts today, sweethearts celebrating their 74th wedding anniversary on Valentine's Day.
The Hansons for decades have marked their anniversary -- Cupid's holiday -- by going to dinner with relatives Russell and Margaret Hanson, who wed on Valentine's Day three years after Burdette and Gladys tied the knot. Russell and Burdette were cousins.
"One year on Valentine's Day we'd decide where the four of us would go and we'd pay," Burdette said. "They next year, Russell and Margaret would choose and they'd pay."
Russell Hanson died on Sept. 21, 2017, meaning this will be the first Valentine's Day Margaret will have without her husband at her side. Burdette and Gladys said it was an easy decision to keep this sweet tradition going. So, they'll drive in to Elk Point to pick up Margaret and the three of them will head to dinner at Whimp's in nearby Burbank, South Dakota.
"Margaret's tickled we're doing this and so are we," Gladys said.
Burdette and the former Gladys Sandberg, of Vermillion, South Dakota, wed on Feb. 14, 1944, at the parsonage serving St. Paul Lutheran Church and Immanuel Lutheran Church, both of Elk Point. Adrian Hanson, the groom's brother, served as best man. Florence Oveson (she was later Florence Larson) fulfilled maid-of-honor duties.
"People talk about spending $2,000 to $5,000 for a wedding," Burdette remarked, tongue-in-cheek. "I kissed the preacher and gave my wife $5!"
Gladys laughed and shook her head. She'd heard the line before.
"We got married and then went to dinner at my folks' home in Vermillion," she said, noting how they were hosted by her parents, Sigurd and Annie Sandberg, who also invited Burdette's parents, Alfred and Elodes Hanson, of rural Elk Point.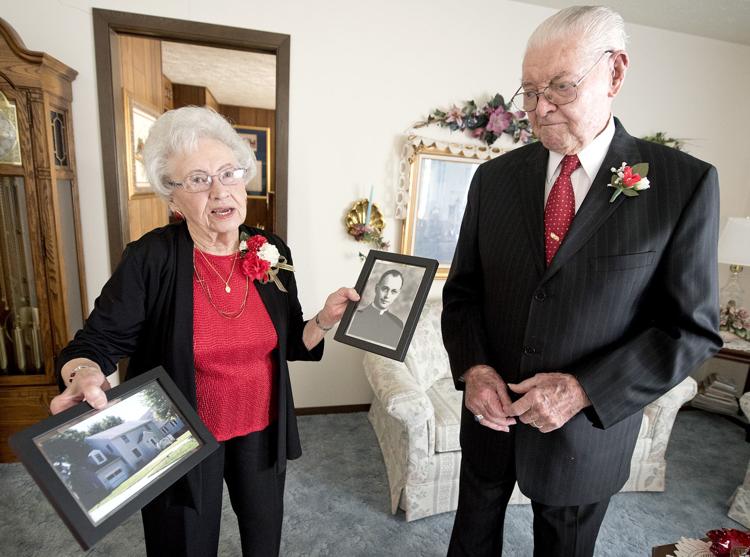 Following dinner, the couple gave Gladys' brother, Ernest Sandberg, a ride to Sioux City as he was serving in the U.S. Army during World War II and needed to board a train to return to duty. The newlyweds, meantime, spent the night in Sioux City before heading to Omaha for a honeymoon.
Gladys, a 1943 University High School graduate (located in Vermillion), was 18 when they wed. Burdette, a 1940 Elk Point High School graduate, was 21. He's now 95; she's 92, and they're getting along famously in the home they built on their farm north of Elk Point in 1974.
"There's just one step up from the driveway," Burdette said.
The Hansons farmed for years and raised four children in the process: Gerald, Arden, Robert and Sylvia. All but Robert are married and residing near Elk Point, while Robert makes his home in the Twin Cities. The Hansons have six grandchildren and nine great-grandchildren.
"I raised seven pigs here each year until this year," Burdette said of his career post-retirement. "I fed them each year and had them butchered locally for the kids. I stopped when I couldn't get to a local locker."
At 95, he laughed, maybe it was time to give up feeding pigs.
"I've been blessed," he continued. "Five years ago, at age 90, I had cancer under my right ear. The doctors at Mayo said they wouldn't do surgery on a 90-year-old. And then one of the doctors said, 'Well, he's only 70!'"
Burdette was cleared for surgery and had it the next day. He's had no recurrence.
"I had breast cancer in 2002 and I beat it," Gladys said.
Burdette Hanson said one key to their health is the fact no one in the family took up smoking. The couple promised each child a birthday present of $1,000 if they reached age 21 without taking up smoking. Each child passed the test. So, the couple extended the gift to their grandchildren.
"We paid the last grandchild a few years ago," Burdette said of their $10,000 pledge. "It was a great investment!"
The couple, faithful members of nearby St. Paul Lutheran Church, said they enjoyed hard work with the family on their farm. They also savored dances every Saturday night and would dress for those occasions. Big Band music rated as their favorite.
"We don't dance anymore because my knees are shot, bone-on-bone," Burdette said with a shrug of his shoulders.
That's a small price to pay for a life of raising crops and feeding livestock. The couple said they're blessed to still be celebrating their most romantic anniversary date 74 years after saying "I do."
Burdette still purchases Gladys a corsage for Valentine's Day. And for her beau, Gladys buys a card and writes a short message.
There's something more: The color tied to their big day.
"Burdette liked red, always did," Gladys said with a smile. "And beings we married on Valentine's Day, I wear red, too."