SIOUX CITY | Thomas Campbell has to be the youngest fan on hand this week as the NAIA Volleyball Championships play out at the Tyson Events Center.
He turned two on Tuesday. As in two weeks old.
Ryan Campbell, who coaches Cornerstone University, sat with his wife, Rachel Campbell, late Wednesday morning while watching their Thursday foe, top-ranked Lindsey Wilson College, defeat the University of Jamestown. (Cornerstone took Lindsey Wilson to the wire before falling in a 5-set thriller Thursday.) Rachel held their baby, Thomas, in her arms when he wasn't being held by his grandmother, Alyson Kieda, who made the trip with the family.
"I'll miss my time holding him when we get back home," Kieda said.
Thomas Leonard Campbell weighed 9 pounds, 2 ounces and measured 21 inches when he was delivered by a midwife at Kieda's Grand Rapids, Michigan home in a pool birth. Rachel Campbell smiled and termed the pregnancy "easy." Labor, which lasted seven hours, went off without a hitch.
"Everything went very well," she said.
The timing for a volleyball family eyeing its first visit to the national tournament gave the Campbells some anxiety. Baby Thomas was due on Nov. 15, a date sandwiched between the Wolverine Hoosier Athletic Conference volleyball tournament and this national meet in Sioux City.
"I wanted to make it to the conference tournament hosted by Madonna (in Livonia, Michigan) on Nov. 10 and 11," Rachel Campbell said. "I did that and stayed there on Nov. 10."
She then had the baby on Nov. 14 and left for Sioux City four days later, excited to visit in the first national tournament during Ryan's 9-year stint as head coach at Cornerstone. The Campbells and Kieda drove separately from Grand Rapids to Sioux City, following the team bus on an 11-hour trek divided into two days.
In the first match young Thomas witnessed (when he wasn't napping), Cornerstone fell short in a five-set marathon against Jamestown to open pool play on Tuesday. He and his mother stayed up late that night, finally getting to sleep around 1 a.m. Thomas awoke around 5 a.m. to eat.
"He's really a good baby," his mother said. "He sleeps through a lot of the noise and hardly ever cries."
He's also good about being passed around from his mother to his grandmother to seemingly every member of the Golden Eagles team, a team proud to have a "little mascot" cheering for Cornerstone at the national tourney.
Thomas Leonard Wilson is named for his father's two heroes: the Rev. Leonard Ravenill and Ryan Campbell's father, Thomas Campbell, who died in 2011.
One of the best, or most uniquely, dressed coaches at the national tournament has to be Rene Bela, volunteer assistant coach for the Rams of Texas Wesleyan University in Fort Worth, Texas. I watched on Tuesday as Bela, who coaches hitters and blockers, stood courtside, dressed in jeans and cowboy boots. On Wednesday, he sported size 14 bowling shoes.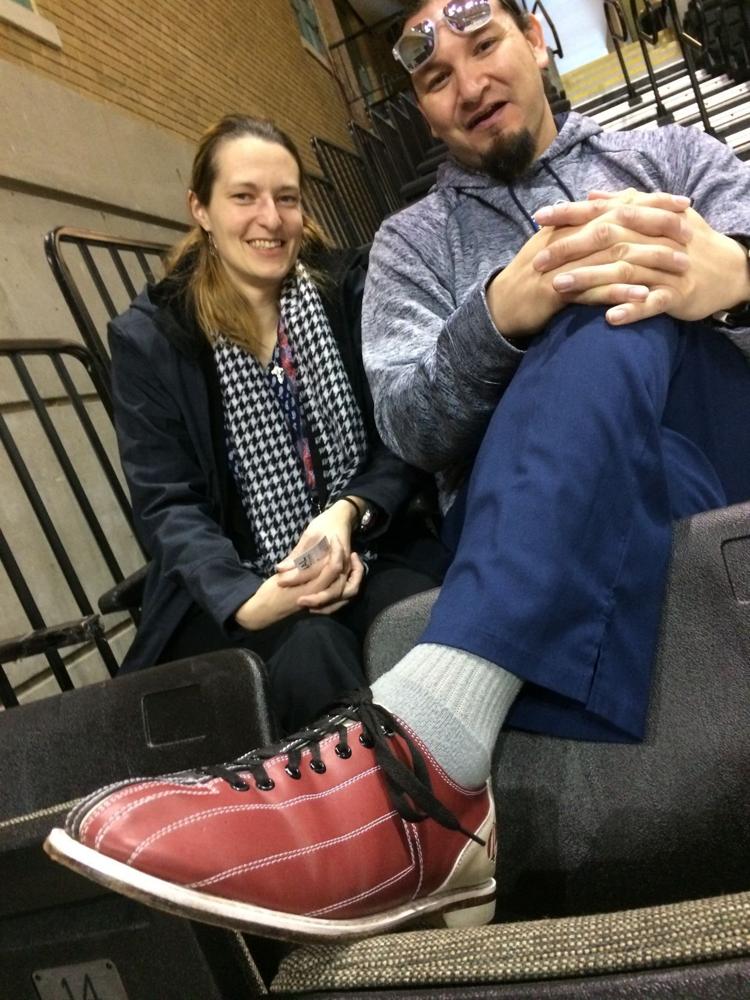 "I tell my players, and this goes for my coaches, too, to 'Be Who You Are,'" said Priscilla Morgan, the first-year head coach at Texas Wesleyan, a program making a return to the national tournament after a 12-year hiatus.
Bela served as a volunteer assistant for a couple of years while Morgan coached at the University of the Southwest in Hobbs, New Mexico.
Bela, who didn't play volleyball as a collegian, was working in the oil fields of western Texas while helping Morgan at the school in New Mexico. He was able to arrange for a transfer of his job to an office in Fort Worth when Morgan made the jump to Texas Wesleyan.
He brought his cowboy boots, his shades and his bowling shoes along, working with Rams players who helped their new coach to a 28-9 record.