SIOUX CITY | Singing "O Come, O Come Emmanuel" the entire way, the Bishop Heelan Catholic School student body participated in the Eucharistic procession, Monday morning, from the school's former 1021 Douglas St. chapel to the new chapel located inside the Heelan Fine Arts Building at 1201 Grandview Blvd.
The procession began after the Holy Mass was performed at the main chapel for the final time.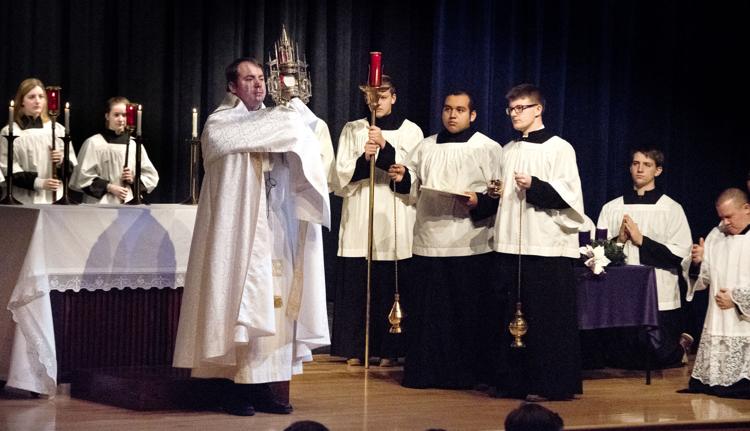 The Rev. Shane Deman, chaplain of Bishop Heelan High School, said the beginning of the procession -- which included altar servers, candles and incense -- marked the closure of the chapel that had been serving students since 1949.
Students were also finishing their finals as the school was closing for its Christmas break.
The procession concluded in part of the school's $10 million academic wing, which is nearing completion. When students return from their Christmas break on Jan. 5, classes will be held in the new school.
"This marked the first time many of the students have seen the new wing," said Heelan Principal Christian Bork. "I think some of the students were feeling some apprehension because of the history held by the old school. But they're also excited to be a part of the next chapter of Heelan."
That's exactly the way Deman, himself a 1999 Bishop Heelan High School graduate, said he felt.
"We've had parents, grandparents and great-grandparents form wonderful memories over the past 70 years," he said. "We are anxious to begin forming memories at the next school for at least the next 70 years."