SIOUX CITY | Students in two Sioux City schools are drawing in and out with deep volcano breaths, concentrating on deeper mindful listening and feeling stress dissipate as they move Hoberman spheres in and out with fingers.
Teachers in the Morningside Elementary and Pretty Creek Elementary schools in the Sioux City School District are touting the benefits of mindfulness for students. They say it gives students good tips on how to move from stressors in the school and their personal life, so they can clear their minds to focus on the subjects at hand.
"They are able to be present and to be with you now, not thinking about recess or what they might be going home to," Morningside Elementary first-grade teacher Shelly Pratt said.
Plus, "in an era of electronics, it is hard to get kids to focus," so mindfulness belongs in the classroom, Pratt added. She also sees benefits in moving kids around with simple breathing and other exercises, so they aren't static zombies in seats.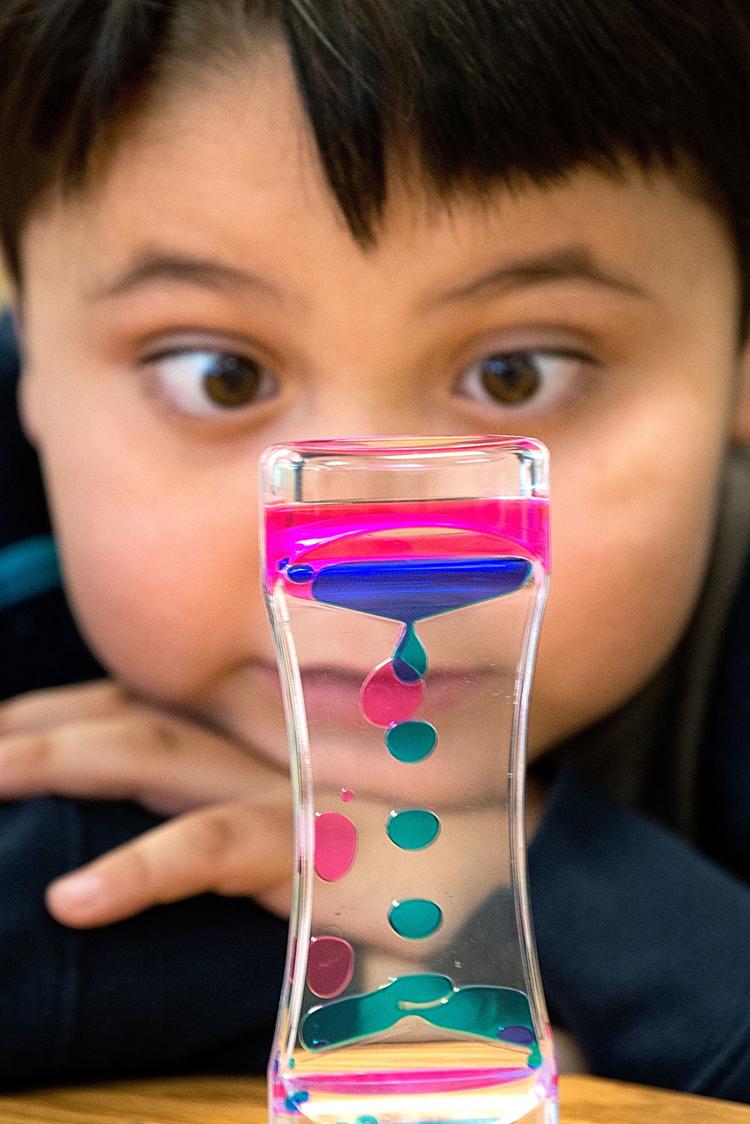 New-Agey? Sure, Pratt says. But there is nothing wrong with pulling in holistic approaches to get kids to deliver fresh oxygen to their brains to think better and to let go of emotions that could be sidetracking them, she said.
"I've always been a little hippie at heart," said Pratt, who is a yoga instructor outside the classroom at Top Tier Fit in Sioux City.
She has shared mindfulness pieces for four years at Morningside Elementary, but things are ramping up more broadly through the school this year. She gets on the school intercom at the beginning of each week to share Mindfulness Mondays tips for all the grades. She said some teachers who were initially lukewarm about the mindfulness elements have embraced them.
Pratt and teacher Tina Brennan got almost $20,000 from the Sioux City Schools Foundation to buy the biggest slew of mindfulness tools in the district, which were added to their instruction in January.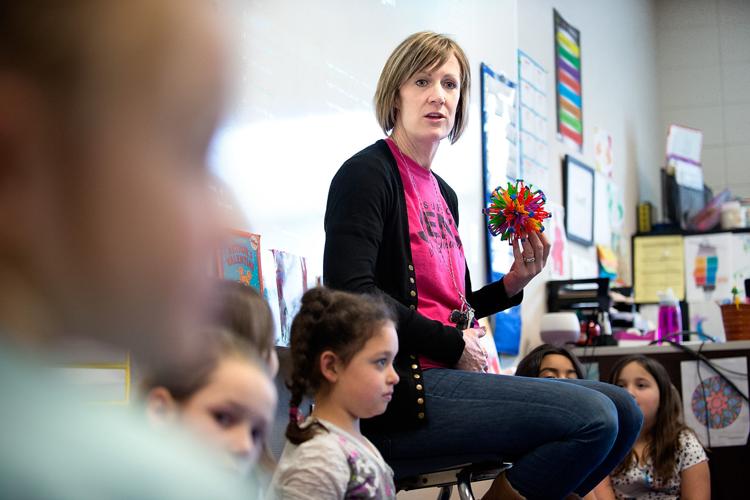 Pratt and Brennan bought items to make "calming jars" for the staff and pupils, relaxation books such as "Breathe," yoga mats, Hoberman spheres, bells and mandala color books.
On Tuesday, Brennan was in a second grade classroom reading "I Am Peace: A Book of Mindfulness" by Susan Verde, sharing a YouTube video on mindful relaxation and having pupils use Play-Doh to create a visual representation of what peace looks like to them.
"See how you are all relaxed? You are focused and ready to move onto the next thing," Brennan said, and the students murmured affirmatively.
Pratt said mindfulness in the classroom has taken off nationally in the last two years. Brennan read up on it, saw some activities in other schools, then moved ahead the pieces she thought fit best at Perry Creek.
"Mindfulness is just paying attention to the present moment, on purpose, without judgment,' Pratt said.
Both teachers said there are no known studies that mindfulness concretely affects learning, but they believe the benefits show even a few minutes per day help pupil performance.
Brennan said students who are less anxious can learn better, so positive self-talk is encouraged. Some talented-and-gifted program students have stress management as a goal in their personalized education plans.
"The kids love it...My whole point is to get kids engaged," Brennan said.
In Pratt's first-grade classroom Wednesday afternoon, she had them run their arms from the side to above their heads and back, centered in front of chests, while using expansive volcano breaths.
"The benefit is learning to breathe, to calm down, to relieve stress," Pratt said.
The pupils colored mandala sheets while listening to relaxing music. Additionally, Pratt ran them through an exercise.
"We start in a seat, feet are flat on the floor. Close your eyes," Pratt began.
"When I tell you, move to a standing position as slowly as you can. Then you can open your eyes...Let's see how mindfully and slowly you can stand."
The pupils unhurriedly complied, eventually reaching the standing position.
Pratt asked what they noticed as they reached the completion spot.
"Everybody was smiling," said first-grader Detoma Bitema.