SIOUX CITY | Of all the stores inside Southern Hills Mall, Barnes and Noble saw some of the worst damage. 
Those entering the bookstore Friday noticed a large section of fiction taped off, with fans breezing the area, as management worked to mitigate water damage sustained by the round of storms that had pelted the metro the previous evening. 
"It came in very dramatically," manager Linda Morrison said of the water, which had flowed through the ceiling as storms raged outside Thursday. "It just poured in."
Morrison said water damaged some of the bookstore's inventory. Outdoors, she said, the pile of hail on the ground had looked as if about two to three inches of snow had fallen. 
Mall marketing director James Clakeley said the mall escaped damage in most of the public areas, but some individual stores -- mainly Barnes and Noble and Gibby's Arcade -- saw damage. 
"Water coming in through the HVAC units kind of saturated the ceiling tiles, and they caved in," he said of the arcade. 
Otherwise, the extent of the damage mostly included downed leaves. Crews were busy sweeping debris from the parking lot Friday afternoon. 
A carpet of leaves continued to cover some streets, sidewalks and lawns at several businesses and residents Friday after Thursday's bout of severe thunderstorms, which had dropped quarter-size hail in Sioux City and reported softball-size hail in Sergeant Bluff.
Streets had flooded, halting traffic for more than an hour in the southbound lanes of Interstate 29 near Veterans Memorial Bridge. 
Meteorologist Todd Heitkamp, of the National Weather Service in Sioux Falls, said Friday afternoon that while reports had come in of funnels with the storm, no tornado touchdowns were confirmed. 
Books, arcade games and leaves weren't the only things damaged Thursday night. Joel DeJong, an Iowa State Extension crops specialist based in Le Mars, said the storm caused headaches for some Northwest Iowa farmers.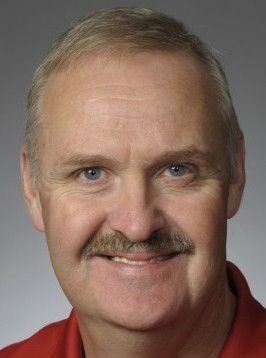 He said a meeting with one farmer west of Le Mars Friday morning eventually turned into a meeting with about 20.
"There's an area there that had some pretty significant damage," he said. "Some was pretty seriously injured with bruised stalks."  
DeJong said other hard-hit areas he'd heard from Friday included Bronson in Woodbury County and portions of Sioux County.
The storm will likely cost farmers some yield, but they won't know the full extent of the hail damage for about four or five days, since damaged tissue doesn't bruise right away, he said.
DeJong said the storm came at a tough time because the soybean planting window is closing. 
Friday brought a slight chance for isolated showers and thunderstorms in the area, but skies look to clear up for the majority of the weekend.
According to the National Weather Service in Sioux Falls, Saturday will be sunny and 84. Sunday will be sunny and 88, with chances of rain moving in during the evening hours.