SIOUX CITY | All is quiet now. But by week's end, thousands of tubes will have traveled the 700 feet from the top of Cone Park's snow-covered hill to the bottom. 
Hundreds of people will have entered and exited the brand-new park's day lodge to buy tickets, snack on concessions and heat up between tubing trips. 
Dozens of hands will have warmed up near the park's fire pit, some clutching steaming cups of hot cocoa or coffee. 
At long last, the all-seasons Cone Park will come to life on Thursday. As the first park-goers enjoy the fresh recreation amenities that the city-owned park has to offer, it will be the payoff of a fundraising and planning process that has stretched for more than a decade.
City staff say they're preparing for big crowds. 
"I think you're going to find that the first week in particular, as we work out the kinks, we're going to have huge crowds," Sioux City Manager Bob Padmore said. "That's our hope."
The final week of preparation has included staff training, more snow-making and continued grooming of the tubing hill in the park, which sits in a former field at 3800 Line Drive near Lewis and Clark Park and the IBP Ice Center. 
The park's centerpiece is the 150-foot-wide hill, which is more than two football fields long and has an elevation of 83 feet. The park's base of operations is a day lodge that will serve as the hub for admission, skate and tube rentals and concession sales. An outdoor fire pit will allow park-goers to warm up outdoors, and by mid-January, a nearby refrigerated 110-by-50-foot ice skating rink will be up and running. 
The park will remain open year-round, with the skating rink transitioning into a free splash pad in the summer. The rest of the park will feature open space and a two-mile trail loop.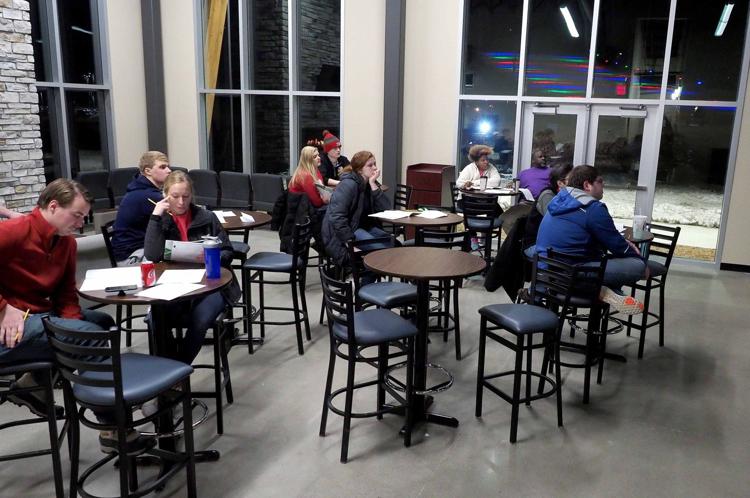 Tubing hill tickets are now on sale, and city Parks and Recreation director Matt Salvatore said people have been steadily making reservations online ever since. Some of them are for weeks out.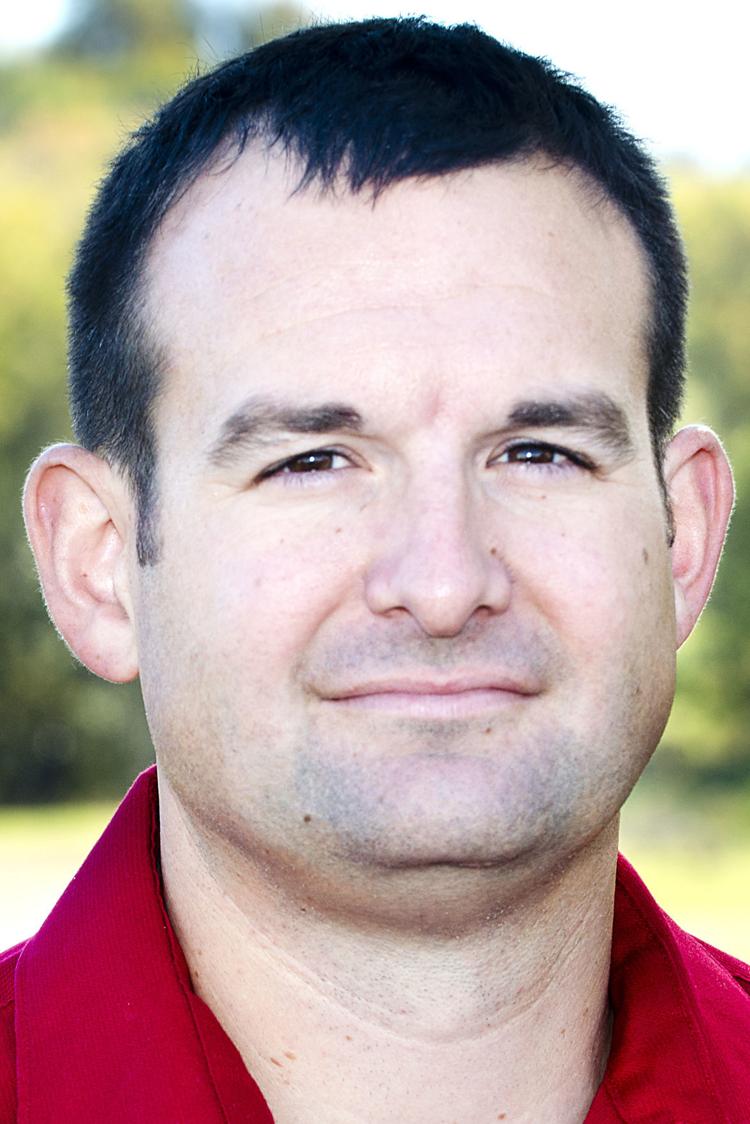 Salvatore, who has steered the project for the past three years with the aid of two city committees, the City Council and city management, said the end result has exceeded his expectations.
"Everything turned out better than what I thought it would," Salvatore said. "Everyone from Parks and Recreation and those who have been assisting with the project are all very proud of what the project has become."
The park will hold a grand opening Tuesday afternoon, in which major donors and city officials will have the first chance to take the tubing hill for a spin.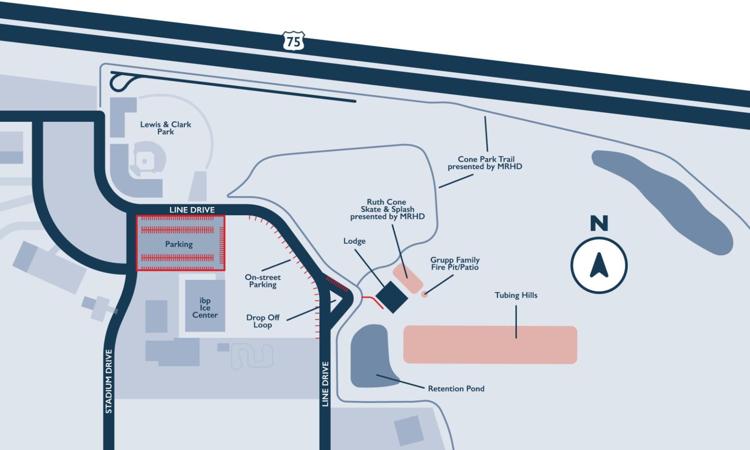 The public's first taste will come at 5 p.m. Thursday, when the first four-hour tubing session begins. The park will have special hours over the holidays (see sidebar) then fall into a normal schedule of 5 to 9 p.m. on weekdays and 9 a.m. to 9 p.m. on weekends.
Special "Cosmic Tubing" sessions on Friday and Saturday nights, from 9 p.m. to 11 p.m., will feature music and LED lights.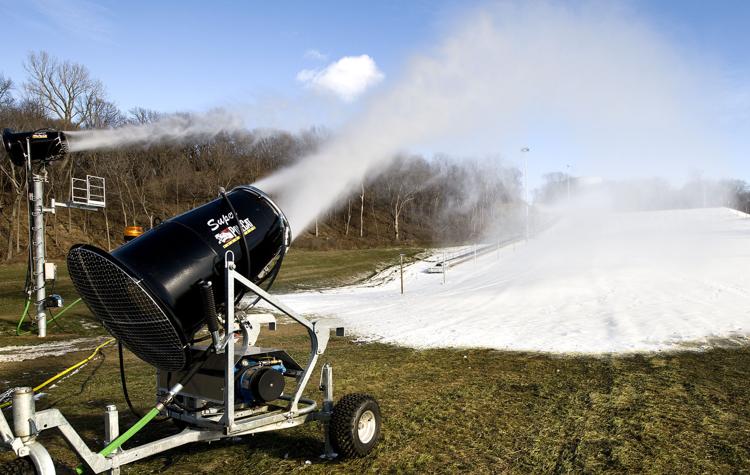 The city began working toward the prospect of a new destination park in 2006, but the idea is actually a result of a seed planted back in May 1981. That's when the family of the late philanthropist Ruth Cone donated more than $200,000 to invest in a new park.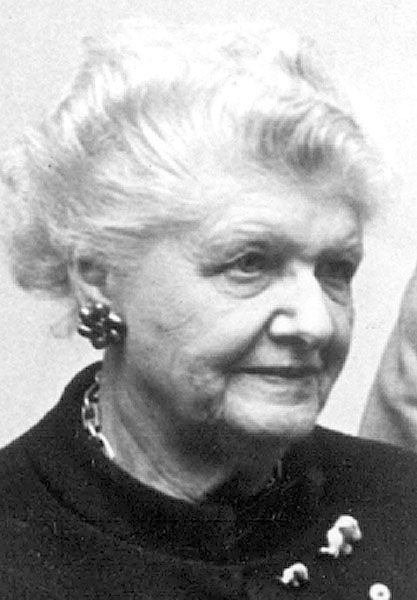 By the time the bequest became available to the city in 2006, it had grown, with interest, to more than $2 million. It has since increased to $2.9 million and provided the lion's share of funding for the approximately $5 million park. 
"We started with the vision probably about two years ago with that park idea," Padmore said. "We started with the lodge and the tubing hill, and that's now been broadened into a fire pit area and ice skating rink that's cooled." 
Craig Berenstein, who joined the project planning team at the outset in 2006 while on the council and is currently co-chairperson on the Cone Park Committee since then, said he has felt public excitement mounting. 
"Really, for the last couple of years after we had made the decision to move forward with a winter park that had this kind of concept, people have been very excited," he said. "I think part of it's the visibility in the location of Singing Hills and the Highway 75 bypass." 
Co-chairperson Virginia Anderson said the tubing hill now provides the eye-catching feature organizers wanted. 
"When we saw it on paper, we knew it looked grand, but seeing it in person just wows everybody that drives by," she said. "Our goal was we wanted an iconic feature that would give the Cone family the recognition they deserved."
The park's unique amenity helped the city land a $300,000 grant from Vision Iowa, a state program that provides financial assistance for major recreational, cultural, entertainment and educational attractions. The award, along with additional private donations, allowed local organizers to meet their final fundraising goal.
With high expectations for attendance, Parks and Recreation staff have recommended reserving tickets in advance. This can be done online at webtrac.sioux-city.org, by calling 712-279-6126 or visiting the Parks and Recreation Office at 401 Gordon Drive. 
Tickets will range from $7 to $10, depending on the time of day. The hill has a capacity of 300 users, and usage is on a first-come, first-serve basis for those without a reservation. 
The concession stand will serve a variety of items, with beverages ranging from hot chocolate and coffee to wine and beer and food offerings including pizza, ice cream, pretzels and chicken wings. 
When paying on site, staff recommends park-goers use cash. Cone Park will not accept checks, and there will be a $10 minimum on card transactions for on-site sales.