SIOUX CITY | Bill Northey isn't sure when Washington will call. 
The Spirit Lake farmer, who has served as Iowa's Secretary of Agriculture for more than a decade, is patiently awaiting word of his appointment to the Trump Administration as undersecretary for farm production and conservation within the U.S. Department of Agriculture. 
When that might be remains a mystery. 
About a week ago, Northey's nomination was stalled by Sen. Ted Cruz, R-Texas, which Iowa senators have presumed isn't about Northey's qualifications but rather is a tactic to gain leverage regarding the Renewable Fuel Standard, a federal mandate that requires transportation fuel to contain a minimum volume of renewable fuels.
"I have no idea whether it will be a couple more days or weeks or months," Northey said Friday regarding a resolution to the hold.
Until that happens, he said, it's business as usual, overseeing Iowa's Department of Agriculture and Land Stewardship as he has since he was elected to the post in 2006. 
"I'm pretty much done with the kinds of things I needed to do for USDA as far as being interviewed by the Senate Ag Committee," he said. "Now, I can devote all my time to being (Iowa's) secretary of ag." 
Northey's comments to reporters came as he stopped by Sioux City Friday morning to dedicate a water quality project in front of Promenade Cinema 14. He said he has talked with others who have gone through similar holdups in their nominations. 
"I talked to a friend who had been an undersecretary, and I wasn't aware he had been through a hold as well of several months," Northey said. "It is what it is, I guess."
Northey's confirmation holdup comes the same week as news that another Siouxlander, Sam Clovis, has asked the president to withdraw his nomination to become the chief scientist in the Agriculture Department. In a letter, Clovis said Washington's political climate would make it impossible for him to receive "balanced and fair consideration."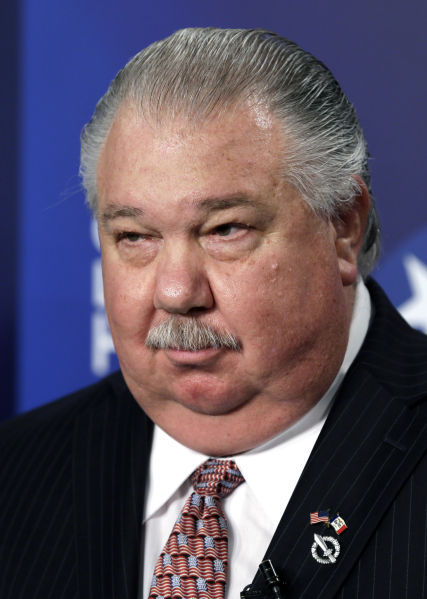 Clovis, a former Morningside College professor and Sioux City radio talk show host who is now a White House aide to the U.S. Department of Agriculture, testified last week before a grand jury seated in Washington, D.C., in connection with special counsel Robert Mueller's investigation into alleged meddling by Russia in the 2016 campaign. 
Northey said he knows Clovis well and would have enjoyed serving with him in the department. 
"We ran together back when I was running for secretary of agriculture and he was running for treasurer," Northey said. "Good friend, great guy."
Northey said his own hearing had been policy-oriented and remained non-partisan, while Clovis' hearing was more partisan and personal.
"Certainly, Sam went through some real struggles in some of that partisan conversation," Northey said. 
Northey's Sioux City stop was the first of five on a swing through northwest Iowa as part of his yearly 99-county tour. Northey said he hoped to have his 2017 total up to 85 counties by the weekend.