SIOUX CITY | Hundreds of names, inscribed in dark pink marker, cover a large ribbon decal on the hood of the newest Sioux City Police patrol vehicle.
Written wherever there's space, the names span from margin to margin. No room remains. 
Each one belongs to a public employee or one of their family members who has been affected by cancer. Some died of the disease, while others are survivors. 
The ribbon of names is a special tribute that city employees say serves as a meaningful memorial, as well as an example of the far-reaching effect that cancer has in the community.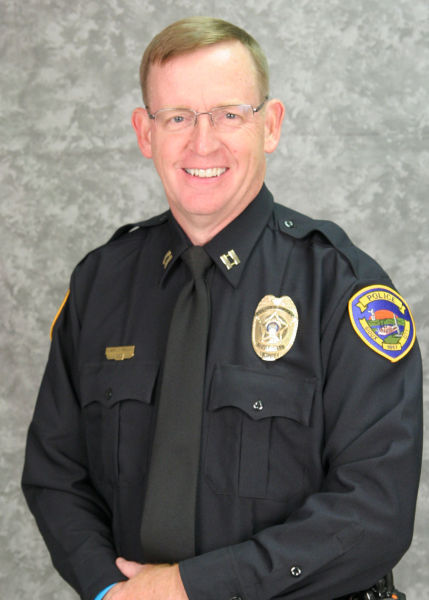 "It's taken a lot of our friends and families," said Sioux City Police Capt. Marti Reilly. "Everyone in our society seems to have cancer in their family, or it affects people they know and love." 
Reilly said he wrote the names of his father, Ben, who died of prostate cancer in 2003, and his niece, Karla Embrock, who died of melanoma in 2006. 
For Kari Dickman, who works in the city's Events Facilities Department, her name represents several years of being cancer-free. Dickman was diagnosed with breast cancer in 2007, but has been clear for the past nine years. 
She said she was excited when a fellow city employee called her and asked if she could write down her name on the decal. 
"I obviously felt good about that," she told the Journal. "I am really honored to have my name on it, and I'm glad it's calling awareness to cancer." 
Sioux City Police Sgt. Tom Gill, who was diagnosed with leukemia 10 years ago, said the new vehicle has special significance for him. 
"I talked to the chief jokingly and said, 'I'd like to make that my car,'" Gill said. 
Gill said he has had four aunts on his mother's side who were diagnosed with breast cancer and a grandmother who also died of leukemia. After working the night shift last Thursday, Gill said he woke up to bring his mother to Friday's unveiling of the car. 
"It meant a lot to me, and it's awesome because everybody out there in their life sometime is going to be affected by cancer," he said. 
Police Chief Rex Mueller said the idea to decorated the new Ford Explorer came as a way to provide recognition and raise awareness that wouldn't go away in a month or a year. He said it also coincided with several cancer awareness months: October is the month of breast and liver cancer awareness, while November recognizes pancreatic and lung cancers, according to the American Cancer Society.
The vehicle's deployment on the streets coincides with the department's No Shave November fundraiser, during which it relaxes its facial hair policy to allow officers to grow beards to raise funds for the June E. Nylen Cancer Center. 
Mueller said while the car may sport only pink decals -- the color of breast cancer awareness -- it is meant to represent all forms of cancer. White decals on the rear bumper list several types of cancer. 
"We wanted it to be all-encompassing," he said. "We wanted to make sure everyone knew it was done to represent all forms of cancer." 
Mueller added that the car holds significance for his own family, as well. Mueller's wife, Sandra, is a breast cancer survivor. His father, Jerry, is undergoing treatment for pancreatic cancer. 
"I probably wrote (the names of) a dozen family members," he said. 
Instead of the phrase "To Serve and Protect," the car sports the words "To Screen and Prevent." Reilly said the vehicle should be a long-lasting reminder, as patrol vehicles typically run on the streets for three years. 
The vehicle is also in memory of Doug Potts, owner of Signs by Tomorrow, who was president of the Friends of the Sioux City Police Department and worked with the department on vehicles. Potts had worked with the department on the car before he died Nov. 14. He was 67 years old. 
"(Chief Mueller) designed that car with Doug's help, and then Doug passed away the very week that we completed the car," Reilly said. 
Unveiled Friday, the patrol vehicle will hit the streets later this month. Police hope the public will participate by taking photos with the new vehicle and posting them to social media to help raise awareness. 
Mueller said the feedback has so far been positive, and he could see the department spearheading projects for other causes in the future.