SOUTH SIOUX CITY | Tony Demir was looking for a community seeking alternative energy projects in which to locate a biomass power plant.
South Sioux City leaders just so happened to be looking for ways to diversify the city's energy sources.
Through an intermediary, Demir and South Sioux City leaders were introduced, and their shared interests led to a unique partnership.
"South Sioux City was the perfect profile. They were looking for what we were looking for," said Demir, CEO of Green Star Gasifiers LLC, a subsidiary of Green Star Energy Group LLC.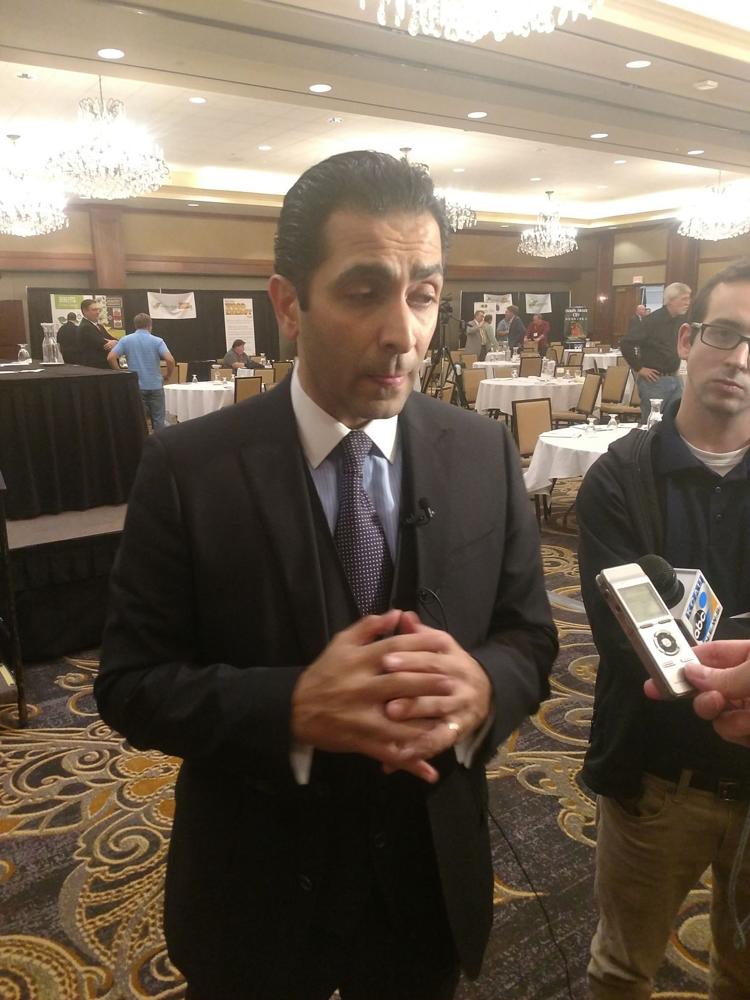 Call it a relationship that will soon result in a first-of-its-kind power plant that, once online, is expected to supply South Sioux City with 8 percent of its electricity.
Green Star plans to begin construction in the spring on a $53 million renewable fuels power plant on a 17-acre tract in the Roth Industrial Development Park. The plant will have the capability to use multiple sources of fuel, including wood waste, municipal solid waste (garbage), construction and demolition waste and agriculture waste such as cornstalks, to make electricity.
"This will be the first plant like this in the country," Demir said.
Of the plant's 8 megawatts of electricity produced, 3 megawatts will be sold to the city, and the rest will be used internally to power the plant.
And by recapturing and recycling heat inside the burners, the plant will create a byproduct called torrefied wood pellets, which Green Star will sell to coal-fired power plants. The cleaner-burning pellets can be burned in addition to coal, helping those plants reduce their emissions.

Utility lines and access roads at the plant site have been completed, Demir said, and the company, which secured some of its funding for the project through state and local grants and funding mechanisms. He hopes the plant will be producing energy by the spring of 2018.
The plant will be producing energy by December 2018 or spring 2019.
It will create 29 direct jobs and 358 in-direct jobs, Demir said.
Once the plant is finished, the company's headquarters will officially be moved to South Sioux City from Bowling Green, Kentucky, and located at the plant. Demir is currently operating out of a temporary office locally. Green Star also has engineering offices in Topeka, Kansas, and Birmingham, Alabama.
The addition of Green Star fits in with South Sioux City's desire to lower rates for its residential and business customers and diversify its mix of wholesale power. In January 2015, the city council voted to reduce by 30 percent the power it gets from its longtime partner, Nebraska Public Power District, starting Jan. 1, 2018. The city's contract with the state's largest utility is scheduled to expire in 2021.
"Our total goal is to reduce the energy cost for our customers," city administrator Lance Hedquist said.
The addition of Green Star will mean that 57 percent of the energy powering South Sioux City will be renewable, Hedquist said.
Green Star's decision to locate a plant in South Sioux City and move its headquarters here helps the city reach its energy goals.
"It's obviously very positive," Hedquist said. "It's a significant investment in South Sioux City."
Between Green Star and other developments in town, Hedquist said there is a $100 million worth of construction taking place in South Sioux City and in the next year at least another $100 million worth will be announced.
The plant will take tree limbs, wood and other waste, break down the molecular structure of those products and produce clean electricity.
"The technology we're implementing is proven technology," Demir said. "It's been around for a long time."
South Sioux residents have had a chance to see how the process works since in summer 2016, when Green Star unveiled a smaller version of the plant, a gasifier, in the city's Scenic Park. Since its installation, city crews have fed wood waste into the gasifier, producing electricity that has helped power the park's campground.
It also served as a demonstration model to other cities curious about being home to a biomass plant of their own and will remain in operation once the power plant is built.
"This gasifier in South Sioux City is really kind of a showcase/educational gasifier" used to demonstrate how the process works, Demir said. "It puts South Sioux City in the forefront, a leader."
Other cities that have checked out the gasifier liked what they saw. Demir said that, including South Sioux City, his company has commitments from 14 Nebraska cities, including Wayne, to build plants. The South Sioux City plant will be the first. Within the next 36 months, the other 13 plants will be built, Demir said.
"Nebraska has really become a relationship that was cultivated by the city of South Sioux City," Demir said.
As for fuel supply, Demir said there is plenty to be found. The plant will collect waste from a 100-mile radius, and Green Star has formed a partnership with the Nebraska Forest Service, which is providing information and data for possible supply chains, working to identify and possibly establish a wood waste market in Nebraska.
With the emerald ash borer now found in Nebraska and Iowa, many cities and private citizens will be cutting down and disposing of ash trees. Some pine trees in South Sioux City have begun to suffer from a wilting disease that will result in their removal. Red cedars have become a problem in other parts of the state and must be thinned, providing Green Star plants with a steady supply of trees that can be burned and turned into electricity.
Local residents will also be able to help supply the plant with its fuel source. Every spring, residents trim their trees, and summer thunderstorms annually knock down more trees and limbs. Demir said residents will be able to drop off all those limbs and tree trimmings at the plant for free.
By moving its headquarters to South Sioux City, Green Star sees a future in producing energy in the area. The company has an option on 10 acres next to its current site for future expansion.
Hedquist said the development is positive not just for Green Star, but for the city and the environment.
"It's very positive for us and puts good use to things that normally go to the landfill or get burned," he said.