5 local stories you need to know today
Woodbury County board looks to loosen ban on guns in courthouse
SIOUX CITY | The Woodbury County Board of Supervisors on Tuesday will consider sending a letter to a judge asking that the public be allowed to carry guns into some public areas of the county courthouse.
Citing a recent Iowa Supreme Court ruling, the board has drafted a letter asking District Court Judge Duane Hoffmeyer to modify his previous order banning weapons in the courthouse. Under the proposal, guns still would be prohibited on floors 2-4, where courtrooms, judge chambers and attorney offices are located. The ban would be lifted in other public areas of the eight-story courthouse.
The letter is the latest example of the growing pains of counties to comply with an expanded gun rights law state lawmakers passed last year.
After the law took effect on July 1, Iowa Supreme Court Chief Justice Mark Cady issued an order prohibiting weapons in all of the state's courthouses. In  December, Cady revised the edict, allowing local elected officials to file a written request to allow guns in areas not totally controlled by the judicial branch. The reversal came after he consulted with chief judges, sheriffs and other county officials.
Once a chief judge for a courtroom grants the modification, "the court relinquishes to the requesting entity any authority over the regulation of weapons in the public areas on a floor of a courthouse not totally occupied by the court system," Cady wrote.
Hoffmeyer is the chief judge for Iowa's 3rd Judicial District, which includes Woodbury County and 15 other Northwest Iowa counties.
A draft of the letter the county intends to send to Hoffmeyer was obtained by The Journal Monday. The short, two-sentence letter says, "Please eliminate the weapons prohibition in the public area of the Woodbury County Courthouse, upholding the ban for floors 2, 3, and 4, which are considered Court controlled areas."
The supervisors are scheduled to discuss the issue at their weekly board meeting Tuesday, which starts at 3:30 p.m. in the basement of the courthouse, 620 Douglas St.
Board chairman Rocky De Witt acknowledged Monday that allowing weapons on different floors of the courthouse could be complicated, especially since visitors use the same elevators to reach various floors.
"It is a difficult building to secure," said De Witt, who worked courthouse security prior to winning election to the county board in November 2016.
The courthouse added security technology and personnel for the first time in late 2014. At that time, the former entrances to the building were limited to one door on the north side of the building, and a security station with a metal detector for people to walk through was added.
Currently, people who enter the courthouse with a weapon can place it in a lock box. After handling their county business, then people get the weapons back by use of a key, on exiting the courthouse.
De Witt said that practice will likely continue, for those heading to floors with court functions. He also said the supervisors will discuss adding personnel and more cameras for additional floors.
Whether to allow citizens with a permit to carry a gun to enter the courthouse with it has been a contentious issue since the Republican-controlled Legislature passed the sweeping gun rights bill last year.
In late June, a majority of the Woodbury County supervisors voted to rescind a prior ban on weapons on county property, including the courthouse. The supervisors said that was necessary to comply with the new state law. However, county Sheriff Dave Drew said he would keep enforcing the security program in the courthouse, saying he must enforce judicial branch orders.
Drew said the security steps are needed to ensure that people are safe, as he said sheriffs are required to help carry out rulings by courts.
Randolph community, school team up to solve childcare shortage
RANDOLPH, Neb. | Faced with a shortage of day care options in their town, Randolph residents did what those in many small towns do when faced with a challenge.
They came together, figured out a solution and raised the money to pay for it.
In this case, folks in Randolph may have outdone themselves. Thanks to a unique partnership between the school district and the community foundation, Randolph went beyond solving the day care shortage and created a facility that should not only provide child care, but also give youngsters a developmental and educational boost.
On Jan. 8, the community celebrated the opening of Cardinal Kids Learning Center, which is licensed to care for up to 75 children age 6 weeks to 5 years old.
"It's one of the best things that a community can do is give its young people a place to grow and learn," said Gary Van Meter, Randolph's former community developer and a member of the nine-member board that oversees the nonprofit center, which is housed in 3,200 square feet of renovated space in Randolph Elementary School.
Inside, children will be grouped by age into one of three rooms, each overseen by teachers with backgrounds in education or early childhood development who are making sure kids are receiving not only basic care but also taking part in activities designed to further their social, emotional and cognitive development.
"It's going to give kids a head start on their education," said Melissa Campbell, who was hired as the center's director in October.
The opening capped an effort that began about four years ago, when a Randolph Area Foundation survey found a need for more day care providers in town. Community leaders went to work on a solution.
The school district was asked to provide a day care center, but after a lengthy study, the school board determined it would not be economically feasible. Efforts to find a private entity to operate a center were unsuccessful.
"We were pretty much at the stage of dropping it," said Mary Miller, Randolph Elementary School principal and learning center board member.
Community leaders didn't quit, however. They formed a nonprofit corporation within the Randolph Area Foundation this summer to continue seeking a solution. Along the way, Miller said, they decided they wanted a center that went beyond basic day care, something that provided an early childhood development aspect to prepare children for school.
The school board joined in and soon came a plan in which a corporation board would oversee the center, to be housed at the school, and the district's cardinal mascot was incorporated into the center's name.
The school district renovated an area at the elementary school that had contained two locker rooms and band, art and speech rooms -- all space Miller said had been underutilized. In the meantime, $85,000 was raised. Up to $20,000 more could result from a challenge grant established by a Randolph High School alum. The center also recently received a $10,000 grant from the Nebraska Department of Health and Human Services. More than 1,500 fundraising letters will be sent to Randolph alums.
"It just seemed like everybody came together and wanted this to happen," Campbell said.
It happened all right. Each room is set up as a school classroom with brightly colored toys and equipment. Colorful paintings with Peter Pan and Dr. Seuss themes cover the walls.
Campbell has hired three full-time and two part-time employees. Once the center gets to full capacity, including an after-school care program for children age 6-13, she expects to add two or three more. Not only is the center providing a needed service, it's creating jobs.
The center has the potential to attract new residents, too, Van Meter said.
"It will create a magnetic community for young families," he said. "Young families need a place where their children can be safe and raised well."
The center's rates are higher than what typical day care providers charge, so in an effort to make the center more affordable, businesses have contributed to help pay the costs for children of their employees. It's also hoped that scholarships for children in need can be established.
"It's just a really good situation for parents and a top-notch situation for the children," Miller said.
The persistence many showed in getting to this day paid off. The community may have had a day care shortage, but it definitely had a surplus of people willing to solve the problem.
County-wide levy could help Woodbury County, Sioux City pay for paramedics
SIOUX CITY | Woodbury County would use a county-wide property tax levy to cover the cost of providing 24/7 paramedic service to rural areas and towns, under a proposal on Tuesday's Board of Supervisors agenda.
If passed, the plan would also help Sioux City cover a substantial amount of the expected subsidy required to fund its new Emergency Medical Services Division.
The county board will discuss the plan for the first time during an informational agenda item Tuesday afternoon. Under the proposal, the county would designate a property tax of 19 cents per $1,000 of valuation in its general basic fund to generate the $288,365 needed by the county to cover 3¾ paramedic positions and medical supplies in its budget year beginning July 1. Those funds would come from county residents living outside Sioux City.
The plan would generate an additional $524,466 from residents living inside Sioux City, and the county would rebate that amount back to the city to help finance Sioux City Fire Rescue's EMS division. The city's 27-employee division started Jan. 1 and is expected to require a subsidy anywhere between $600,000 to $1 million over the next six months, as well as to be a continuing expense. 
County staff on Tuesday will ask the supervisors to put the funding plan up to a vote at its following week's meeting. A majority vote by the board is all that is required to pass the plan, said county finance director Dennis Butler.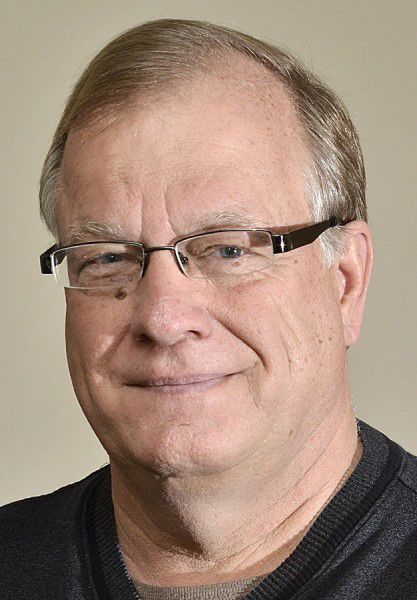 If the plan is passed by the county board, Butler said it would not necessarily mean an increase in taxes for county residents. He said he hopes through other budget tweaks that the tax rate can remain the same or potentially lower, which he believes could be an important piece for it to pass at the board of supervisors level.
Butler said the new plan is the county's latest attempt to come up with a way to address the gap in county paramedic care left when Siouxland Paramedics stopped responding to 911 calls on New Year's Day.
Woodbury County's Emergency Services Division, based in Climbing Hill, currently staffs one paramedic from 7 a.m. to 7 p.m. Monday through Thursday and every other Friday. Until Jan. 1, the county had used paramedics from Siouxland Paramedics to assist with calls outside those hours in which advanced life support services were needed. 
Now, the county no longer has that safety net, meaning patients in some parts of the county may not have paramedic service available during certain hours of the week. 
Emergency services officials believe 3¾ paramedic positions would be enough to have a single county paramedic on staff at all times.
The proposal comes just over a week after the county laid out a separate plan in which cities and townships would proportionally help foot the cost of the paramedics. Butler told The Journal Monday that plan is "not in real good shape." 
"Probably the plan will go down," he said. 
Under that plan, the 14 cities outside of Sioux City would contribute toward the $288,365 the county needs to fund the paramedic positions and medical supplies to provide 24/7 paramedic response. Rural townships and cities would pay an amount proportional to their respective populations. 
But, five days after that plan was pitched, the largest city involved refused to take part in it. The Sergeant Bluff City Council voted against allocating the requested $62,528 of its budget Thursday, according to minutes of the meeting.
Some officials in other cities are skeptical the plan will go through, especially with Sergeant Bluff out of the picture. 
Moville Mayor Jim Fischer said without Sergeant Bluff's assistance, he personally believes the option would put a heavy burden on taxpayers. The Moville City Council will discuss it Wednesday, he said. 
"It puts a lot of pressure on our citizens," he said. "With Sergeant Bluff, we were talking about ($14.79) per person. Now we're talking about $18 per person, and that's man, woman and child. That's a lot of taxpayers' money coming out of Moville." [Tweet this]
In Lawton, Mayor Dale Erickson said Friday his city will wait to see how the new proposal fares at the board of supervisors level before discussing the other option. He said he believes using the county-wide levy is a more permanent fix than asking the individual cities to come up with the funds. 
"There's no way we can come up with that kind of money," he said. 
Meeting agenda documents state that with the exception of Danbury, each rural community is at its maximum general fund levy of $8.10, which limits its ability to raise money. 
"A big deal is that these rural towns, they're all at their maximum levy. And the city of Sioux City is at their maximum," Butler said. "We're fortunate we have ways to do it."
Butler said if the plan passes, the county would also consider entering a sharing agreement with Sioux City that would allow the city to respond to the county with paramedic assistance in cases where a paramedic is needed in two places at the same time. 
Lawsuit involving Storm Lake turkey plant fire back in federal court
SIOUX CITY | It's been more than three years since a Storm Lake, Iowa, turkey plant reopened after a fire shut down operations for several months.
The owner of a Sac City, Iowa, welding company has turned up the heat on the plant's former owner, saying in a lawsuit that Hillshire Brands failed to ensure that work by outside contractors inside the plant was properly supervised and inspected and that the plant's fire detection and suppression systems were inadequate.
The lawsuit, filed by Mark Druivenga, who does business as Contract Welding and Mechanical, was removed from state court last week to U.S. District Court in Sioux City, the latest twist in a series of lawsuits, rulings and settlements from the March 2014 fire.
Investigators determined that a welding accident caused the fire that caused extensive damage to the Hillshire Brands plant at 315 Vilas Road in Storm Lake. The plant reopened later that year under Tyson Foods, which acquired Hillshire Brands during the plant's reconstruction.
In December 2015, several insurance companies sued Druivenga's company, which had been contracted to patch holes in walls in the plant's production area. According to the lawsuit filed by those companies, Hillshire had made insurance claims for more than $175 million in damages, claims the companies said were paid. The insurance companies, in turn, sued Contract Welding and Mechanical for negligence. A janitorial company contracted to clean and sanitize the plant later joined the suit, which was filed in Buena Vista County District Court.
That case was later removed to federal court, then returned to Buena Vista County after Chief U.S. District Judge Leonard Strand ruled that the federal court did not have subject matter jurisdiction over the claims made in the suit.
In the meantime, Druivenga filed his third-party lawsuit against Hillshire Brand, and that claim was returned to Buena Vista County along with the lawsuit filed by the insurance companies.
Druivenga and the insurance companies reached a confidential settlement of that lawsuit, which was dismissed in December.
Remaining is Druivenga's suit against Hillshire Brands. Druivenga had requested that the lawsuit be removed to federal court. Druivenga said in the lawsuit that he performed all his obligations under his contract with Hillshire, which he said was negligent by failing to have policies and requirements in place so that welding work could be safely performed inside the plant. Druivenga also claims that after the fire, Hillshire made statements to third parties that the fire was caused by his company's negligence and those statements damaged his reputation and business.
Hillshire denied any negligence in its response to the lawsuit.
MRAC girls hoops race up for grabs
SIOUX CITY – The Missouri River Conference girls basketball season has reached the halfway point and this season is shaping up to be one of the closest league races in history.
Currently the three teams that have won the previous three league titles are in the top three positions in the standings, but you also can't count out the two Council Bluffs MRAC squads, Abraham Lincoln and Thomas Jefferson.
Bishop Heelan holds a slim one-game lead over Sergeant Bluff-Luton and West while Thomas Jefferson and Abraham Lincoln are just two games back.
"It's a battle every night, I think I said at the beginning of the year our conference champion could be a two or three loss team, it could go anyway," said Heelan coach Darron Koolstra, the longest tenured coach among the MRAC's seven girls basketball teams. "We've got a lot of good teams, you've got to go down to Council Bluffs and both of those teams are capable of beating anybody." [Tweet this]
The Crusaders finished out the first time through the conference at 5-1, picking up a big road win over Abraham Lincoln on Friday.
"We felt it was a big one, it's not easy to play down there and it's not easy to come away with a win," said Koolstra. "We got off to a good start and were pretty much in control most of the game. It was a huge win for us.
Heelan's lone MRAC setback is to Sergeant Bluff-Luton, last year's champs, who were the first in the 17-year history of the league to win the title with two or more losses. Sergeant Bluff-Luton has dropped a pair of games to West, while the Wolverines have losses to Heelan and Thomas Jefferson.
"This year in the MRAC it's really anybody's game," said Sergeant Bluff-Luton coach Miranda Riediger. "You have to show up to every game well prepared mentally and physically and don't overlook anybody because on any given night any team can win." [Tweet this]
The Warriors are coming off a 12-point win over the much-improved Yellowjackets, who snapped a six-plus year MRAC win drought this season.
"Thomas Jefferson as obviously a lot better," said Riediger. "They're composed, very deliberate in everything they do. I look at that as a good win for us."
Thomas Jefferson snapped a 77-game MRAC losing streak earlier this season while they are in the hunt to finish over .500 in MRAC league play for the first time in school history.
"They have improved dramatically," said West coach Betsy Boetger. "Those coaches have done a great job with those girls and that program, which is great to see. The better our conference gets we all get.
"They have turned that program around most definitely which is good to see."
Heelan's second time through the league will see them play home games against West, North and Abraham Lincoln while facing road tests at East (Thursday), Sergeant Bluff-Luton and Thomas Jefferson.
"They're (TJ) capable of beating anybody in our conference," said Koolstra. "They have had some really competitive games. To go down there in that environment to go down there toward the end of the season it's kind of what you want to get yourself ready for tournament play."
While Heelan and Sergeant Bluff-Luton have stayed healthy and injury-free this season the same can't be said for West, East or North.
The Wolverines are the lone team in the league currently in double figures in victories overall with 10 and they haven't played a single game at 100 percent full strength.
West junior Bricelyn Comstock has missed three games with a broken collarbone while East senor scoring leader Taylor Copple has missed five straight games since suffering a knee injury shortly before Christmas. Several other players in the league have missed time for sickness and other health-related issues.
"This team has a lot of potential once we can get everybody on the floor," said Boetger, who became just the fourth coach in City history to reach 100 career wins with that Saturday triumph.
This season's league race will undoubtedly go down to the final week of the season, something the MRAC hasn't seen in recent history.
"Any given night, anybody can win," said Boetger. "Every game that we go into we go in prepared knowing that if we don't play the best that we can play there can be an upset, regardless of what the other teams record is. Our girls know they have to play to the best of their ability and play the way that they have to play."