SIOUX CITY | Enthused to see an annual event that marks the kickoff of the holiday season in Sioux City, more than 1,000 people lined Fourth Street and strolled around downtown Monday.
The annual Downtown for the Holidays celebration included a lighted parade, and Siouxlanders also took in the Festival of Trees and opening of Santa's House.
Keila Samano, of Sioux City, came downtown for some activities she had  heard about, but she was unaware a parade would stream by.
"I am so glad we were here," Samano said. "My kids love all this stuff."
Kids sat on curbs, waiting and grabbing candy that parade walkers threw out. Many young people carried multi-color flashing wands, and some adults had bright strings of light dangled around their torsos.
Some of the parade entries included people on motorcycles, while others were decorated floats.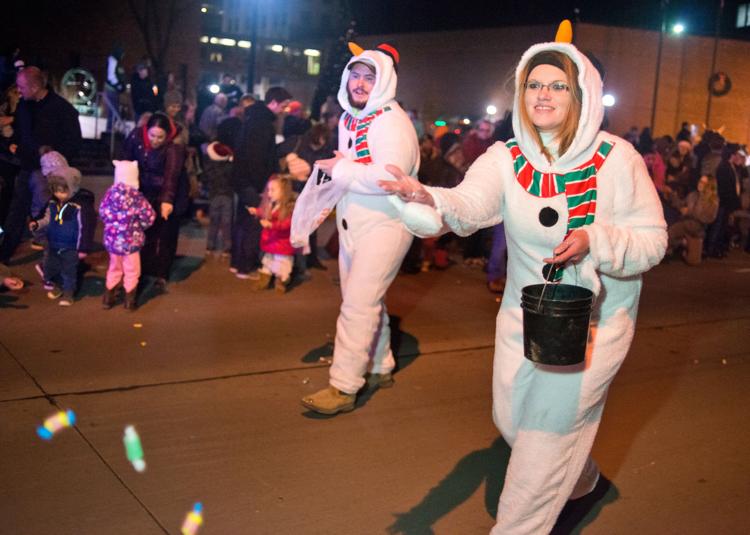 Santa Claus arrived at the Sioux City Public Museum to help light the downtown Christmas tree. He then headed over to Santa's House at 409 Nebraska St., where children could review their Christmas wish lists while enjoying hot chocolate.
Santa's House will be open Tuesday and Thursday evenings from 6 to 8 p.m., Saturdays from 10 a.m. to 4 p.m. and Sundays from noon to 4 p.m. between Nov. 25 and Dec. 21. 
The Festival of Trees is located in the Ho-Chunk Centre atrium, 600 Fourth St. The decorated trees will be on display through this year's annual tree auction, which will occur at 6:30 p.m. Nov. 30. Proceeds from the auction will go toward the Community Action Agency's Welcome Home Shelter.