Here's the latest from the ongoing Trump vs Corker Twitter battle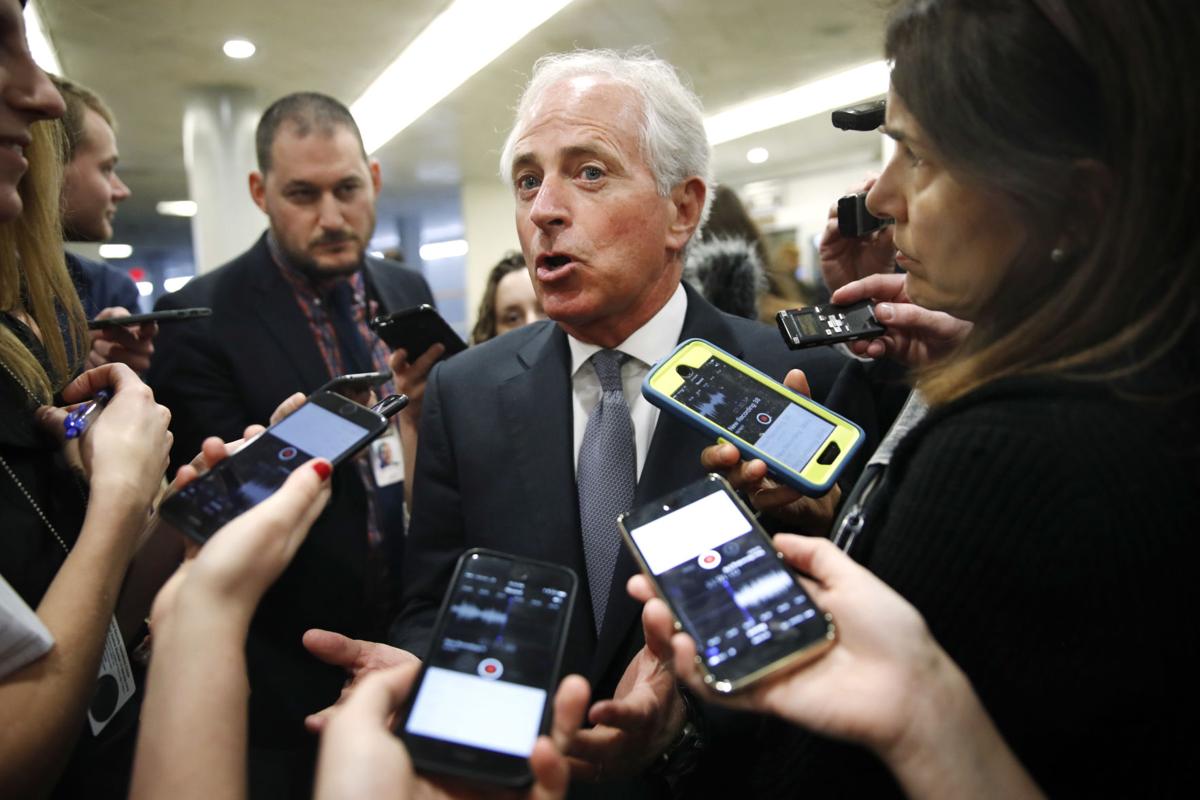 WASHINGTON (AP) — In a furious exchange of tweets and counter-tweets, President Donald Trump said Tuesday that Republican Sen. Bob Corker "couldn't get elected dog catcher," and the senator fired back that Trump was "utterly untruthful." 
Here's the latest on their ongoing Twitter battle:
Corker, R-Tenn., said on NBC's "Today" Tuesday that the Republican-led Congress should set the course on taxes after Trump shot down at least one GOP idea on retirement plans on Monday.
Asked if Trump should leave well enough alone, Corker said, "I think that's the best way for us to have success."
That prompted an angry Twitter response from the president:
Bob Corker, who helped President O give us the bad Iran Deal & couldn't get elected dog catcher in Tennessee, is now fighting Tax Cuts....

— Donald J. Trump (@realDonaldTrump) October 24, 2017
...Corker dropped out of the race in Tennesse when I refused to endorse him, and now is only negative on anything Trump. Look at his record!

— Donald J. Trump (@realDonaldTrump) October 24, 2017
Corker took to his own Twitter account to respond:
The latest contretemps come ahead of Trump's planned lunch with Republican senators on Capitol Hill, as Congress turns its focus to overhauling the nation's tax code.
Corker, the Senate Foreign Relations chair, has previously dubbed the White House an "adult day care center" and charged that Trump could be setting the nation on a path to World War III.
It's a shame the White House has become an adult day care center. Someone obviously missed their shift this morning.

— Senator Bob Corker (@SenBobCorker) October 8, 2017
Trump has called Corker "Liddle' Bob Corker," a "lightweight" and "incompetent."
The Failing @nytimes set Liddle' Bob Corker up by recording his conversation. Was made to sound a fool, and that's what I am dealing with!

— Donald J. Trump (@realDonaldTrump) October 10, 2017
Isn't it sad that lightweight Senator Bob Corker, who couldn't get re-elected in the Great State of Tennessee, will now fight Tax Cuts plus!

— Donald J. Trump (@realDonaldTrump) October 24, 2017
Sen. Corker is the incompetent head of the Foreign Relations Committee, & look how poorly the U.S. has done. He doesn't have a clue as.....

— Donald J. Trump (@realDonaldTrump) October 24, 2017
...the entire World WAS laughing and taking advantage of us. People like liddle' Bob Corker have set the U.S. way back. Now we move forward!

— Donald J. Trump (@realDonaldTrump) October 24, 2017
Nonetheless, Republicans and the Trump administration are determined to get tax legislation into law this year, and all sides seem to think they can unite around that goal.
Sen. John McCain, R-Ariz., implicitly criticized Trump on Monday, though not by name, for getting a draft deferment during Vietnam for bone spurs in his foot. And Trump spent much of August lashing out at Majority Leader Mitch McConnell, R-Ky., and blaming him for the Senate's failure to pass legislation to repeal and replace "Obamacare."
No. 3 Senate Republican John Thune of South Dakota said he hopes to hear Trump "drive home the message that he wants to be a partner, a constructive partner that helps us get accomplishments that help everybody."
"If you have people who are running for re-election next year, whether it's a House member or one of the senators who's up this year, I think the best thing you can go back and talk about is that you got results," Thune added. "And I think that to the degree the president delivers that message it will be very well received by Republican senators."
The tax plan crafted by Trump and Republican leaders calls for steep tax cuts for corporations and potentially for individuals. It would double the standard deduction used by most Americans, shrink the number of tax brackets from seven to three or four, and repeal inheritance taxes on multimillion-dollar estates. But crucial details of the plan have yet to be worked out, notably what income levels would fit with each tax bracket.